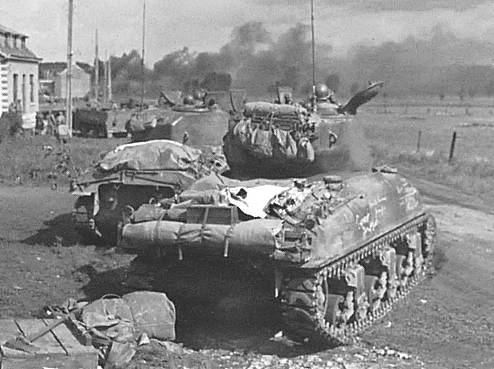 A World War Two veteran from Tulsa, Oklahoma has retold his experiences of the war.
Larry Lantow was a tank unit commander and the only survivor of three brothers.
Larry saw action in Europe in charge of his tank unit, but after his two brothers were killed in action the US Army sent him back home to train other soldiers rather than continue fighting in the war.
The worst part of Larry's job, he says, was when he had to write letters to the families of troop members who had been killed. He remembers how that never got easier and that the families would always want to know more details about what happened. However Larry always had to be diplomatic and would not give them any details that might be disturbing.
He says that when his parents were notified of his two brothers being killed, six months apart, it was devastating to his parents and their entire community. In addition, Larry never anticipated losing both of his brothers to the war.
Larry is now 98 years old and has been sharing his experiences of the war and the sacrifices the troops had to make. He remembers it as a very sad time.
The family and residents of their Claremore town were so devastated that they signed a petition for the army to bring Larry home, which the army fulfilled.
Another of Larry's brothers, Bill, was killed later while he served in Korea. Monumentsare now being built at the local high school to honor the Lantow brothers and the sacrifice they made.
Larry Lantow joined Oklahoma Military Academy after he finished high school and graduated in 1938. He was subsequently enlisted into the army in 1942, just as the US had joined the war effort.
Larry did not become a paratrooper like his brothers, instead he joined a tank company in France and saw action with the 3rd Battalion, 3rd Armored Division.
Larry spent three months commanding his troops in direct fighting with the Germans in France, Belgium and once they had got through enemy lines on into Germany.
Larry remembers how the people and terrain was devastated wherever they went in Europe. In one Belgian town he remembers lines of dead children lying in the streets.
Working with tanks, Larry says that the Germans' best weapon against them were their 88mm artillery guns, which the Allied troops feared vehemently. Many of Larry's men and tanks were lost to these guns, the Tulsa World reports.
Larry received the Bronze Star for leading his patrol safely into German territory, as Allied forces advanced towards Berlin.  Larry's brothers Bob and Norman are buried in the Normandy American Cemetery.