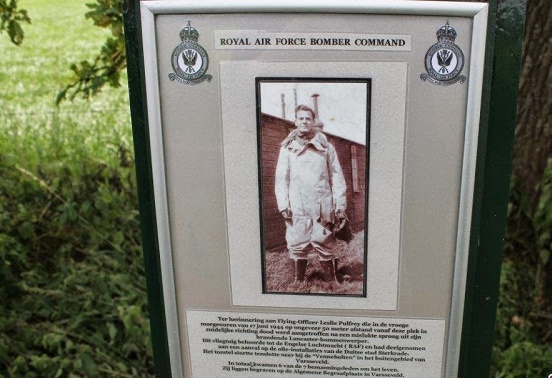 The village of Aalten, in Holland, held a recent memorial service for Flight Officer Leslie Pulfrey. Flight Officer Pulfrey was flying over the Dutch village when his plane was gunned down in June of 1944. He attempted to parachute out, but died from injuries after his attempt failed. On the seventieth anniversary of his passing, the village of Aalten had a memorial fly-past over the village to honor the man and his untimely death.
Pulfrey's mission was technically almost over at the time he was killed. He and his crew had waged an assault on the German city Oberhausen and were making their return flight to base. During this return flight, as Pulfrey and his crew neared the village of Aalten, they were spotted by German anti-aircraft guns. The guns opened fire, hitting the plane and knocking it out of the air. On the descent, Pulfrey attempted to bail. Unfortunately, he found he could not open his parachute all the way and soon died after a harsh landing.
There had been seven men on the plane at the time it crashed, and only one survived. A plaque was placed next to the site of his death, and this year the village held their memorial fly-past. The Aalten memorial involved four F-16 fighter jets, which flew over the site of Pulfrey's crash. As they passed over the location of his death, one plane broke away from the formation. Dozens of residents showed up to watch the event and pay tribute to the dead flight officer, The Star reports.
Prior to joining the Royal Air Force Reserve, Pulfrey made his living as a police officer. He had already completed one tour and was on his second at the time of his death in the village of Aalten. Born in Sheffield, he was motivated by the German bombings there to join the military and aid the Allies in the Second World War. While he may not have been from the village in which he died, those who lived there felt a desire to honor the men who fought for freedom in the 1940s.
The fly-past over Aalten drew in many spectators, although Pulfrey's nephew was unable to join them. Nonetheless, he voiced his respect and his gratitude to the residents of the village for honoring his deceased uncle. It is not often that the Royal Netherlands Air Force makes trips over Aalten, but this was most certainly a special occasion.