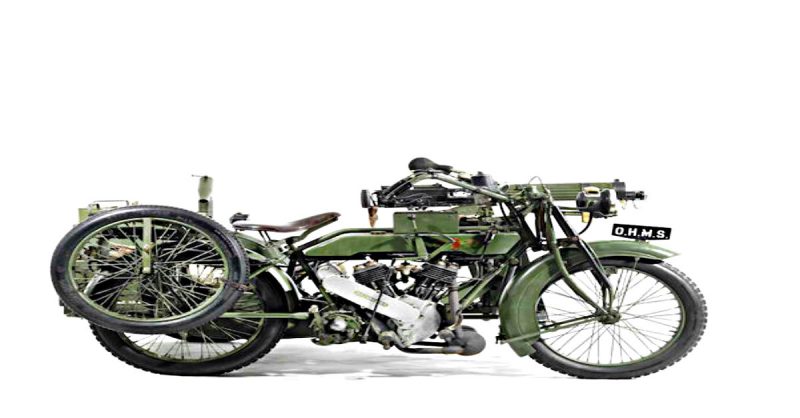 A very rare WWI motorbike with its own mounted machine gun recently came up for sale with the starting price of £30,000 nearly one century after its "birth".
The WWI motorbike is one of the only three existing wartime-era machine gun bikes within Britain with the two others exhibited in museums. It is also the only surviving one among the 250 wartime-era motorbikes built by Matchless.
It went down under the auction gavel Saturday, June 20, with the London-based auctioneers, Bonhams, facilitating its sale.
According to James Stensel of the auctioneers' motoring department, the WWI motorbike has a very interesting back story.
A batch composed of 250 of these bikes were built in Britain for the Russian army. However, the latter dropped out of war [in the wake of the Russian Revolution] and cancelled the order for the military vehicles. As a result, the lot was sold off including this particular WWI motorbike.
Private collectors bought them and utilized them for civilian purposes.
The registration papers of the WWI motorbike sold recently show that its first owner was a certain Edward Foster who hailed from Dorchester, Dorset. However, only very little is known about the years the WWI motorbike spent under the care of Mr. Foster. When 1998 rolled in, it was sold off to WWI enthusiast Chris Roberts.
When Roberts, who is a member of the Great War Society, got hold of the WWI motorbike, he set about restoring the vehicle to its WWI spec. Originally, the WWI motorbike would have been shipped off to Russia during those times with just the motorcycle and its sidecar and the Russian military would have been the one to fit it with any weapon of their choice.
Roberts mounted a deactivated Vickers machine gun to the WWI motorbike, the weapon akin to what the Russians would have attached to it had they used it during the first global conflict.
Stensel described the WWI motorbike as "very rare" as its kind can only be viewed in museums and never turn up in auctions.
"Not only is it a part of Russian military history but of ours as well. In 1917 Britain was producing the most advanced motorcycles in the world and this no exception," he firmly stated.
[The WWI motorbike went under the gavel for £46,000 as reported in Bonhams' website.]
https://youtube.com/watch?v=8vfV8UkErzM