The USS Tang is the US' most successful submarine, sinking over 100,000 tons of enemy shipping over five combat patrols during WWII. Her experienced and highly skilled crew terrorized Japanese sailors, yet she was sunk by one of her own torpedoes, an unfitting end for such a prestigious vessel and crew.
At the time of her sinking, Tang had completed four war patrols and operated in the Taiwan Strait on her fifth. Just on this patrol alone she had already claimed a number of enemy vessels and damaged many more.
However, on the night of October 24, 1944, a stroke of terrible luck would end her distinguished career.
USS Tang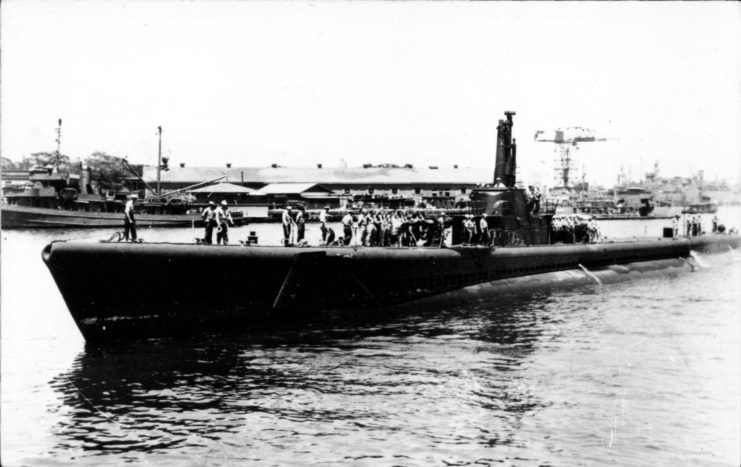 Tang was a Balao-class submarine constructed at the Mare Island Naval Shipyard in 1943. As a Balao-class submarine, Tang was over 300 feet in length and displaced over 1,600 tons. She carried 24 torpedoes and with her diesel-electric propulsion was able to reach a maximum surface speed of 23 mph.
From her commissioning Tang was commanded by Lieutenant Commander Richard O'Kane, a man who had already served five war patrols on the USS Wahoo.
Although she reached service rather late, she would go onto to become the most successful US submarine of the war.
First war patrol
Her first war patrol began on 22 January 1944 when she left Pearl Harbor for the Caroline Islands and the Mariana Islands. Almost immediately she discovered a convoy of Japanese ships and attacked, sinking one transport before diving to avoid return fire. After a number of similar engagements, she finished her first war patrol with 6 kills, about 18,000 tons of shipping.
Second war patrol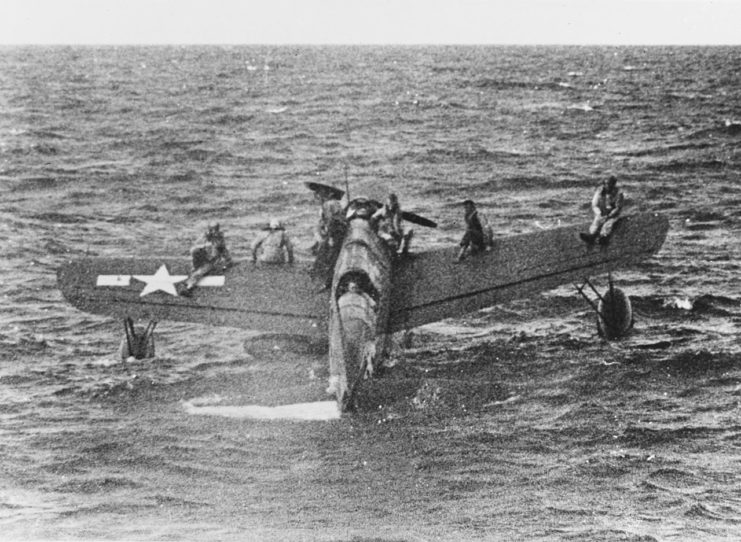 Tang's second patrol was a lot less eventful than her first, finishing without any kills. It began on 16 March and saw her spend time around the Palau Islands, Davao Gulf, and Truk. One of her notable actions on this patrol was when she rescued 22 airmen and took them to Hawaii.
Third war patrol
Any lack of action on her second war patrol was certainly made up for on her third, with Tang sinking 10 enemy vessels. Her third patrol began on 8 June 1944 and was mostly spent in the Yellow and East China seas. She soon ran into a large Japanese convoy comprised of two dozen vessels, most of which were armed escorts. She bravely mounted a rapid assault on the convoy, firing torpedoes at two separate targets, reporting two kills. However Japanese records would later show that Tang actually sank four vessels, with the other two likely crossing into the torpedoes' paths accidentally.
She found another ship later in June and attacked before diving to avoid the enemy defenses. She quickly returned to the surface and fired another torpedo, which split the Japanese ship in half and claimed the lives of 3,200 troops. She finished this patrol with over 40,000 tons of shipping now on the seafloor.
Forth war patrol
Her fourth war patrol took place from 31 July to 3 September and went similarly to the third. She claimed another seven ships, one of which was destroyed by her deck gun.
The sinking of the USS Tang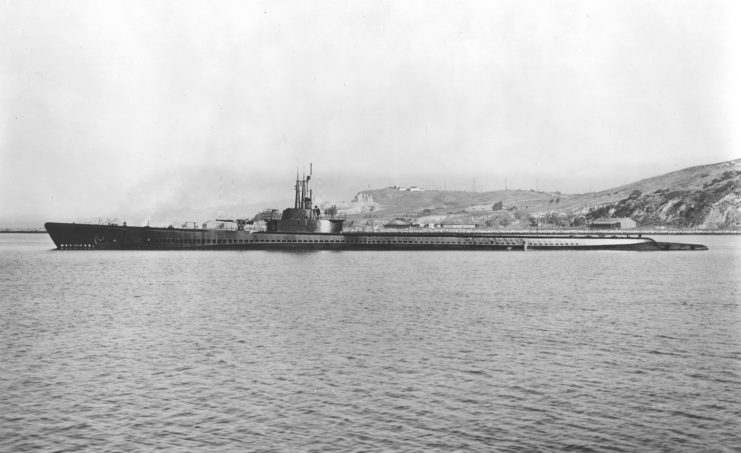 When Tang began her fifth war patrol she was among the most seasoned and highest-scoring submarines in the US Navy. She patrolled the Taiwan Strait between Taiwan and China, one of Japan's most critical areas. She sank two cargo ships on the night of October 10 before continuing on her hunt. On October 23 she discovered a large group of Japanese ships, with O'Kane deciding to attack at night.
Fearlessly, Tang sprang up in the center of the convoy and began unloading torpedoes into the surrounding ships during a truly incredible and chaotic battle. The single submarine managed to damage and sink several ships while countering incoming attacks. Tang noticed two cargo ships bearing down on her for a ram, so she made evasive maneuvers which resulted in the Japanese ships colliding with each other instead.
She then finished them both off with torpedoes. With another three vessels approaching her at high speed she quickly retreated to open water, leaving a scene of destruction in her wake.
The next evening she attacked another large convoy and expelled the rest of her remaining torpedoes sinking more ships. In the early hours of October 25, she fired off her last torpedo, a Mark 18 electric torpedo.
However instead of flying straight, the torpedo curved round in a circle and headed back toward the USS Tang, who unsuccessfully attempted to evade it. Just 20 seconds after it launched, the torpedo struck Tang's aft torpedo room, immediately killing half of the 87-strong crew. Water rushed into the stern of the submarine and she began to sink. During the sinking, a few men were able to escape.
The reason for the torpedo's malfunction is unknown.
The submarine landed on the bottom of the ocean, which was just 55 meters below the surface. Survivors still inside the submarine, including O'Kane, made their way to the undamaged bow compartments. They destroyed any sensitive documents on board and began to escape. 13 attempted the escape, but only 8 reached the surface.
More From Us: Low Mississippi River Water Levels Reveal Sunken WWII Ship
The next morning a Japanese frigate pulled the nine surviving men from the ocean. Once on the ship, they realized the survivors of their work from the previous night were also on board, and they were beaten nearly to death. The men were eventually relocated to the Ōfuna prisoner-of-war camp, where they were once again severely beaten. Just 5 men made it out of the war alive.
Over her five patrols, Tang sunk 33 enemy ships, making her the most successful US Navy submarine in history. She also earned four battle stars and two Presidential Unit Citations. O'Kane was awarded the Medal of Honor for his role in the submarine's final battle.