Low water levels in the Mississippi River have revealed the sunken wreckage of the USS Inaugural, a World War II minesweeper, near downtown St. Louis, Missouri. The ship sunk in 1993 after breaking loose from its moor.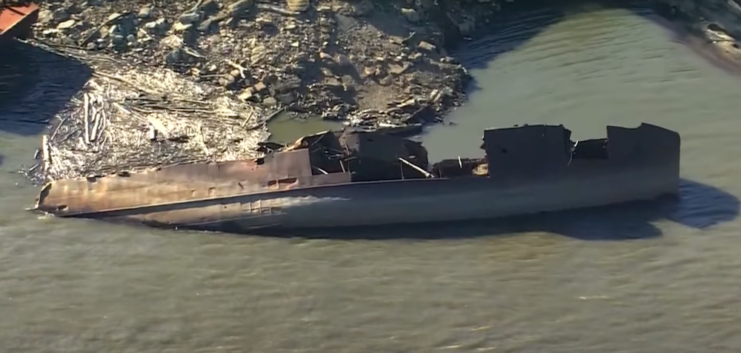 The ship was previously deemed a National Historic Landmark and was open to tours. It was anchored at the Archgrounds in St. Louis when it broke free when the Mississippi River flooded in 1993, cresting at 49.58 feet. It drifted downstream before turning on its side and sinking south of the Poplar Street Bridge.
At present, the river is only 3.85 feet deep, allowing for spotters to locate it earlier this week. It has twice before been visible due to low water levels, in 2012 and 2015.
The USS Inaugural was an Admirable-class fleet minesweeper that served in the South Pacific during WWII. The class is the largest and one of the most successful ordered to participate in the conflict.
The ship launched in October 1944 and went on to participate in the invasion of Okinawa, where she patrolled the seas and fired at Japanese kamikaze aircraft. When the war ended, the USS Inaugural conducted minesweeping operations in the waters around Korea and Japan.
The ship was decommissioned in September 1946 and entered the Atlantic Reserve Fleet, Texas Group, where she remained until removed from the Navy list in March 1967 and sold. She was towed to St. Louis in 1968 and became a museum ship.
During her service, the USS Inaugural cleared 82 mines and was awarded two battle stars for her service.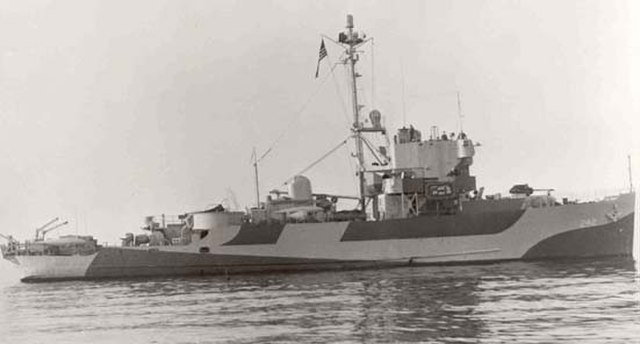 The USS Inaugural is no longer considered a National Historic Landmark. According to the National Parks Service, it's not possible to salvage the wreck in one piece and restore it. As such, it's been deemed a total loss. The NPS will salvage the ship for museum purposes and scrap metal, but it's not yet clear when this will occur.
The National Weather Service predicts river levels will continue to decrease over the coming weeks, allowing the wreckage to become more pronounced in the water.