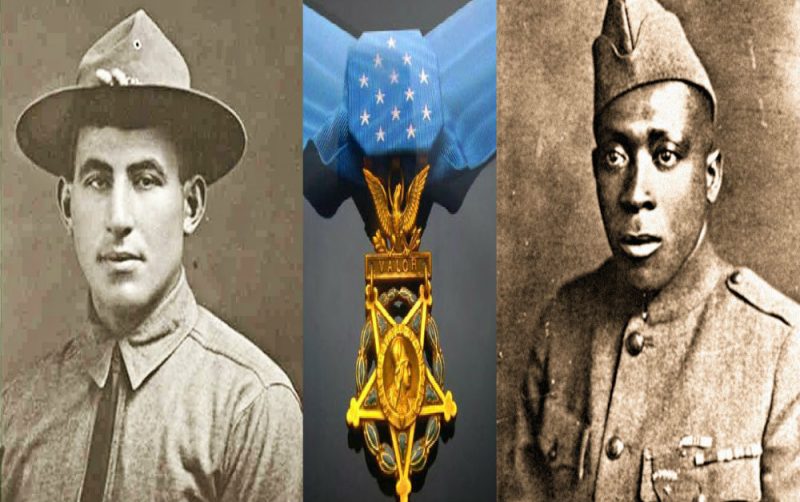 Finally, after almost a century since their brave feats during the First World War, two WWI heroes – Army Sergeant William Shemin and Army Private Henry Johnson – are to get the highest military honor they so long deserved — the Medal of Honor.
President Barack Obama will posthumously give the said military honor to these two WWI heroes in an awards ceremony set to take place on June 2.
Both the WWI heroes displayed extraordinary bravery while engaged in battle in France during the Great War. Army Sergeant Shemin, who was a Jew, ran through a raging battlefield thrice so that he could pull back his wounded comrades to safety. Meanwhile, Army Private Johnson fought off a German attack just so he could rescue a fellow member of his all-black regiment during the said conflict.
Campaigns for the awarding of the Medal of Honor to these two WWI heroes – who both hailed from New York – had been a long and arduous process. Their actions long merited the recognition but they may have been overlooked because of discrimination.
The Medal of Honor is awarded to Armed Forces members who display distinct gallantry.
Army Sergeant William Shemin
Johnson was born in Winston-Salem, North Carolina, and moved to New York as a teenager. He enlisted in the Army, June 5, 1917, and was assigned to Company C, 15th New York (Colored) Infantry Regiment – an all-black National Guard unit, which would later become the 369th Infantry Regiment.
Known as the Harlem Hellfighters, the 369th Infantry Regiment, 93rd Division, was ordered to the front lines in 1918. Johnson and his unit were attached to a French army command in the vicinity of the Tourbe and Aisne Rivers, northwest of Saint Menehoul, France.
While on night sentry duty, May 15, 1918, Johnson and a fellow Soldier, Pvt. Needham Roberts, received a surprise attack by a German raiding party of at least 12 enemy soldiers.
While under intense fire and despite his own wounds, Johnson kept an injured Needham from being taken prisoner. He came forward from his position to engage an enemy soldier in hand-to-hand combat. Wielding only a knife and gravely wounded, Johnson continued fighting until the enemy retreated.
For his valor, Johnson became one of the first Americans to be awarded the French Croix de Guerre avec Palme, France's highest award for valor.
Johnson was posthumously awarded the Purple Heart in 1996. He was awarded the Distinguished Service Cross in 2002, with the official ceremony taking place in 2003.
Johnson died in 1929 and is buried at Arlington National Cemetery, Virginia. He will be the second black Soldier to receive the Medal of Honor for actions in World War I. The first was Cpl. Freddie Stowers.
Since Johnson has no next of kin, Command Sgt. Maj. Louis Wilson, of the New York National Guard, is to attend the White House ceremony and accept the Medal of Honor on Johnson's behalf. (army.mil)
Army Private Henry Johnson
Shemin was born in Bayonne, New Jersey, Oct. 14, 1896. He graduated from the New York State Ranger School in 1914, and went on to work as a forester in Bayonne.
Shemin enlisted in the Army, Oct. 2, 1917. Upon completion of basic training at Camp Greene, North Carolina, he was assigned as a rifleman to Company G, 47th Infantry Regiment, 4th Infantry Division, American Expeditionary Forces, in France.
While serving as a rifleman during the Aisne-Marne Offensive, Aug. 7-9, 1918, he left the cover of his platoon's trench and crossed open space, repeatedly exposing himself to heavy machine gun and rifle fire to rescue the wounded.
After officers and senior noncommissioned officers had become casualties, Shemin took command of the platoon until he was wounded by shrapnel and a machine-gun bullet, which pierced his helmet and lodged behind his left ear.
He was hospitalized for three months and then received light duty as part of the Army occupation in Germany and Belgium.
For his injuries, he received the Purple Heart and he was awarded the Distinguished Service Cross, Dec. 29, 1919.
Shemin was honorably discharged in August 1919, and went on to receive a degree from the New York State College of Forestry at Syracuse University. After graduation, he started a greenhouse and landscaping business in Bronx, New York, where he raised three children.
He died in 1973. His eldest daughter, Elsie Shemin-Roth of Webster Grove, Missouri, is to receive the Medal of Honor on his behalf. (army.mil)