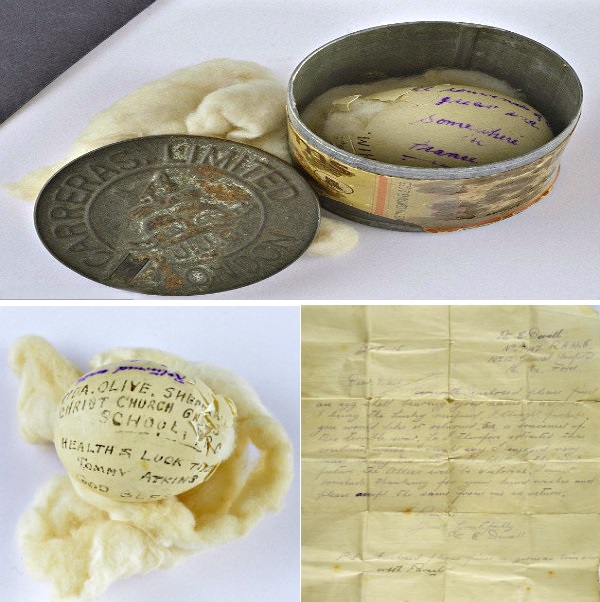 A 100-year old eggshell intact discovered — the egg originally sent by a school girl to the front line of WWI returned by the Tommy believed to have eaten its content.
Vida Sheppard of Frome, Somerset was a 13-year-old schoolgirl in 1915. That year, her school decided to go through a school project for the British troops fighting int he front lines of WWI. For her part, Vida posted a hen's egg as a present for a Tommy. On its shell she scrawled her name, the name of her school and a short message which reads: Health and luck to dear Tommy Atkins, God bless him. (Tommy Atkins was the slang term for a British soldier during the Great War)
Months rolled on by and surprisingly, Vida Sheppard received an unexpected parcel from an equally unexpected source. The package she got contained a tobacco tin. Inside it was the egg she sent minus its contents. There also were additions to the note she wrote on it. The shell was signed by a certain Private E Duvall with the address as somewhere in France and a scribbled message: Returned with thanks.
Vida Sheppard did not only received that. A letter had accompanied the package she received. It was written by the same Tommy, Private E Duvall. In his letter, he revealed that he was a member of the Royal Army Medical Corps. He told her that he was the one who got the hen egg she sent and that he had sent it back as a memento of this terrible war. Nevertheless, he did admit that he had eaten its contents and that he had enjoyed doing so.
Private E Duvall went on to say that he was hoping the Allies would win the war with the conclusion of expressing his gratitude for the compassionate wishes Vida Sheppard scribbled and that he wished the same for her.
After poring through the contents of the package, Vida Sheppard stuffed the egg with wool to prevent it from breaking and kept it inside the tin the soldier had sent.
Vida Sheppard went on to marry Samuel French after the Great War ended. The couple, then, resided in Frome, Somerset. The tin with the intact eggshell inside was kept in Mr. French's smoking cabinet and when Vida Sheppard died in 1977, it was passed on to her son, Brian French.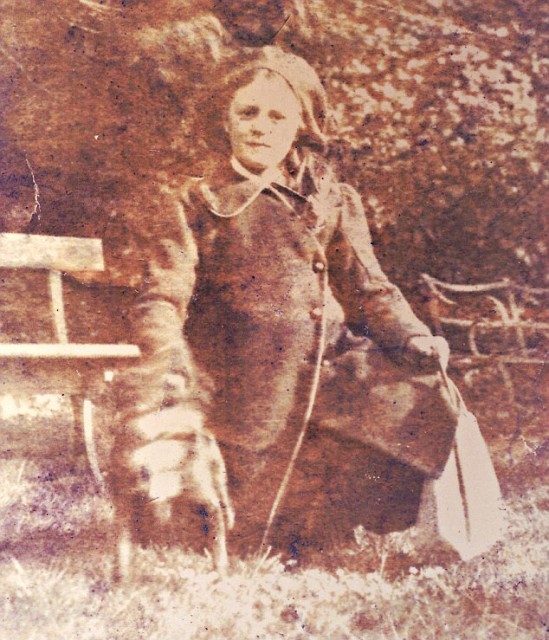 For his part, the now 84-year-old Brian French commented that the egg in the tobacco tin was a regular in their house and that he was aware of its existence even as a little boy. However, his mother, Vida Sheppard, did not talk about it.
The now retired civil engineer further went on to say that he always thought his mother wrote on an egg, believes she had been asked to by the school she was studying in an that time since eggs were rationed in the war and that it had been returned to her by the soldier who received it. Nevertheless, the story never really came right out of his mum's mouth.
Finally, Mr. French mused that he always wondered if the soldier who wrote and sent the egg back to his mother had survived the war.
It has been known that Private E Duvall was Private Ernest Duvall of the Royal Army Medical Corps deployed on August 24, 1914 in No. 12 General Hospital based in northern France, particularly in the Rouen race track.
As what his medal card stated, Private Ernest Duvall had received a 1914 star for enlisting at the start of WWI. He was, later on, awarded a Silver War Badge which was an indication that he had survived the Great War. Nonetheless, it seemed that most of the private's records had been destroyed in 1940. But the lack of notes written in the remarks section of his medal card indicated that yes, he was a Great War survivor.
The eggshell kept by Vida Sheppard and, eventually, her family for a century now is one of the highlighted stories in the book entitled Antiques Road Show: World War One in 100 Family Treasures and authored by Paul Atterbury.