Tom Hanks has had an impressive acting career spanning forty years. One of his most memorable roles was in Saving Private Ryan.
He played a company commander who had to survive the carnage of the D-Day landing at Omaha Beach and then had to lead his men on a mission to save paratrooper and bring him home. Now, it appears that Hanks may be getting another World War 2 role.
Hanks wrote the screenplay for the new WWII movie "Greyhound," Aaron Schneider (Get Low) has been brought on to direct. Apparently, Hanks wants the starring role for himself.
Greyhounds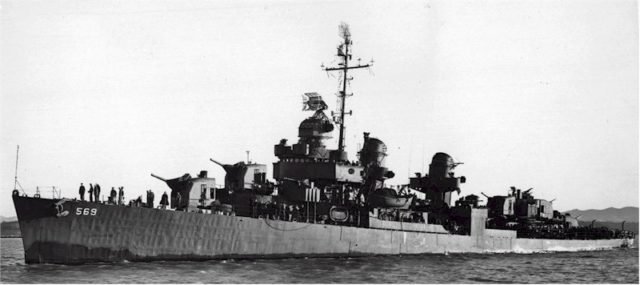 Destroyers were fast, streamlined, and powerful vessels. They became a new class of ship being nicknamed "Tin cans" and the "Greyhounds of the sea", the Destroyer would play an important role on the seas.
Destroyers were first built at the end of the 19th century and by the early 1940's the United States' newly commissioned destroyers would be equipped with  5″ dual-purpose guns which were capable of surface and anti-aircraft fire.
They also sported 20mm and 40mm anti-aircraft guns, quintuple mounts of 21″ torpedoes, and depth charge projectors. The ships displaced 2100 tons and were capable of speeds in excess of 35 knots, hence the nickname Greyhound.
The movie Greyhound is about a career Naval officer who is put in command of a Navy destroyer. The film follows him as he battles not just the enemy, but also his self-doubt and personal demons.
This new film benefits from being set in the Navy, which is seldom the focus of a WWII movie. The budget is expected to be in the mid-30 million range and with Hanks in the lead role, this has the makings of another hit for Hanks.
As we all know, besides starring in Saving Private Ryan, Hanks has previous writing credits with an episode of Band of Brothers as well as being the executive producer of the series with Steven Spielberg.
The Hanks-Spielberg duo is currently working on the new HBO miniseries "Masters of the Sky" which focusses on the World War II exploits of the United States' 8th Air Force, known as the "Mighty Eight" which still has an unknown release date.
Masters of the Air teaser trailer
Five miles above the earth and deep behind enemy lines, eleven men inside a bomber known as the "Flying Fortress" fight for their lives against swarms of enemy German fighters.
As American bombers are picked off one by one, their mission becomes very clear: survive!