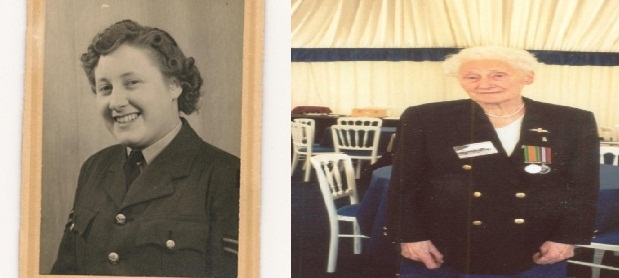 Sylvia Salmon was among the first members of the Womens' Auxiliary Air Force (WAAF) and spent some of her best years as a servicewoman in WWII serving in RAF Duxford.
She died at the ripe age of 91, on July 2013.
One of her last wishes her family decided to follow through was her request for her ashes to be scattered over RAF Duxford where, they said, she spent her happiest years.
She was able to rise up to the rank of Sergeant while serving in the Royal Air Force (RAF) and her career included a variety of postings but the time she spent working in Duxford's Officers' Mess between 1939 and 1942 were her most memorable.
"What we did find very difficult, during the Battle of Britain, was we had lots of VIPs at Duxford and they were all entertained to lunch in the Officers' Mess and sometimes, in the middle of lunch, when it would be quiet and we were looking after these very famous people, the squadrons would come back from the battle skies of southern England and they were battle weary, tired, exhausted. And more often than not, there were empty seats in the mess and we would remember who had occupied them at the previous meal. It was sometimes very sad but life had to go on," these words were part of her memory recorded at the Imperial War Museum in Duxford as part of the Historic Duxford exhibition.
RAF Duxford may have only been bombed four times in three different days in 1941, life within its fighter station were not without danger.
Sylvia recalled this one incident in the base:
"We just got into the married quarters and the first thing we used to do was to open the windows. Well, as we did so, suddenly we heard rat-tat-tat and we had to hurriedly retreat inwards because this plane was flying along machine-gunning the married quarters. There was no warning. The guns remained silent and it just flew level with the rooftops. It flew in from London and flew out towards Royston. I imagine there's some bullet holes in those houses to this day."
For the winter season, the Imperial War Museum in Duxford is open daily from 10 AM to 4 PM with the last admission being at 3 PM.