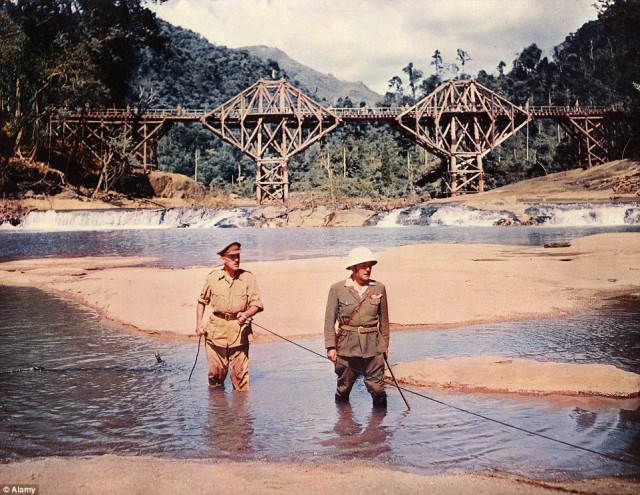 Sri Lanka has announced it plans to rebuild a bridge that was used in shooting an Oscar-winning film. The iconic bridge on the River Kwai was used in a 1957 film that tells the stories of World War Two prisoners of war.
The film, "The Bridge on the River Kwai" was shot 57 years ago. The film is generally seen as one of the greatest of all time. It received 7 Academy Awards.
Even though the films story was set in Japanese-held Burma, a majority of the locations used were in Sri Lanka (formerly known as Ceylon until 1972 when the name was changed). At the time the epic movie was shot, Sri Lanka had just gained its independence from the British for less than 10 years.
The proposal to rebuild the bridge came after Sri Lanka's Electricity Board revealed its plan to barricade the river and use it for its hydro-electric project. The idea was met with shock as residents said they make their livelihood from the tourist attraction that the river brings.
To pacify them and draw tourist to the bridge, the electricity board decided it would pay for the wooden bridge to be restored and enable the locals keep their source of income by attracting the Oscar-winning film fans. The bridge is to be built on the original foundations.
Speaking to AFP, Kamal Laksiri the board's chief project engineer said the bridge is no more there and that there are only a few concrete post remaining. But since they intend to build it on the same location and the way it looked before, they have taken a look at the bridge's drawings and pictures and plan to reconstruct it to look the same, the Mail Online reports.
Even though there are a very small number of concrete remains to prove there was a bridge there, the scene is still well visited by tourists.
Positive about the plan to renovate the bridge, tourism chiefs says the bridge and a new museum will guarantee the town will remain on the maps of tourists. RumyJauffer, the Sri Lanka tourism promotion bureau's managing director shares the same positive view and says restoring the bridge will add value to the place.
One person who is pessimistic about the plan is Alfred Haslinger. The Austrian thinks it's a shame and would not be the same. According to him, it's impossible to turn a river off and then on.