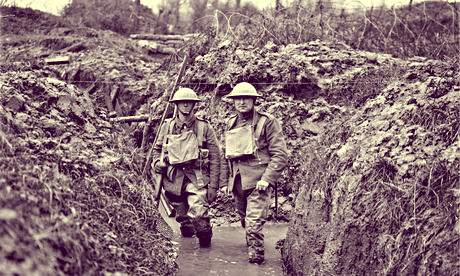 The National Archives has published documents revealing the various 'sports' played by soldiers while in the trenches during the Great War.
The 'sports' range from pillow fights, wheelbarrow races and even wrestling on mules. Games played in the trenches were part of the entertainment program arranged by WWI officers to keep the morale of the fighting soldiers in the middle of the war. A sports day program dated October 31, 1914 revealed the information. It was among the over 700 digitized diaries published by the National Archives online.
Aside from the 'sports' mentioned above, officers also arranged blindfold squad drill, blindfold driving, tug of war, boat race and high jumps for soldiers in the trenches. These 'company sports' were designed to take the minds of WWI servicemen off the battles of the Great War.
Additionally, daily training program in the trenches had the soldiers playing sports and football after their routine exercises which were composed of gas, gun and squad drills as well as pack saddlery.
The diaries the National Archives made available online had one with a very detailed pencil drawing of the German and the British trenches just a field's distance from each other. Its details included the positions of dead horses, pigs, dogs and even a "dead Frenchman" with the names neatly indicated for each subject.
There were also photos showing how trenches should and should not be arranged. There was even a precise scale sketch of a trench tramway. There were also inventories included among the documents revealing the equipment the soldiers needed in making trenches like barbed wires, wire cutters, gloves, shovels and picks along with the number of each item available.
Among the papers published online was an account written by Brigadier W R Ludlow of the 8th Battalion of The Royal Warwickshire Regiment about the first day of the Battle of the Somme on July 1, 1916.
Ludlow's narration of the battle included a phrase Dulce et decorum est pro patria mori (how sweet and honorable it is to die for one's country). The said line became the title of Wilfred Owen's, perhaps, best known poem.
Ludlow revealed that there was no trace of cover between the German and British trenches and while he looked at the position from the first line of trenches on the board, it seemed that successful attacking was an impossibility.
Unfortunately, when the Germans counterattacked, the battalion Ludlow was in suffered 90% casualties.
There were also accounts of more successful campaigns among the papers published by the National Archives. As William Spencer, a military records specialist at the National Archives pointed out in a report ran by The Guardian, the latest batch of WWI diaries were made available online so that people from all over the globe can have access to official army accounts dating a 100 years back and see what it was like in the trenches on the Western Front.
Access the online documents here (ticket number 246810).