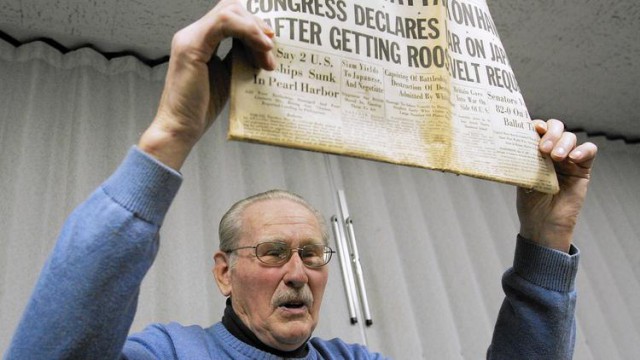 The Sigal Museum in Easton, Pennsylvania is holding a roundtable of three Battle of the Bulge veterans, so that visitors can hear first-hand what the Battle of the Bulge was like. Each of the survivors is from the Lehigh Valley, they are Morris Metz, Harold Kist and Donald Burdick.
The roundtable, starting at lunch time, will be accompanied by a small exhibition of World War Two era newspapers and cuttings, and memorabilia. The battle was the largest fought by American forces during World War Two.
The Battle of the Bulge was Hitler's attempt to split the Allied forces so that Germany could take Antwerp Port in Belgium, and take the lead in the war again. In December 1944, it began with a huge attack in the forested Ardennes region across Belgium and Luxembourg, with more than a million soldiers taking part.
The December climate did not help. In freezing conditions the battle lasted around six weeks, leaving nearly 200,000 Allied and German casualties in total.
Metz, now 89, of Forks, was a soldier with the 94th Infantry Division, part of General Patton's 3rd Army. Kist, now 91, of Palmer, served with the 99th Infantry Division. His division's orders were to hold Elsenborn Ridge, which was on the border of Belgium and Germany, The Morning Call reports.
Burdick, now 90, of Forks, served in the 16th Field Artillery Observation Battalion. He was with his troop at Bastogne when it became trapped by the German advance.Donald was also at the Dachau concentration camp when it was liberated. He remembers the atrocities and devastation that had taken the lives of millions.
All three veterans are members of the Lehigh Valley Chapter of the Veterans of the Battle of the Bulge. Today the group has 21 veterans of the battle. The group's focus is to educate and inform the next generation of the events and sacrifice given in World War Two.
Sigal Museum's roundtable and exhibition is free entry. Donations are welcome.