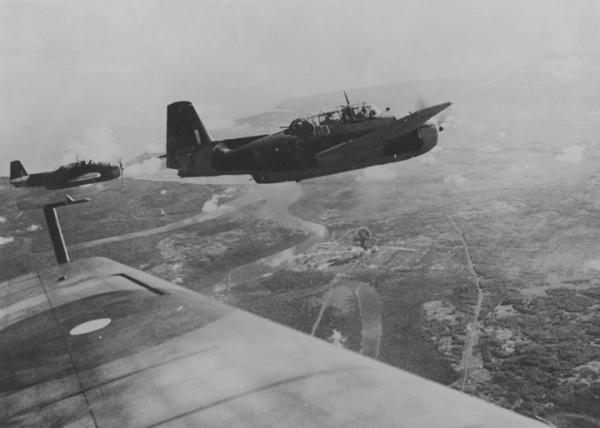 The 92-year-old, Second World War veteran from Tewksbury said that the military gave out awards to many guys, but not the ones he worked with as a pilot. He was only 20 years old when he was piloting Navy planes and dropping torpedo bombs into ships, over the Pacific Ocean.
His wartime service included chasing submarines in Alaska, supplying food to Chinese prisoners who were held by the Japanese and took part in the liberation of the Philippines. When the war ended, Holland returned home. He joined up to become a Navy pilot shortly after finishing high school and served for three years in the Pacific theater, where he won three medals. At the end of the three years, he went home, but without his awards. However, upon his arrival home, he awarded himself by calling his high school sweetheart, Mary Stringer and asking her to marry him. She accepted and in two weeks they married. Together, they had five children. Dick was the owner of several warehouses in Gloucester and also worked as a reservist flight instructor.
Dick Holland has been a humble hero, who never got the chance to hold his Philippine Liberation Medal, Asiatic-Pacific Campaign Medal or American Campaign Medal. "Oh, they gave out a thousand," said Holland, "they gave out all kinds of awards. The guys that I flew with were never involved with that." Holland's son in law, Gene Kee insisted that although they are all called the 'Greatest Generation', his wife's father returned home after 3 years of war with nothing and nothing to talk about.
During a surprise ceremony, organised last week at Kee's home, Dick Holland was finally awarded his medals, together with a certificate of appreciation from the Navy and signed by the head of the Electronic Attack Wing of the United States Pacific Fleet, the Lowell Sun Online reports.
The Second World War hero said he didn't think about the awards when he was in the war, just like he didn't think too much about the dangers of war, when he was piloting his planes. He said there was too much to think about, so you had no time to be scared. He recalled that one time when he was the second pilot in line to take off and he saw that the plane in front of him was in big trouble after the launch equipment broke. The plane went straight into the ocean and the pilot had a very short time to get his lifeboat out. Two men went on to help him. Holland said that although everyone was OK, he did panic for a second.
//