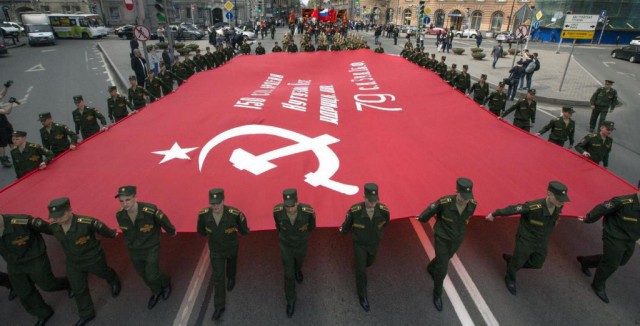 Cadets carried a copy of the Banner of Victory on Wednesday during a celebration ahead of Victory Day in St. Petersburg. [Via]
On Saturday 9th May, the whole world witnessed a massive military parade organized by Russia, commemorating 70 years of victory over Hitler. Red Square of Moscow was echoing with the march of thousands of troops along with state-of-the-art weaponry.
Amongst the dignitaries were some of the biggest names of the world politics. Almost all of the EU leaders did not attend ceremony, as a protest against Russians' part in the annexation of Crimea from Ukraine.
Recent months saw a hail of statements by Mr. Putin and Ukrainian President; regarding Russia's role in Rebel crisis. Russia categorically denies any involvement in the rebel activities and calls this an uprising of the common people. Mr. Putin is adamant that some western powers are contributing towards destabilizing the balance of power in the region. The ongoing rebel crisis in Ukraine has already cost the lives of almost 6000 people since April 2014.
While addressing to the audience, Mr. Putin paid tribute to the sacrifices made by millions of Russians during the war. Mr. Putin also thanked Britain, France, and US for their contribution in the war against the Nazis, The New York Times reports.
He also said that he senses a steady momentum building up, facilitating the possibility of a military-bloc in the Europe. Mr. Putin also complained about the loss of basic principles of international cooperation in the policies of some western countries. Meanwhile, Ukrainian President has affirmed that Russian involvement in the crisis is apparent and accused President Putin of manipulation and lies to justify his aggression by arming and facilitating rebels in Ukraine.
Russian Victory day parades have previously seen figures like George. W Bush, Tony Blair and Bill Clinton, but this year the stage was less crowded and a cold war like ambience was observed. Among the dignitaries that attended the parade were Chinese President Xi Jinping, Indian President Mr. Pranab Mukherjee, and UN secretary General Ban Ki-moon, along with 20 other leaders from around the world.
A column of Chinese troops also marched in the parade as a sign of support and solidarity to Russia. Mr. Putin's speech was not the only note worthy event of the parade, it also had a show of strength in terms of armoured tanks and other weapon systems. Armata battle tank was put on show for the audience, which is hi-tech machine with a remote controlled gun turret, and a reinforced capsule, equipped with RS-24 Yars intercontinental ballistic missiles. RS-24 Yars has the capability of delivering at least three nuclear warheads to its target.
Other small-scale parades were also held in Crimea, and rebel controlled regions of Ukraine in solidarity with Russia. Meanwhile, Poland held an alternative ceremony for those who did not attend the Russian parade including leaders from Ukraine, Romania, Lithuania, Estonia, Czech Republic, and Bulgaria.