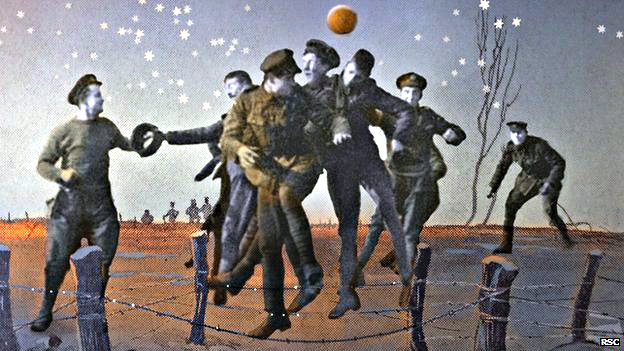 The play inspired by the First World War's Christmas Truce which happened one century ago has opened at the Royal Shakespeare Theater Saturday, November 29.
The Christmas Truce is a well-known and a very celebrated event during the outbreak of the First World War — the time when soldiers of the two warring sides left their trenches to meet in No Man's Land, exchange pleasantries and play a friendly match of football on Christmas day. The tale was passed down from the soldiers who took part in the truce to our generation today.
The account of Captain Robert Hamilton of Stratford-upon-Avon was one of the "key sources" for the Christmas Truce play showing at the Royal Shakespeare Theater.
Additionally, Sir Andrew Hamilton, the grandson of Captain Hamilton who hails from Warwick, is one of historical consultants of the said play. And as the Royal Shakespeare Theater puts it, the playwright of the Christmas Truce play, Phil Porter, has basically "stuck" with the account of the WWI serviceman of the truce which transpired from Christmas Eve unto Boxing Day.
The Drop-in Event
Prior to writing his script, Mr. Porter attended a drop-in in event at the Royal Shakespeare Theater March earlier this year. During the affair, members of the public who had family memories of the Christmas Truce brought in WWI memorabilia from their loved ones and told their stories.
One woman who participated in the drop-in recounted how her great-grandfather participated in the 1914 Christmas Truce by giving phrenology readings – reading another person's personality through the  measurement of his head – to his comrades. The Royal Shakespeare Theater, then, stated that this facet was included in the play as well.
An official from the Royal Shakespeare Theater said that the pictures brought in during the March affair helped Mr. Porter visualize his fictional characters as well as the development of his story. Mr. Porter's story centers around a group of men from Warwickshire who were firsthand witnesses of the Christmas Truce. And though the characters are fictional, the story is wholly inspired by true events, the theater assures.
The Christmas Truce
Based on the Imperial War Museum's account, the Christmas Truce happened late Christmas Eve of 1914. Men of the British Expeditionary Force heard the Germans singing Christmas carols in their language and decided to sing along. Eventually, messages were shouted between the two parties and when the next day came, both German and British soldiers left their trenches and met on No Man's Land.
Just last month, Sainsbury revealed their Christmas advert based on this famous WWI account.
The Christmas Truce play in the Royal Shakespeare Theater will run until the 31st of January next year.