The Royal Mint has launched a £20 Coin in commemoration of the 50th death anniversary of WWII British Prime Minister Winston Churchill. The new coin – a part of the Royal Mint's £20 for £20 coin range – is just one of the many mintage released by the organization in honor of the wartime prime minister making Churchill the only statesman to be commemorated with a number of official UK coins.
According to the Royal Mint's Director of Commemorative Coin and Medals, Shane Bissett, the first commemorative coin produced by the mint in honor of the politician was way back in 1965 and it was released to mark Churchill's death.
He further added that since Churchill holds a significant place in the history of Britain, not only as the country's strong-willed prime minister during the trying years of the Second World War but as well as being an acting prime minister on two occasions, an exceptional leader, writer, soldier and even an artist, it is just fitting that his legacy be commemorated so as not to be forgotten by Britain's recent and future generations.
Bissett also stated that Churchill's image, reputation and legacy is not only known within Britain but throughout the globe which makes him deserving to be the third on the Royal Mint's £20 for £20 coin range.
Sir Winston Churchill's great-grandson, Randolph Churchill, already went to strike a solid silver Winston Churchill £20 coin for himself ahead of the selling of the collector's item.
Randolph, who picked up his £20 coin along with his seven-year-old son, John, said that this year, 75 years since his great-grandfather became Britain's wartime leader and 50 years after the great prime minister's death, it's just fantastic witnessing the various activities taking place to celebrate the achievements he attained.
Randolph further said that it is a great honor for him to take part in these commemorations and he is happy he got himself a £20 coin commemorative of his great-grandfather's legacy as this serves as a unique reminder of what a remarkable person he was during his time.
Randolph explained that bringing his son along with him to pick up his own Winston Churchill £20 coin is figurative to the linking of the past, present and future generation of the Churchills.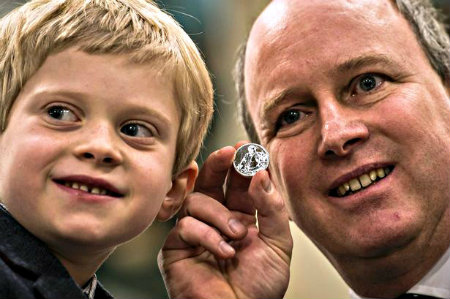 The Royal Mint's £20 coin is part of the Churchill 2015 which is an international observance of Sir Winston Churchill's life and legacy. This is made in hopes of keeping the prime minister's memory alive as well as serve as an inspiration and a way of educating the future generations.