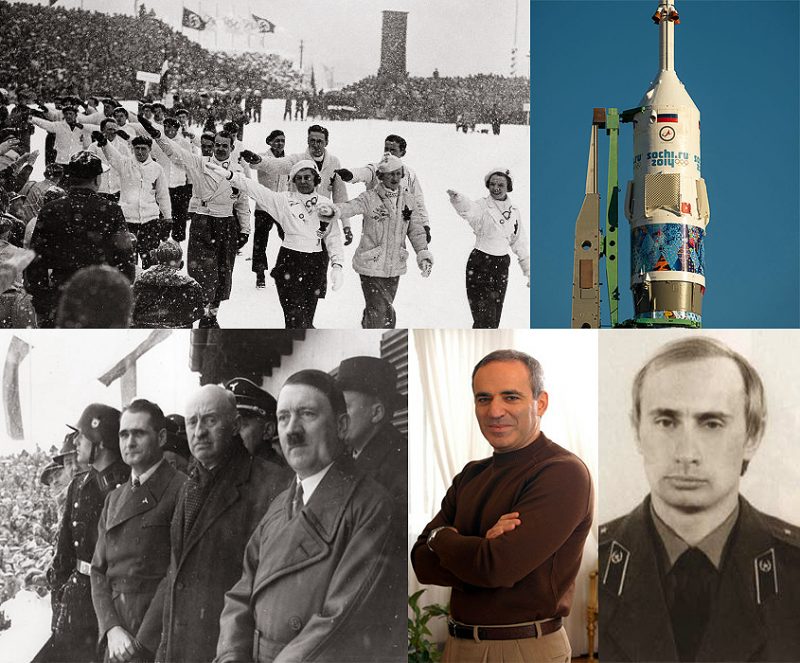 Photo story (Clockwise from top left): (1) In this regrettable photograph, the Nazi Salute performed by the Canadian Olympic team during the 1936 Winter Olympics (2) The 2014 Winter Olympic torch passed in Space for the first time when Soyuz rocket TMA-11M carried it to International Space Station, though not lit during the flight, astronauts waved it outside ISS on a spacewalk (3) Russian president Vladimir Putin photographed in KGB uniform in 1980 (4) Garry Kasparov entered the race to become a candidate in the 2008 Russian presidential election (5) Hitler during the opening ceremony of 1936 Winter Olympics
On 26th April 1931, Berlin won the bid to host the 1936 summer Olympics over Barcelona, two years before the Nazis came to power in Germany. One of Adolf Hitler's favorite filmmaker Leni Riefenstahl was assigned to film the event for $ 7 million. Her film Olympia pioneered in many sports filming techniques.
Hitler took the opportunity to promote his Nazi ideals of racial supremacy. Nazi party paper wrote that Jews and Black people should be prevented from participating in the Games. However, with pressure from other nations of boycotting the Olympic made Hitler change his decision and he also allowed a German woman, hockey player Rudi Ball, who had a Jewish father, to participate with the German Olympic squad. To attract tourists during the Games, the Nazi party also removed signs reading "Jewish not wanted" from popular tourist attractions.
The Nazi Government also arrested all Gypsy Romani people of Berlin and kept them in 'Berlin Marzahn concentration camp' in an attempt to 'clean up' the city during the Summer events.
It was the last year when Winter and Summer Olympics Games were both held in the same country. Market town of Garmisch Partenkirchen in Bavaria was the host of the IV Winter Olympic Games. Online edition of regional weekly life magazine based in New York City, New York reported on Hitler's 1936 Winter Olympics and published some rare photographs last month.
Russian chess Grandmaster and chess champion of Croatian descent, Garry Kasparov entered the race to become a candidate in the 2008 Russian presidential election but was disqualified on grounds of lack of required political infrastructure. He compared the XXII Winter Olympic Games held under Vladimir Putin in February 2014 in Sochi, Russia to Hitler's 1936 Summer Olympics.
Kasparov said "Anyone thinking that is an exaggeration is forgetting a very important factor that Hitler was also seen as a legitimate and thoroughly respectable politician in 1936". The Internet humor called Godwin's law promoted by US attorney and author Mike Godwin in 1990 asserts that if an online discussion with any topic goes on for long enough, then someone will compare someone to Hitler or something to Nazism sooner or later. Did Kasparov give an example of Godwin's Law here?
Possibly, but there are comparable points such as a powerful individual world leader is controlling an international event on which he spent an unprecedented amount of money ($ 51 billion, in 2010 Vancouver Olympics $8 billion was spent by Canada, however, the 2014 Russian Winter Olympic expenditure includes Sochi infrastructural projects) while the situation inside his country became more oppressive.
Hitler's 1936 Summer Olympics look quite shocking today. The 1936 Summer Games were actually known as the "Nazi Olympics". Some of the old photographs show that the 1936 Winter Olympics was also quite Nazi oriented.
The Winter Games were performed in front of swastika banners and a shocking moment was photographed when the Canadian team gave a Nazi Salute. Feels awfully chilling now, considering what those Nazi symbols stood for during the WWII.