Retired Army Ranger legend Col. Ralph Puckett has been presented the Medal of Honor, the nation's highest award, by U.S. President Joe Biden. After waiting 70 years for the award, Puckett was slightly less wowed than expected by the invitation to the White House.
"I understand that your first response to us hosting this event was to ask 'why all the fuss … can't they just mail it to me?'" Joe Biden jokingly remarked.
Puckett's heroism on Hill 205
As a 1st Lieutenant, Puckett showed extreme bravery in the midst of battle on November 25th, 1950, during the Korean War. On that day, he commanded his men of the 8th Army Ranger Company on Hill 205, against a major Chinese assault of hundreds of troops. Puckett and his men faced odds of 10 to 1, freezing temperatures, and limited food, ammunition and supplies.
"The intelligence briefing indicated that there were 25,000 Chinese troops in the area," Biden explained during the ceremony. "[Puckett] believed in the fundamentals. It was how he trained his men, and how he had handpicked them, chosen from the ranks of cooks, clerks, and mechanics to [become] the first Ranger company since World War II."
He repeatedly left his foxhole despite the danger, using himself as bait to reveal the enemy's positions.
Meanwhile, he was directing friendly artillery fire, with some barrages even called near to himself to hold off the attack. These actions led to him being wounded three times, with a mortar injuring him so severely he couldn't move. Realizing their position was going to be overrun, Puckett gave the order to retreat and for his men to leave him behind so they could escape, but two privates bravely ignored the order and retrieved Puckett.
At the time, Puckett was awarded the Distinguished Service Cross for his actions, which itself is the next award down from the Medal of Honor.
While he was recovering, he was offered a medical discharge, which he refused, and met his future wife Jeannie while he was in the hospital.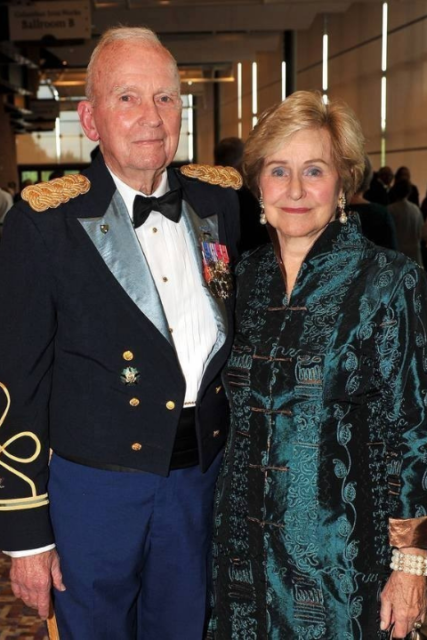 After Korea, Puckett continued on and fought in Vietnam, earning another Distinguished Service Cross and two Silver Stars. Over his military career, he also earned five Purple Hearts and two Bronze Stars. He retired in 1971 at the rank of colonel.
In 1992, Puckett was inducted into the U.S. Army Ranger Hall of Fame. Four years later in 1996, he became the first honorary colonel for the 75th Ranger Regiment, a role he stayed in for 10 years. He passed on his vast amount of knowledge to the regiment.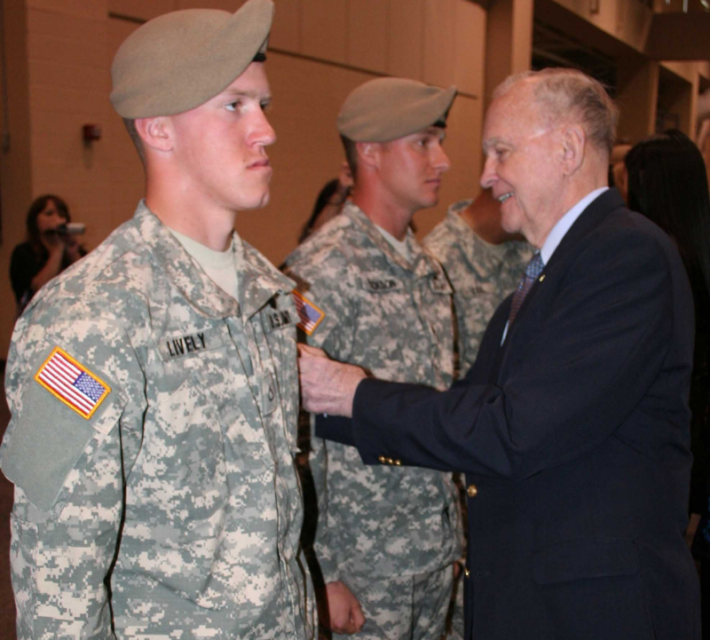 Puckett receives the Medal of Honor
At the ceremony, Biden said, "I'm incredibly proud to give Col. Ralph Puckett's acts of valor the full recognition they have always deserved."
"This is an honor that was long overdue," Biden added. "More than 70 years overdue."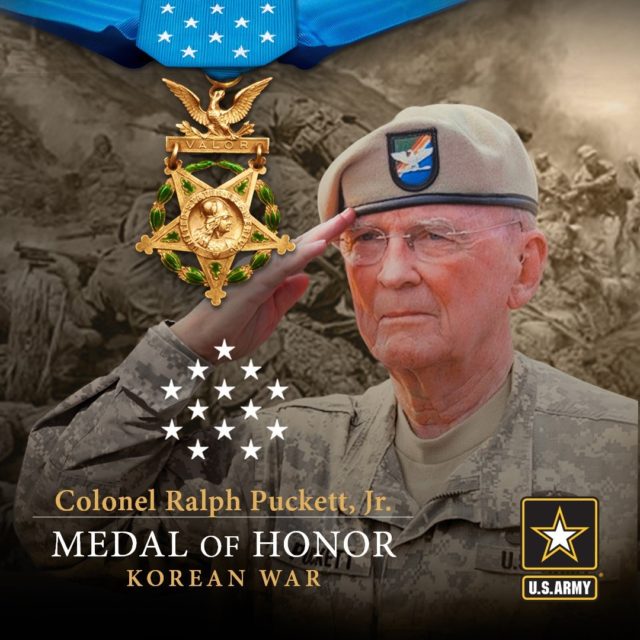 Puckett's Medal of Honor presentation ceremony sets itself apart from any others previous to it, as it is the only one where a foreign world leader was present. South Korean President Moon Jae-in attended the ceremony as a show of solidarity between the two allies.
"Col. Puckett is a true hero of the Korean War," Moon said. "Without the sacrifice of veterans including Col. Puckett, [the] freedom and democracy we enjoy today couldn't have blossomed in Korea."
Moon also stated that it was a true honor to attend the ceremony.
Other attendees included Puckett's wife, children, grandchildren, and a former technical sergeant who also fought in Korea, Master Sgt. Merle Simpson.
More from us: Color Photos Of WWII Bring History To Life
Simpson said about serving with Puckett: "Puckett impressed me. If you made a mistake, you would do 50 pushups, and he would do 50 with you. There is no telling how many a day he did."
Puckett entered the room in a wheelchair, standing with the assistance of two young officers on either side of him. For Biden's citation, Puckett stood up on his own, pushing away a walker offered to him.