July marks the centenary of the bloodiest and muddiest battles of World War One –  Passchendaele.
There'll be a number of events to mark the anniversary and descendants of British soldiers who participated in the battle will be offered no-cost tickets to the ceremony.
About 260,000 Germans and 325,000 Allied troops were killed in the battle.
Culture Secretary Karen Bradley said it was vital to recall the 'horrors' of the Ypres battlegrounds and pay tribute to those who died in the conflict.
The Third Battle of Ypres, Passchendaele, was fought for three months from 31 July to 6 November 1917 in the West Flanders area of northern Belgium.
It's remembered as one of the toughest campaigns, with heavy rain that turned fields into the mud, a contributing factor that only five miles of ground were gained in that time.
Poet Siegfried Sassoon's description for the muddy fields was "hell."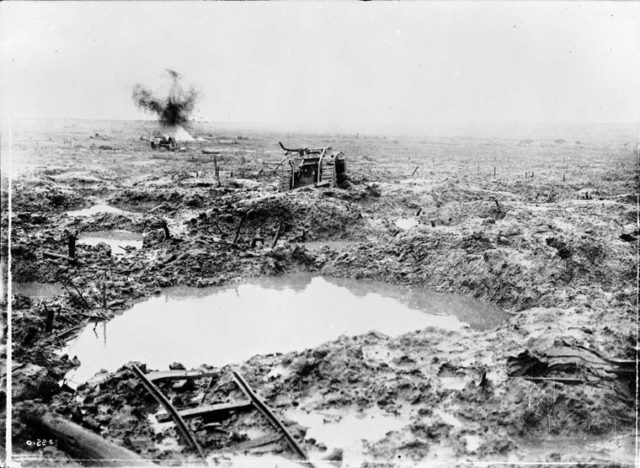 As the war fades into the past, it's our duty to not only remember the past years, but to preserve the memories of those who gave so much, Bradley said and encouraged all of those with the family who fought at Passchendaele to participate.
Belgium's general commissioner for the commemoration, Paul Breyne, said his government was totally committed to offering assistance in support of the commemoration.
It was of paramount importance to remember those who sacrificed their lives for the freedom and peace we have, he said.
The main ceremony is on 31 July at the Commonwealth War Graves Commission's Tyne Cot Cemetery, which contains the remains of 12,000 British and Commonwealth troops.
Part of the list of events includes a traditional Last Post observance on 30 July at the Menin Gate Memorial and a variety of live performances in Ypres' Market Square to tell the story.
The 4,000 tickets to the 31 July event at the cemetery can be accessed through a public ballot online here until 24 February.  There will also be a smaller ballot for a set number of tickets for the event at the Menin Gate memorial, BBC News reported.
Both events will be displayed on large screens in the city center for those who don't have tickets.