Polish and Nazi forces clashed violently in and around Warsaw in August of 1944. Polish citizens sought to free themselves from the "dark, black and red world of Nazi occupation," in the words of Polish poet Czesław Miłosz. Under-supplied and ill-equipped, the Polish resistance nevertheless managed to kill or wound 20,000 Nazi troops during the Warsaw Uprising. Unfortunately, the damage to the Polish populace was much worse, as airstrikes killed 150,000 people.
As Polish troops gained some success, Hitler's forces responded by proceeding to decimate the Polish capital. The Nazi bombing campaign was so intense that it totally destroyed upwards of 85% of the city's historic center. Unlike most European cities, which were damaged during close-quarters street warfare, Warsaw was systematically destroyed after a two-month engagement between Polish and Nazi forces.
The following pages describe how Varsovians (residents of Warsaw) rebuilt their city, partially based on Italian painter Barnardo Bellotto's (1722-1780) cityscapes, or vedute. Bellotto, who was frequently referred to as Canaletto after his more renowned uncle, was the court painter of the king of Poland in 1768.
His paintings were both breathtakingly beautiful and accurate in their depictions of Warsaw's buildings and squares. The fact that his paintings were used nearly 200 years later by city residents in their reconstruction efforts for the Warsaw historic district, now a Unesco World Heritage Site, reveals his work's authenticity.
Hermann H Field shepherded a small group of designers on a tour of Europe to observe and study Europe's postwar reconstruction in the summer of 1947. The group stopped in England, Czechoslovakia, and Poland, where they saw Warsaw, Krakow, Katowice, Wroclaw, and Szczecin.
The pictures they took that summer showed the damage to local infrastructure. 1950 Footage from British Pathe witnesses buildings crumbling arbitrarily. Across a large portion of the city, basements, low walls, and some ground floors are the only remnants of once-beautiful buildings. The destruction and grass-lined alleys invoke Pompeiian imagery.
Warsaw residents who were not fortunate enough to escape the city lived alongside the remnants of destruction, conflict, and violence, often finding corpses buried in the rubble. Some believed the devastated city should be left unrepaired as a memorial to the hardship endured by Polish citizens.
This would require the entire capital to be moved, however. At times, dust thrown up by explosions was so thick it choked Warsaw's citizens.
The Polish writer Leopold Tyrmand said, "One of the philosophers calculated that Varsovians inhaled four bricks each year at that time. One must love one's city in order to rebuild it at the cost of one's own breathing. It is perhaps for this reason that, from the battlefield of rubble and ruins, Warsaw became once more the old Warsaw, eternal Warsaw… Varsovians brought it to life, filling its brick body with their own, hot breath."
Sometimes by necessity and sometimes due to nostalgia, parts of the city's own rubble were used to build up the city anew. "Rubble from the former ghetto district was used to produce new bricks for the modern quarter while architectural details from demolished buildings in the Old Town were put on to the reconstructed facades," explains Małgorzata Popiołek, a heritage conservation expert at the Technical University of Berlin.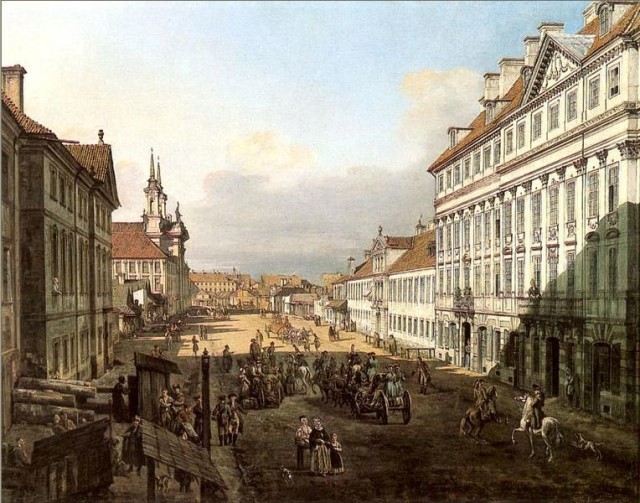 Construction workers and specialized builders did most of the reconstruction but did require the help of local residents to clear the massive amount of debris strewn across the city. "The entire nation builds its capital" became the city's mantra during the period following World War II.
The builders, upon expending the rubble of Warsaw in their efforts, imported rubble from nearby cities. The architects charged with rebuilding the city referenced key locations in Bellotto's paintings to ensure as much accuracy as they could.
Throughout history, Bellotto's 22 street scenes have been taken as prized possessions from Warsaw's Royal Castle by occupying parties. Napoleon's officials captured four canvases in 1807. Nicolas I of Russia took the entire collection in 1832. German officials also captured the entire collection in 1939.
During the Nazi occupation, the paintings were especially valuable because the Nazis banned many of the works that documented Poland's history. This ban was meant to destroy Polish history while increasing Poland's "Germanization."
When Warsaw was first attacked in 1939, the Burlington Magazine for Connoisseurs voiced its concerns for the integrity of Bellotto's paintings. Miraculously, all 22 street scenes were intact by the end of the war and have been on display in the Royal Castle's Canaletto room since 1984.
These street scenes, coupled with the acumen of Polish architects, art historians, and conservators, allowed builders to reconstruct Old Town in a remarkably short period of time. The bulk of the construction and renovation was complete before 1955 with follow-on construction into the 1980's. Some say, though, that the city is still suffering from the devastation of World War II even now.
The new version of Old Town, however, does not adhere to Bellotto's painting exactly. Bellotto's means of painting, namely the use of a camera obscura from pencil tracings followed by transferring those images to canvas and detailing them with watercolors, caused some minor inaccuracies.
Joanna Wiszniewicz's novel Life Cut in Two: Stories of the March Generation shows some of the changes to the city after reconstruction. Near the former ghetto site, one mother exclaims, "This is not the Warsaw that I remember from childhood. My school stood over there, I played with my friends over there – it does not exist! All of this is so foreign now!"
"Foreign" seems to be a constant theme throughout Warsaw's history. Even now the city bears signs of the communist postwar period. The curator of the "Warsaw Under Construction" festival, Tomasz Fudala, however, did not see this as an absolute negative.
He emphasizes that the communist plan for the city was unexpectedly modern in its use of light and space. Close by the Warsaw Museum of Modern Art, only a few streets away from the former ghetto, one row of buildings that were cut in half by the war remain. The central courtyards located there, larger versions of which can be found in Neukolln, Berlin, would have been dark and confined.
Boleslaw Beirut, Poland's president after the Second World War, attempted to solve the problems of housing and light in his Six-Year Plan for Warsaw. While this document was rife with communist propaganda, many of his diagrams of the city detail how much light and space residents would have had under communist rule as opposed to their prewar days.
These designs never came to fruition, however, as Stalin died on 5 March 1953. The drawings were left as such and the buildings they described went un-built despite the spacious squares and beautiful scenes they promised.
Currently, when walking through Old Town, Warsaw residents still are able to tell of the hardship and struggle suffered during the war years. In these stories, Varsovians are sure to include the importance of Bellotto's paintings. Reproductions of the same are displayed on boards to show just how important they were during the reconstruction period. The Visitants' Church is happy to broadcast the fact that part of its organ is still comprised of original pipes once played by Frederic Chopin.
Wherever you walk, there are reminders of Warsaw's tumultuous past and subsequent reconstruction. The city's history is especially relevant now in a time when images and three-dimensional technology help keep a record of and maintain some of the oldest cities on earth, like Palmyra in Syria, recently recaptured from ISIS by pro-government forces.
"Floods of photos are coming in," says Jon Phillips, co-founder of the New Palmyra project. His project encourages anyone and everyone to submit pictures of the city to help his team examine the destructive effect of ISIS's presence there.
If necessary, this archive of pictures and videos could be used to rebuild Palmyra just as Bellotto's paintings were used for Warsaw. Though decades have passed, this sentiment is reminiscent of Warsaw's motto, "The entire nation builds its capital."
Warsaw, though, relied exclusively on one artist. Without Bellotto's work, the city would surely be a much different place.