Our reviewer sorts out the mess in his 'to do' pile after a difficult few months.
[Where were we? Oh yes, I remember; I review books for War History Online. It felt for a brief moment that there was a lull in the impact of the pandemic here in the UK, but that was just an illusion. I had a brush with the virus some months ago. I thought I was over it but found I was unable to concentrate on books, at all, and it became a right royal pain in the arse. Normal service will be resumed.]
First up we have an eye-catching book by Denis Hambucken that had appeared originally in the French language published by Editions Racine. The author takes us through the well-trodden but ever popular story of the Battle of the Bulge.
The book has all the appearance of the beautifully illustrated titles we have seen coming out of continental Europe in recent years and Pen & Sword have been wise to pick this one out for translation. Mr Hambucken is from Belgium, but now resides in the USA where he has access to veterans and records to research.
The book takes the form of pen portraits or, perhaps, vignettes, of events, background info, weapons and equipment and the ephemera of the battle. The history is largely well known; so there is no need to repeat it here.
Each section includes one or two paragraphs of text and any number of superb illustrations, be they new photographs or contemporary images. This serves to make for an entertaining book that fits the bill for my favourite format, whereby the reader can either crunch through it from cover to cover or take their time over instalments.
I really like this book. There are some superb snippets of information mixed in with top quality design and photography. I would suggest this is an ideal purchase for younger history buffs or anyone seeking a flavour of the Bulge before diving into the big narratives.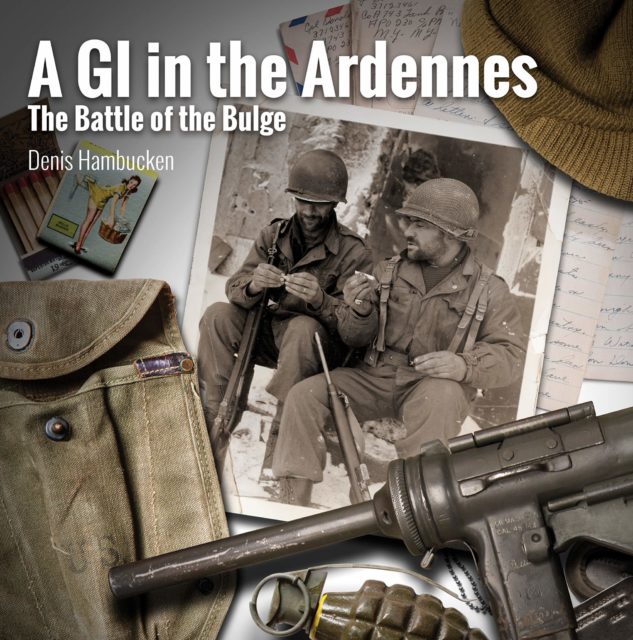 A GI IN THE ARDENNES
The Battle of the Bulge
By Denis Hambucken
Pen & Sword Military
ISBN: 978 1 52675 6 183
This has been a big year for anniversaries and this entertaining book from John Grehan and Alexander Nicoll takes us to the chaos and the 'miracle' of the Dunkirk Evacuation of late May and early June 1940. This is a book in the ever-expanding Images of War series that can tick a good many boxes when the stars align.
This volume has a lot to offer by including a fair number of images I haven't seen before alongside a few old stagers that get in everywhere. The abandoned Vickers light tanks on the beach shots were particularly welcome.
No varnish here. Dunkirk exemplified the defeat of the British Army on the continent in 1940 and there were other disasters to follow. Just thinking about all the kit that was left behind, let alone the tens of thousands who went into captivity is a sobering experience. A visit to the cemetery at Dunkirk can hit you right between the eyes.
My paternal grandfather, a naval engineer, was there and he wrote a few brief letters describing what he was doing while serving on an ocean going tug used to tow barges full of soldiers and refugees across the Channel.
These two immensely experienced authors have succeeded in showing the Dunkirk story from many angles and to my mind this tips a decent nod to men like my grandfather who did not survive the war. There are some fantastic pictures in this book aided by typically efficient captions that keep us all informed.
As ever, the books in this range aren't everyone's cup of tea; but this one is well worth a look.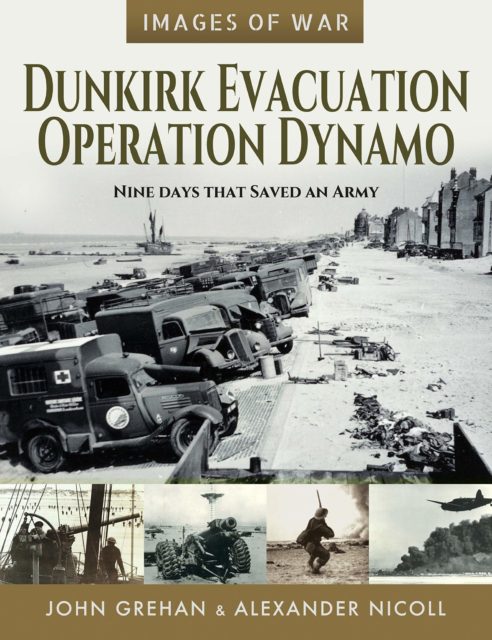 DUNKIRK EVACUATION OPERATION DYNAMO
Nine Days That Saved an Army
By John Grehan and Alexander Nicoll
Frontline
ISBN: 978 1 52677 035 6
If we're remembering Dunkirk it is inevitable that we should also consider the Battle of Britain.
I've seen recent arguments that the mythical status of the battle is overblown and that the reality of the strategic situation vis-à-vis the threat of German invasion was not so perilous. There are hundreds of books written about the battle, the people who experienced it, the aeroplanes, the events and the outcome. Whichever side of the fence you sit on, nothing can be taken away from the airmen who fought the battle or the thousands of others who played a part in it.
I make no distinction over nationality, although I am obviously immensely proud of the Brits and the many other nations who joined us in standing up to the enemy. Nuff said.
This book is yet another from the prolific Dilip Sarkar. In it he tells the story of a varied group of individuals who were lost during the battle – aircrew, ground staff, sailors and civilians. While each of the eighteen chapters is devoted to a named person, there are countless others who weave through the stories.
There is little doubt that the immense amount of research carried out by the author over many years has armed him with an arsenal of histories to include in his work. His dedication to it is impressive. Books like this are not an overnight sensation; they take years of reading and delving in archives to create.
If you follow the author on social media you can see what it means to him to do this work. He delights in it. All power to him.
I have built up a small library of Battle of Britain themed books, the first of which was Peter Townsend's classic Duel of Eagles that I bought in 1972. I'm not an obsessive by any means, but the history of the battle means a great deal to me. Books like this one from Dilip Sarkar keep that flame burning. I am sure that is his aim.
The people in his book were real; they were not one-dimensional avatars. Their stories are as vivid as they are tragic. I recall standing over the grave of an RAF pilot, Patrick Chaloner, Lindsay, buried in France. He was shot down over the English Channel and his body had washed up on a beach some time after his demise. People like him turn up in books like this. They gain substance and matter to us even more as a consequence.
This fine book is effectively a memorial to what the author describes as the human cost of the Finest Hour. Very highly recommended.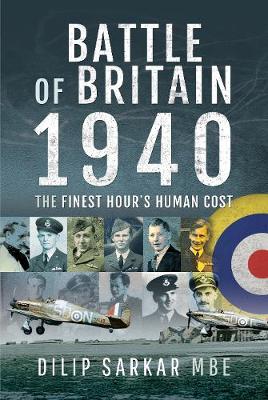 BATTLE OF BRITAIN 1940
The Finest Hour's Human Cost
By Dilip Sarkar MBE
Air World
ISBN: 978 1 152677 593 1
Even as you read this, the prolific Mike Green is probably sitting out in the palatial grounds of his vast archive in California writing another dozen books all at once. I don't know how he does it. All joking aside, Mr Green has turned out a long sequence of books in the Images of War range for Pen & Sword and here he is again with this typically accomplished look at the role of US Marines during the Vietnam War.
While there are several well-known images, the book includes many more I am pleased to see that cover a vast range of subjects. Mr Green knows his stuff and gives us a decent and concise text alongside the excellent captions for the imagery. There are plenty of shots of people, weapons and events to accompany maps and other useful information.
Once again, this is one of those solidly efficient books that seems to be effortless to produce which, in fact, takes a great deal of work. It can provide a fair intro into the conflict for newbies and there is plenty of reference potential for living history buffs, collectors and model makers. Recommended.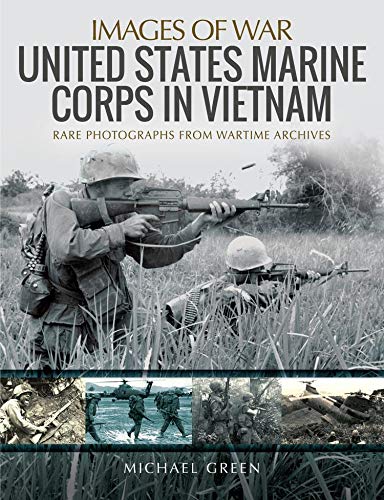 UNITED STATES MARINE CORPS IN VIETNAM
By Michael Green
Pen & Sword Military
ISBN: 978 1 52675 123 3
Reviewed by Mark Barnes.