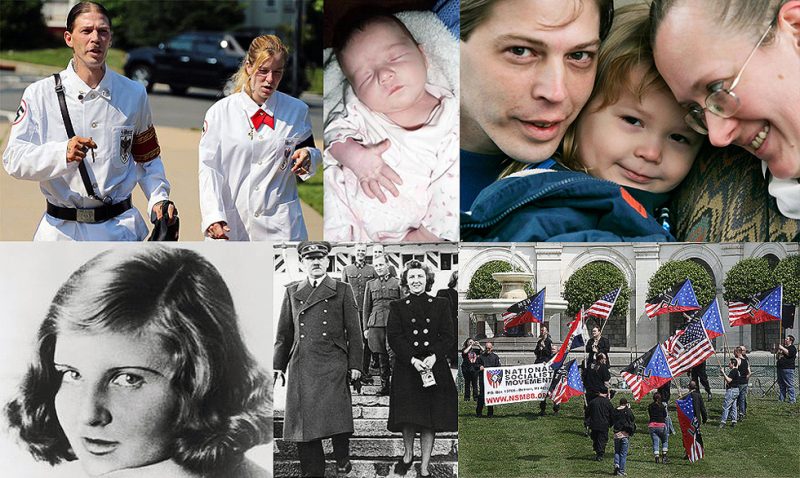 Photo story (Clockwise from top left): (1) Heath Campbell and his fiancee Bethanie Zito arrived at family court in Flemington, New Jersey earlier in 2013 in Nazi uniform (2) The Campbell and Zito couple named their baby girl Eva Braun (3) Heath Campbell with his first wife Deborah and son Adolf Hitler; Neo-Nazi activist Heath had 4 children with Deborah and all 4 have Nazi inspired names- Adolf Hitler Campbell, JoyceLynn Aryan Nation Campbell, Honzlynn Jeannie Campbell and Heinrich Hons Campbell (4) Neo-Nazi Group NSM in the United States displaying their flag in Washington DC on 19th April 2008. (5) Hitler with his long term mistress Eva Braun (6) Eva Braun met Hitler when she was 17 and a model, she was also a photographer and many of Hitler's colored films & photographs were taken by her.  
Post WWII social and political movements that have long been seeking to revive German Nazi Party's racism, anti-Semitism, white supremacism, radical and militant nationalism, pan-Germanism, fascism and similar far-right movements a.k.a. Nazism is known as Neo-Nazism.
Neo-Nazism also borrows other elements from Nazi doctrine, such as- xenophobia and homophobia. Xenophobia is hatred and fear of strangers or foreigners or immigrants or anything that is foreign or strange. And homophobia is unreasonable aversion to or discrimination against homosexuals, bisexuals and transgender people.
A common feature of the Neo-Nazi movement is the Holocaust denial or the Genocide of 5.9 million Jewish people by the Nazis during the WWII. The movement also features admiration of Adolf Hitler who was responsible for 61 million deaths for the Allied countries and 12 million deaths for the Axis countries. Neo-Nazi followers often uses Nazi 'Swastika' symbol.
The Swastika symbol means favorable circumstances or good luck in ancient Hinduism, Buddhism & Jainism. The German Nazi party adopted swastika as the symbol of the Aryan race. The Nazi racially prejudiced belief is the Germans or the Nordic are the pure and ideal race that represents the original race of prehistoric Indo-Europeans of Bronze Age called Proto-Aryans.
Neo-Nazi activists also use the Nazi salute that was used as greeting in Nazi Germany. By extending the right arm in the air the salute is performed and during a Nazi salute one would often say, 'Heil, mein Fuhrer (Hail, my leader) or Seig Heil (Hail victory)'.
In many countries today, the Neo-Nazi movement is related to the white supremacist and white nationalist movements. With organized representation in many countries, Neo-Nazi activity appears to be a global phenomenon now. In an effort to curtail neo-Nazism, some Latin American and European countries have laws prohibiting expression of Nazi symbols and gestures.
The 1st Amendment to the U.S. constitution adopted on 15th December 1791 guarantees freedom of speech. According to it, a court ruling allowed National Socialist Movement (NSM), the biggest Neo-Nazi organization in the U.S. with about 400 members in 32 states, to stage a series of demonstrations in the Chicago in 1977. There are a number of Neo-Nazi groups in the U.S.
Web edition of well recognized British daily tabloid news paper The Daily Mail reported that a Neo-Nazi dad Heath Campbell, 40, said that he will continue to have kids if the child welfare services keep taking his children. The father-of-nine made the statement after his child Eva Braun was taken by child welfare services just two days after she was born in a Pennsylvania hospital on 11th November 2013. Heath's fiancée, 22 year old Bethanie Zito is the mother of the child. Heath and Bethanie engaged in June, 2013. The couple named the baby after Hitler's long-term mistress.
Heath is out of work and lives off government assistance. His body is covered in swastika tattoos. Bethanie boasts a tattoo which reads 'Property of Heath' and she earlier told the New York Daily News while she was pregnant that if the baby was a girl it was going to be named Eva Braun and if a boy then Rommel.
Neo-Nazi activist Heath first made headlines after a bakery refused to write his son Adolf Hitler's name on a birthday cake. Heath Campbell fathered 9 children with 5 different women. But he doesn't have custody of any one of the children.  Heath's four children with his estranged wife Deborah are 7 year old Adolf Hitler Campbell, 6 year old JoyceLynn Aryan Nation Campbell, 5 year old Honzlynn Jeannie Campbell and 18 months old Heinrich Hons Campbell.
The three oldest children of Heath and Deborah were also taken into state custody as part of proceedings which were initiated after the birthday cake incident. The couple's youngest son Hons was also taken into child services hours after he was born in November 2011. Heath has since insisted that the decision to name his eldest son after 'a great war hero' was 'cute'.
Earlier this year, Campbell and Zito attended family courts, both wearing full Nazi uniform, to fight for custody of Campbell's 2 year old son Heinrich Hons.  NewJersey.com reported that a 2010 appeal division said that the children's removal was not because of their names and was based on allegations of domestic violence in the family's Holland Township, New Jersey home. Heath and Deborah denied the allegations of abusing their children. The three oldest children of the separated couple have since been adopted by other families. Heath said back then that the things they were saying were because of his beliefs and because of him being a Nazi and that the Nazi people didn't have any constitutional rights to fight for their children.
Before the birth of Eva Braun, Heath said that he would take Bethanie to a hospital from where the authorities won't be able to take their child away. He also said that Bethanie was on the pill but they did not believe in abortions. 'That is murder. Maybe God just does not want the white race to die' he added.
Zito said that when they were ready to leave the hospital, the nurses took away the little girl and workers from the Franklin County Children and Youth services declared that they were taking her.
Bethanie said that she had started screaming and gotten hysterical. She had been breast feeding her daughter for two days she added. Heath said that they had kidnapped her because he was not going to mix with opposite races and he was not going to let his children mix with opposite races either. He also said that he was not allowed to have children because he was a Nazi. 'I'll stop making them when they stop taking them' he added.
Heath had not yet seen his daughter Eva Braun because he was miles away in New Jersey and he had been unable to afford the expenses to travel to see her. The attorney for Eva's mother said that the baby had not been taken over Campbell's political views. He claimed that the child was removed because his client's first child was also in state custody. He added that if there was an assumption the child was at risk, they could do that.
http://www.youtube.com/watch?v=7WU0eBEKfWw
Video story: Documentary on Neo-Nazi activities in the United States.