Background
I don't claim to have been the greatest soldier, the bravest or the most resilient. I don't claim to have been in ferocious combat, but as a Combat Medic, I was more an observer from the side lines or a responder after the event. This however should not detract from the effect these incidents can have on a human being.
We all react to things in a different way. Some cope better than others, that's the nature of our work.
I was born into a family with a long military history. My great Uncle was given a battlefield commission (Pte to Lt) in Sept 1917. He had been fighting on the western front since the age of 16, being awarded the 14-15 Star.
His brother – my grandfather – was part of the BEF to France in 1939. He was one of the last wounded soldiers evacuated from Dunkirk, he returned in 1944, on the staff of the then Lord Bath of Longleat, and fought through to Berlin.
His wife was an Air Raid Warden in Birmingham, dealing with the horrors of the blitz.
On my mothers side, my grandmother was an AA Gunner on the south coast, famously shooting down a damaged American Bomber on the wrong glide path – all crew survived. My Grandfather served the war in the Navy, from Norway to France as a signaller on a mine sweeper.
My father joined the Army about 1971. He was in the RAOC but wanted a challenge. His best friend in training was Vince Phillips. They both trained together and applied for and passed selection into elite units. When I was born, my father was away in NI, doing what he did. He will never discuss his work, as it wasn't conventional. His friend Vince took his own path and died on the infamous Bravo Two Zero Mission.
As a family, and with the nature of my dad's work we travelled the globe. From NI to BAOR, then onto AFCENT in Holland. Back to UK for a bit, and then he was posted to the British Embassy in Moscow in 1984.
I know some of what he did there but won't divulge. I loved Moscow, but as a result of the school situation spent the rest of my school years in boarding schools.
A notable event from Moscow was coming face to face with Kim Philby on the street outside out apartments, we celebrated the New Years in Red Square and watched the May Day Parades. I recall often seeing drunken soldiers in streets who had returned from the war in Afghanistan.
I left school in July 1991, I was in the Army by September the same year. As the last but one Platoon to do basic training at the RAMC Depot at Keogh Barracks in Ash Vale, we had a joint pass off with the last Platoon in December 1991.
In January 1992 I was in BAOR, serving with 3 and then 4 Armoured Field Ambulances. We returned to UK at the beginning of the BAOR Withdrawal in 1994.
In 1995 we deployed as part of UNPROFOR to Bosnia. This was my first experience of war. In 1996 I moved to 24 Armoured Field Ambulance in Catterick, the following year I deployed back to the Balkans as part of SFOR.
On return I was posted to MCTC in Colchester, the infamous Glass house. This was an eye opener as I never thought military personnel were capable of some of the crimes committed by the guys who passed through our doors.
It was 1998, when I first knew something was wrong. Nightmares and flashbacks, jumpy and on edge. I reported to the Doctor and was referred to the CPNs. Adjustment disorder apparently. Sit in the dark, listen to some whales and man the f*** up.
In Late 2000 I moved back to Catterick, then to Swanton Morley in 2001 and deployed to Kosovo. I was in a relationship and due to be married on my return. We had a son together. Eight weeks before the wedding I was dumped by text message whilst on Ops. Still suffering from Bosnia, this broke me further and I was casevaced to the Mental Health Unit in Catterick and held on the ward for a few days.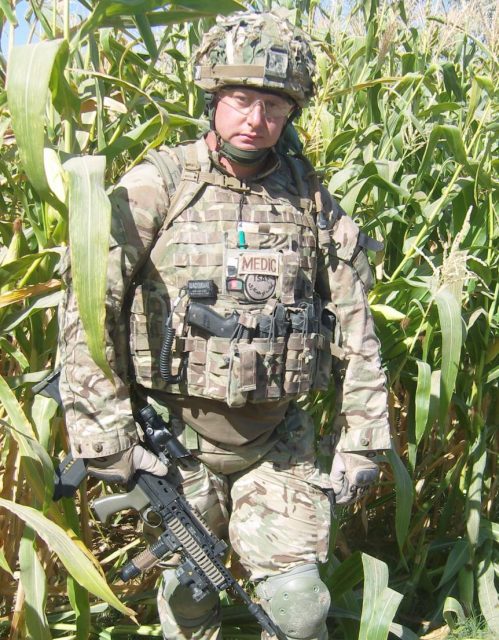 In 2002 I was posted to 9 Regt Army Air Corps in Dishforth. I volunteered for the deployment to Iraq, as the unit was bolstering 5 Regt AAC. I didn't go. Early 2003 I had a call and was asked if I would swap with another Medic and go to Iraq with 1st Battalion The Kings Regt. I jumped at the chance as I was still mulling over being dumped. Once in Iraq I didn't care if I lived or died, I put myself at risk where I shouldn't have. I was a medic, not the infantry.
There were a few incidents that played on my mind, two in particular. I returned to Disforth in November 2003. I drank heavily and my mental health was in turbo. Again I was referred to the Mental Health Teams and given an Adjustment Disorder Diagnosis.
Life went on. I met Tracey in early 2004 and moved to The Royal Military Academy Sandhurst in Jan 2006 as an Intake Medic. The most incredible posting. I was married in the Royal Chapel in March 2006. At this point Helmand was making the news. I followed both Iraq and Afghanistan closely. When I was due posting again, against my better judgement I asked to go to a med unit due to deploy to Afghanistan.
I was too far gone to deploy again. I kept quiet about my issues and deployed with 4 Medical Regt in March 2012 for Op Herrick 16. I was assigned as company medic to C Sqn The Kings Royal Hussars, a tank unit deployed in the infantry role.
That tour is detailed below, I believe the writing reflects the breakdown of my mental health, bolstering the issues from past tours and bringing it all to a head. I was finally diagnosed with Severe and Complex PTSD whilst in Camp Bastion. Instead of being sent home, I was sent back to the front line. Again a case of Man the **** Up in my opinion.
On return from Afghanistan, I was never the same. I showed all the signs of Chronic PTSD, but my superiors never clicked on. I picked it up in a half dozen of my younger soldiers and got them help. But I didn't help myself. I was the Sergeant Major now. I'm not allowed to be weak.
Eventually it got too much and I gave in. I went to the doctors and was referred. For the second time I was given a diagnosis of severe and complex PTSD and put on permanent sick leave. I was medically discharged in October 2014.
There was no follow-on treatment. I couldn't live in a military town as I couldn't cope. Through the Haig Housing Trust I got a cottage in the New Forest, I tried many agencies here for help. The NHS couldn't help, go to Combat Stress. Had an Appointment with Combat Stress, diagnosed again as before, but the six week residential was unrealistic as I had a wife and three children.
The tried ITalk –rubbish. Gave up and sought solace in the Forest. Found other veterans in the area and we became a brotherhood for each other. I'm not alone here, we are here for each other as no one else is.
Below is a direct transcript of my operational Diary form Afghanistan. I haven't changed anything, names places thoughts at the time etc.
The Operational Diary of Ssgt Andrew Turley RAMC – Op Herrick 16 | Afghanistan 2012
This is a direct transcript of the diary I kept during Op Herrick 16 – March to October 2012, whilst based in Patrol base Nahidullah in the Lashkar Gah District of Helmand Province.
I was deployed as a Combat Medic in the Infantry Support Role, attached to C Company of The Kings Royal Hussars who had rerolled as infantry. I was conducting this role in the rank of Staff Sergeant at 39 years of age. Typically this role would be undertaken by much younger medics in the Pte to Cpl rank range.
Saturday 24th March 2012
Tears before bedtime – Left my babies and beautiful wife today. Arrived at Normandy Barracks for 1500, bit early if you ask me, and I said my goodbyes to Tracey, Aaron, Kayleigh and Ryan.
3 bloody hours in the MCCP queue – bloody joke – words p*** up and brewery spring to mind.
2030pm coaches arrive and we set off on the first leg of our long journey to the Afghan war.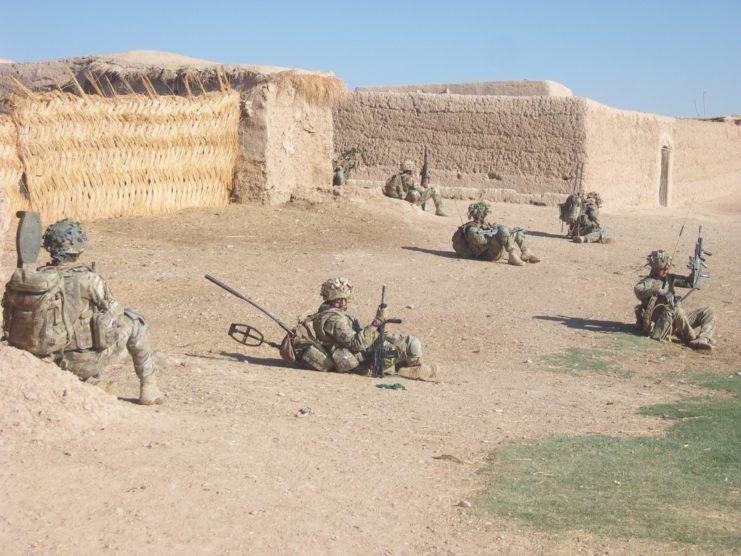 Very apprehensive, but we will see what happens. God willing we will be home in 6 ½ months time.
2230 – Arrive at South Cerney Air Mounting Centre – not expected until 0200am – no surprise then.
Bags booked in – left with helmet, osprey and laptop.
0300 – Taken for Breakfast – bit ropey. Chef was a miserable t***.
Sunday 25th March 2012
0530 – transport to RAF Brize Norton.
Flight departs at 0705. Driven round to departure lounge.
Lounge is full of other guys making this trip. Clearly some Special Forces and SAS here, judging by the hair, beards and different clothing they are wearing.
Say hi to Mark Budd, C Sqn SQMS KRH. We were at school together – Wymondham College.
Looking around at our younger guys and girls, there's a very subdued atmosphere. A lot of people deep in thought, I guess.
0640- called forward for boarding. RAF VC10 – s**** plane – very old – No TV!!
0705 – Farwell England – I will miss your green fields – we will meet again – of that I am sure. Tracey, Aaron, Kayleigh and Ryan – I love you.
_ Short stop in RAF Akrotiri, Cyprus for refuel. I can see Limassol – tear in eye, had an awesome holiday there with a very special lady – love you babes.
Flight was ok – sat between Simo and Jacko – three lard a***s together.
RAF Stewardesses – bit ropey.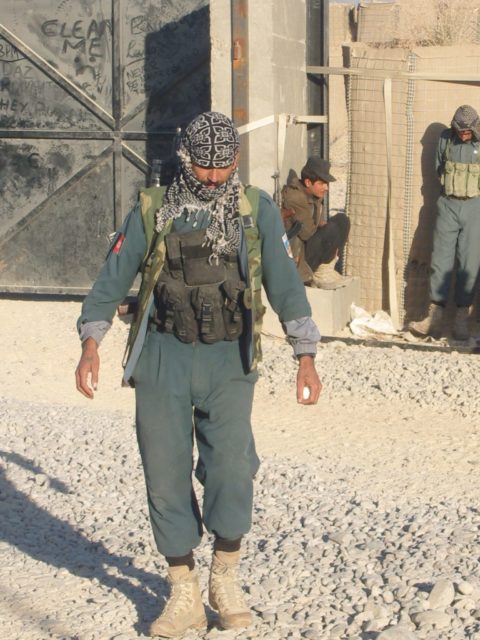 If I hear, " We are going to pass along the aircraft with a cup of refreshing squash" once more I'll go mad.
It tasted s**** so clearly wasn't refreshing. Bloody RAF, however the meals were quite tasty.
15 mins to landing – strapped in, blinds down, plane blacked out – total silence – everyone deep in thought – here we go – a very long descent, then bump, wheels down, camp bastion,
Afghanistan. We have arrived. Its after 2300 local – 3 ½ hours ahead of the UK. Why the ½ hour – weird.
Off the plane – wow this place is f****** huge – a full sized runway!! Not going anywhere soon are we???
Buses take us to arrivals and RSOI.
Get phone card – important
Have a brief – get bags – meet Chris the RQMS 4 Med Regt – get to accom – Camp 110 Bastion One
0230 am – get to bed
26th March 2012 – Rest Day RSOI – Day 0
0630 – Afghanistan – Day One
Bfast – Bastion One Super Kitchen – my god its huge – feed 3000 people a day. Food is good.
Have a wonder – I have never seen anything like this – shops, cafes, pizza hut.
Soldiers everywhere, UK, US, Georgian, Jordanian, Danish, Civilians – BFBS, KBR, Turners, Paradijm… Amazing
Just after 10:00am- " Standy by for broadcast – Op Minimise Op Minimise Op Minimise" Already!!! f*** me we only just got here – the colour drains from the younger faces – this s*** is real.
2 x UK KIA – murdered by a rogue ANA soldier. He is shot dead at Lash Ka Gar
RIP –
Sgt Luke Taylor RM
LCpl Michael Foley AGC
My heart goes out to your families. Both had young families
27th March 2012 – 02nd April 2012
RSOI
7 days of theatre specific training. Some good, some ropey, some clearly a waste of my time. Was on the same package as Mark and a few guys from KRH. We made the best of it.
Date of Note : Weds 28th March.
Vigil Service – Vigil Site Bastion One.
1700 formed up at 1730 to pay tribute to 3 fallen souls before they are repatriated to their loved ones in the UK.
Thousands of Soldiers stand in a 3 sided square as tributes are read by their friends and Regtl prayers are said. A very very moving experience.
RIP Guys
Capt Rupert Bowers
Sgt Luke Taylor
LCpl Michael Foley
Tues 03rd April 2012 – D Day-
Awoke at 0400. I'm s******* bricks – here we go. Arrive at the helipad for a 0600 flight.
4 Med, 11 Sqn is going to war.
First flight out by Chinook are:-
Capt M Marsden MO
Capt J Barratt MO
SSgt A Turley CMT
Lcpl S Bloomer CMT
Cpl L Short CMT
LCpl M Hughes CMT
Pte S Fitzwarren CMT
Pte J Tallent CMT
I look around the Chinook. No one talks. I glance at Sophie – she looks terrified. Jake and Sam stare straight ahead.
Me and Matty share a nervous smile. The blades speed and we start to lift, I take a deep breath to calm my nerves, think of my family, check my pistol is there, rife muzzle down.
Say a prayer and we are up.
The beast is out there.
After what seems an eternity, but is probably 15 – 20 mins, we start to drop. The RAF loady mounts the rear door gun. We swoop low over Afghanistan's green fields – my god it's green – The Green Zone. Looks like Vietnam.
We bank and swerve and then we land – Patrol Base Nahidullah – welcome to hell – the fresh meat is here.
Quad bikes pull to the back ramp, baggage is unloaded, I unclip my belt and run down the ramp, clear of the blades – f*** it's hot.
Within 3 mins the Chinook is gone, Me Capt M, Hughsy and Shorty have arrived.
The outgoing doctor from 1 Med Regt, Capt Millward meets us. We drop our bags at the Med Centre, opposite the HLS thankfully.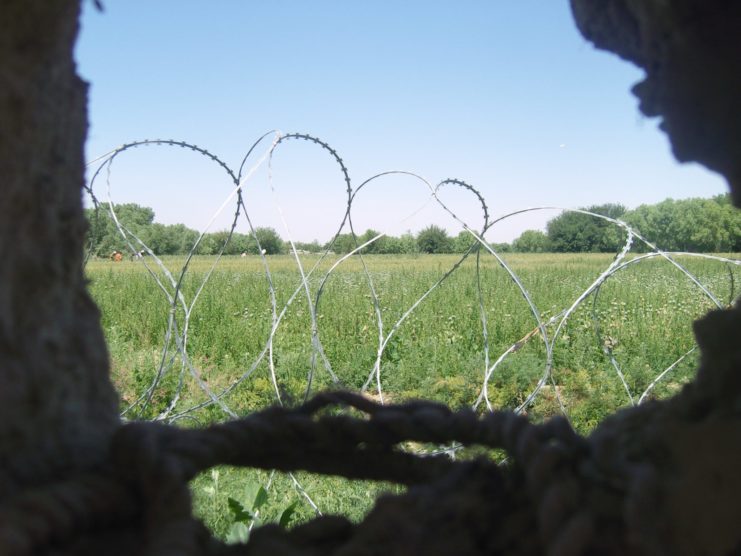 After a nice breakfast we head back to the Med Centre and start out handover.
Landed on my feet here – awesome med facility. Me and the Doc will live here. Hughsy finds a bed space in a tent and Shorty moves to CP Spina Cota to relive the medic there.
The base is ok, we get an intel brief, and I see a few more friendly KRH faces amongst others from our BG in the ops room.
Hand over continues for the rest of the day.
Weds 04th April 2012 D+1
Continue hand over of Med Centre
Already planning improvement
Mark, Burt and Mac arrive by Chinook. KRH are starting to land. Great
Go on my first patrol this afternoon. Pte Clift (outgoing CMT) comes too. We go with the 26 multiple of the QRH.
All my kit on – Med Bergen packed – water – rifle- ammo – let's go.
Front gate opens – out we go – welcome to Nahidullah Afghanistan – This is weird.
We walk for about 2 hours around the local area. The compounds are like a maze of mud walls and buildings. The heat is quite oppressive. We walk through fields of wheat and poppy, balancing on ledges about the width of one of my feet, don't want to fall in the water on my first patrol – would look a right t***.
Have a break against a wall of a compound – take on some water.
Some locals walk past, the dad's friendly, he has two lovely little girls about Kayleighs age. Kenya flash back – they are filthy bless them. They smile mand wave. Pte Cliff calls one back and gives her a pink pen. My god she is so grateful, bless her, it's like she had been given the worlds riches – a pink pen. I'm quite emotional thinking of my princess Kayleigh.
The boys are a pain – want, want, want. However it's just a pen or chocolate they ask for – not to much to ask is it??
Thursday 5th April 2012 –
Hand over continues with 1 Med Regt. We have taken over all patrols.
I go out again today with BJ27, a QRH Multiple call sign.
We patrol down towards the Helmand River. Not far from the PB a car drives past, I hear a baby screaming. The car comes back past and stops by the Patrol Commander and the terp. The baby really is screaming. I think of Ryan. The patrol 2 i/c goes to see what is going on, a few moments pass, and he comes back. The car has sped off.
I ask what's up, he tells me the baby was burned down one leg and buttock. The father has asked for help. We are no longer allowed to treat civilians, unless the wounds are caused by the fighting. I am pretty upset, that cry of despair has gone right through me. All I can think of is Ryan. Why couldn't I help!! It plays on my mind for a bit. I'm sure I'm going to see more of this s***.
We continue the patrol, crossing fields and ditches. On climbing out of a ditch, I look left up the road. A DROPS rack has been left by a compound wall. Now that is weird. The guy behind comments he's surprised the wood is still on it.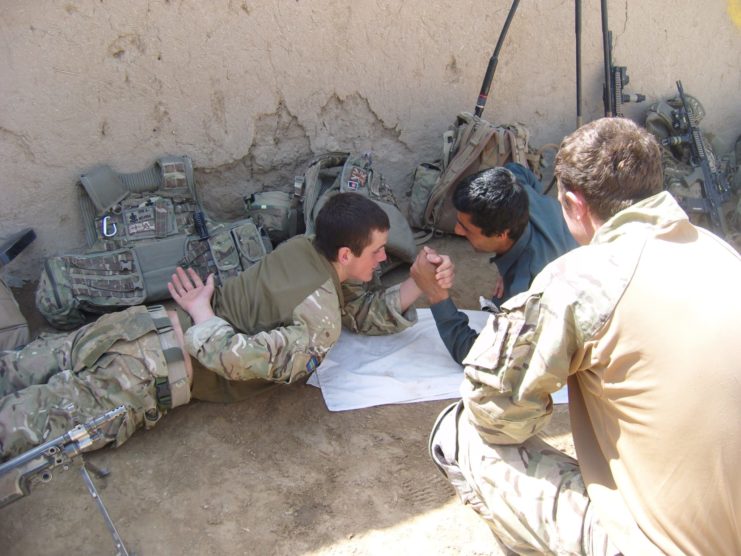 We reach our destination after about an hour. Heavy gunfire and explosions were heard to the east, as we are heading that way, we ask for radio confirmation of what is going on. No one knows!!
Stopped at the CP for about an hour. Had a laugh with the ANP, did some wrestling Afghan style, then Arm Wresting UK style. Had some chai and fried potatoes.
The route back was ok, crossed a few ditches, got a bit wet, but was a great relief from the heat.
Caught 3 guys digging under the path, could be innocent or possibly preparing a hole for an IED. Area was marked and details passed on.
Arrive back at the PB safe.
Kingy also arrived today, 1 Troop is now complete in the Green Zone, Afghanistan.
Friday 6th April – Good Friday
Awoken at 0300am this morning by banging on the door, A ANP is outside the gate. He has been shot. The Doc goes to check him out. I prepare a bay to receive him.
About 20 mins later the doc returns – No Casualty??
The OC wouldn't allow the policeman in to be treated – against the rules apparently, so the Doc treated him at the gate, gave him morphine, and they left to get further aid in Lashkar Gar.
The 1 Med Medics and MO fly out about 1400.
We spend the day cleaning and rearranging the trauma area. It looks so much better.
No patrols today.
Saturday 7th April
A quiet day. KRH advance party arrives, good to see Tay and the others.
Matty and Kingy go on patrol' Lee, the KRH medic arrives and moves on to CP Spinakota. Shorty will come back on Monday.
Have some letters from my lovely wife and kids. Well chuffed
Bloody hot.
Sunday 8th April – Easter Sunday
Happy Easter
Well, Easter away from Tracey and the kids, and Ryan's first one to boot.
I know they'll have a great day as Tracey and the welfare crew have arranged a top day for the kids.
I, however, will go on foot patrol to Loy Mandeh, made famous in the Commandos in Afghanistan programme.
I go out today with Black Jack 21, a Yorkshire Regt call sign. These guys have endured the worst of the fighting over the winter. Cpl Ryan is patrol i/c.
Me and Tay (Cpl KRH) join them.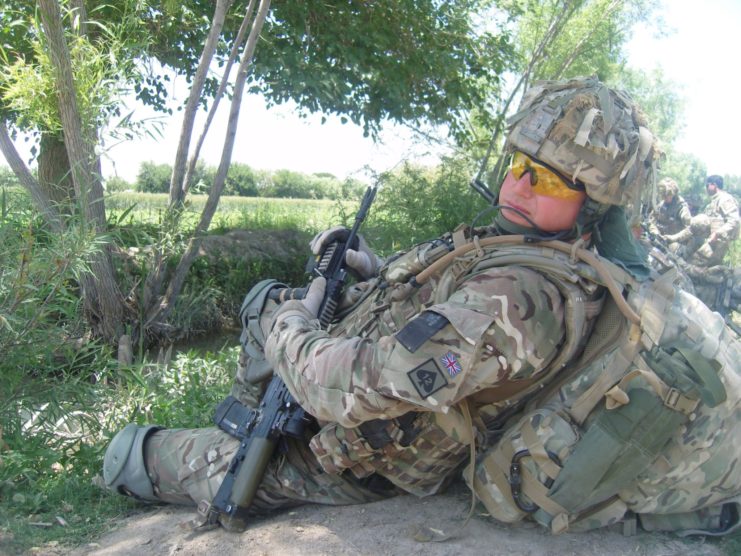 The patrol is long and uneventful. Cross loads of ditches, wade through the canal, patrol round the village. Have Chai (pretty ropey chai) with the local elders.
Poppy is growing everywhere.
My med kit weighs a tonne, or so it feels. Oh and its bloody hot.
An apache (Attack Helicopter) hovers over head. Its quite comforting to have him there.
I wonder what tomorrow will bring??
Monday 9th April 2012
Just thought, it's great that I can spk to Tracey and the kids everyday. Even out here in the arse end of nowhere. All credit to the MOD and Paradigmn for supplying a top service.
On patrol again today. Went with 27 call sign down to ANP checkpoint Samander, in the hope of getting them on patrol.
Chat to loads of kids on the way, as their school is in the same direction.
Arrive at checkpoint around 0800. All the police are stoned on pot. They also have guns – not cool.
There is a huge Afghan Hound in the compound, so we leave our search dog outside.
The Commander isn't there, and we get no joy from the others as they really are smacked off their t***.
Suddenly their dog goes for ours. It's kicked in the head and lets go. We scream at the ANP to tie the bloody dog up. It attacks again.
"Shoot it ", shouts our patrol i/c.
A guy goes forward. Bang Bang. 2 shots. He misses. Right in front of me another guy (Nepalese) raises his rifle. Three shots and the dog lays dying.
The ANP go f****** mental and grab their weapons.
I'm a little nervous now. They are told they were warned about the dog.
Our commander is bitten and our dog wounded.
Right, lets get out of here, the ANP are really pissed. We don't want a blue on green.
Kit on- we're gone. I'm checking back and watching the sangers making sure they don't shoot at us.
We head back towards Loy Mandah CP. We have to cross a canal, but first we wade through an irrigation ditch full of 'HUMAN S***'. I am waist deep in s***. This sucks.
Then it's straight into a canal. I try to let the current wash as much s*** off me as possible.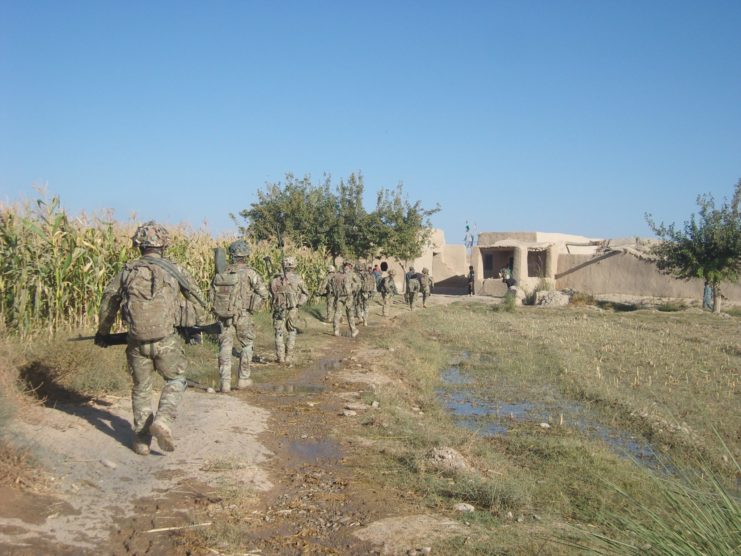 Across a poppy field – disturbed earth by the small bridge we used yesterday.
Dog sent in to check -isn't happy. HORN out, VALON man clears a safe route round marked with yellow spray paint.
Then back to camp. All he while some t*** in the Mosque shouting we are not welcome and ISAF is bad – Great!!!
Uneventful afternoon
Commander is evacuated for rabies treatment and dog and handler go too. PEDRO pick them up. Filmed it. Those guys are pretty awesome.
Cpl Short returns to us from CP Spina Kota
Quiet evening
Had nice chat with tracey and kids.
Tuesday 10th April 2012
I'm not patrolling today. Rise early for breakfast. Getting to hot to sleep at night now.
Watch rest of C Sqn arrive at 0910 and 0950. 2 Chinooks, 20 pax on each one.
Op Minimise is called. 10 US Cat A wounded in Musa Qualah
Kingy returns from patrol with our first heat casualty. Our new set up works and we treat him swiftly.
Spend rest of morning and early afternoon making signs for the Med Centre.
More on Op Minimise today. A guy has an ND with an LMG on the RSOI day 2 range. He hit another guy with 3 rounds. 1 through the abdomen, 1 goes through and takes of a testicle(Ouch) and the other hits his leg. He's only been in theatre 2-3 days.
Quiet day otherwise.
Wednesday 11th April 2012
No patrolling again for me today. We have enough medics so I miss out. I know it's safer in camp, but I'll go mad inside these walls for 6 months.
Usual daily routine:-
Bfast 0630
Brief 0800
Sick Parade 0830 – 1000
Lunch 1200
Dinner 1730
Briefing 1930
Sick Parade 1900
Medic Brief 2000
Fairly quiet day. A lot of Herrick 15 peronnel flying out.
I look at Facebook, Tracey has put some awesome pics of the kids up.
Still NO mail – getting p***** off now. Also hear R+R dates may change. Might be second choice instead – means I'll miss holiday.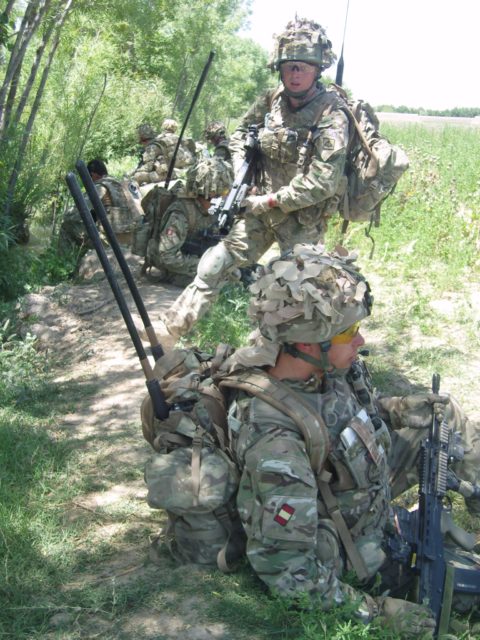 Op Minimise called again. Brimstone call sign has lost both legs to an IED. Not far from here. Poor sod.
Can't call tracey due to Op Minimise. Hope she doesn't worry too much.
Thursday 12th April
Op IBDA 8 –
All the medics deploy on Op IBDA 8. Helis collect them around 0900 and fly to HLS's.
LCpl Hughs is nearly shot as he gets off the Heli by an ANP who has an ND with his AK.
They are out for nearly 9 hours, patrolling and visiting compounds. They visit PB 5 and see Jacko, he seems ok. Then Capt Godfry, (The Doc) , come back in looking like s***. He's been on Patrol
(naughty), and they got in a fire fight. He's fired 30 rounds. Capt Marsden is so jealous, he's not left NDH yet.
Spk to Tracey and the kids this am, and get 3 eblueys, so I'm happy. Still no normal mail though. Soon I hope.
Fairly uneventful day otherwise, except for my fight with a huge camel spider in our living area. Me and Capt eventually find and kill the b******.
I initially s*** myself when it ran over my foot. Deadly toxic bite. These b******* jump as well.
Spent the night sealed in my mosi net, as did the Doc. Oh the fun we have.
Hopefully some mail tomorrow. Heli drop is due. We'll see!!
Friday 13th April 2012
SD – CMT KRH – arrived 0330 am. All medics here now. Shorty due to leave later to FOB Attal. A lot of fighting down there. No flight time as yet.
It's 0930 – and BLOODY HOT.
A relatively chilled day.
D+V cases increasing. They go in isolation next door in the Dungeon.
Still no mail.
INT REP – Suicide bombers in area. 12 year old teachers son from the school down the road taken and beheaded by the Taliban. Body found in river Helmand.
Pure scumbags that lot. Hope we get the chance to kill some – NO MERCY.
Too hot to sleep – night all.
On patrol tomorrow with Capt Dott and the Royal Welsh.
Saturday 14th April 2012
Out on patrol at 0730 – hot already. Having to carry 5-6 litres of water now, just for myself.
Follow Route Mars to CP Sayed Abdul – ANO are good. We go on patrol through fields and villages.
Christ it's hot – really hot. Whatever the air temp is we add 5 degrees for helmet and body armour. So 32 is 37 etc. It's not even summer yet!!!
By the time we have got back to CP we have done 6.5km.
40 min VCP and then we go off again – through the mud, poppy, wheat, ditches and canals,
MY GOD IT IS SO F****** HOT, and humid. Guys are starting to struggle in the heat under the weight of kit. I'm feeling weak, my daysack is killing me. Sweat stings my eyes. I'm soaking wet, my shoulders scream in pain. No-one can ever understand what this feels like unless you have been here.
At one point I could have been in the English countryside it was so green. I looked into a stream running by , and guess what – Tadpoles. Hundreds of them. How British is that. Makes me miss home. Can't wait for walks in the countryside with my family.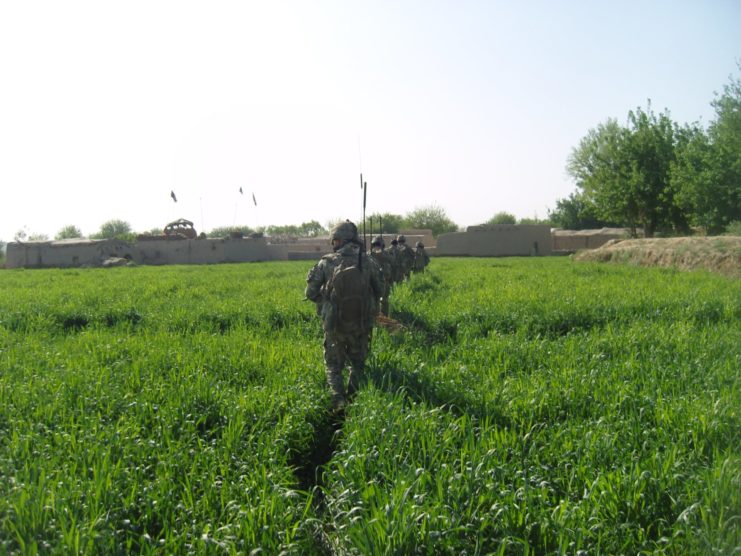 I can hear a baby crying in a compound – I hope it's not hurt. I hate hearing babies cry. I want to hug them, they make me think of Ryan.
When we arrive back at the PB we have patrolled for 5 hours. I'm exhausted and dehydrated. This is going to be a long 6 months.
Spoke to Tracey. Glad they had a good day at Wellington Park.
Int Rep – Fighters moving into area. Commanders want to strike hard at ISAF and ANSF.
Also Taliban have threatened to burn the school down. We will overwatch with PGSS( Secret balloon thingy).
Morale is low. Matty to leave in the morning at very short notice to PB Attal. A lot of fighting down there. He's not happy.
I will go on patrol tomorrow night at 1900 with FSG, mounted in Jackals, so am happy with that.
Night world.
Sunday 15th April 2012
Again a fairly quiet day. Very hot as usual. 6 people in the D+V Dungeon.
Got a few eblueys sent. Took over an hour though, the wifi connection is fairly ropey. But at least we have one.
The patrol tonight is uneventful. Deployed at 1900 in a Jackel with BJ26. Was sat behind the .50 gunner. We were informed before we left that Taliban would be moving a few hundred meters to our north to attack a check point, so be aware.
Drove down to the school threatened by the Taliban. Waited in the dark and watched. I looked thought the various night sights and saw the following:-
Shamoulis – lots
Small arms fire to the North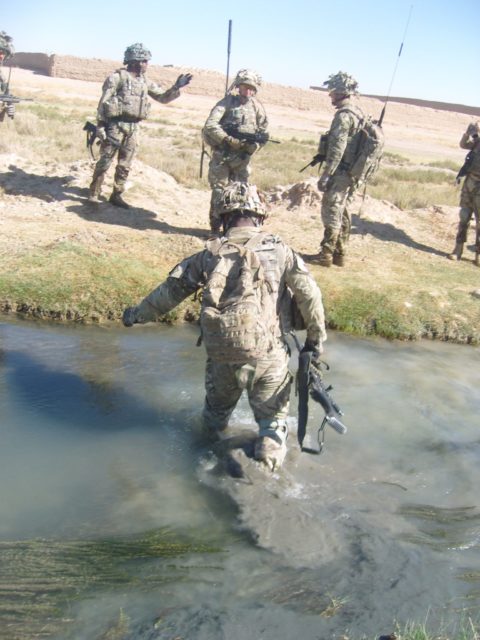 Apache attack helicopter to the North
Some farmers
Oh, and watched a man have a poo in the field through the thermal camera!!! Good times.
Had a good bit of banter with the guys. Back in by 2230 – shower- bed – too hot to sleep.
Int Rep – 21,000 Taliban have come in from Pakistan – Whatever!!
Monday 16th April
Awoke early, about 0430, went outside about 0515. Gunshot – fairly close – went back inside.
Another very hot day. Gave the Med Centre a major clean up. Started on our outside area. Should look good when we finish with it.
Still 6 in the D+V Dungeon
Fairly quiet otherwise.
Drama- IED has been found locally. Brimstone have gone to deal with it.
Op Minimise called. Poss green on blue. ANP shot as not in uniform, buy had a weapon, not in this AO though.
Evening Brief – IED confirmed. Also it is a new type not seen before. Worrying development, as it means bombmakers and IED layers are back in our area – Bad times.
Gutted I can't call Tracey due to Op Minimise.
Will call tomorrow morning.
Tuesday 17th April 2012
Spoke to Tracey and the kids today. My poor Aaron, his being upset about me being away has really hurt me. I'll make it up to them all when I get home.
Had a letter from Tracey and Mum and Dad.
Very hot day, made some progress on the outside area. Made a sofa etc.
Otherwise a very quiet day. Watched a film – Warhorse – was pretty pants if I'm honest, though the historical context was good.
Not much on Int tonight.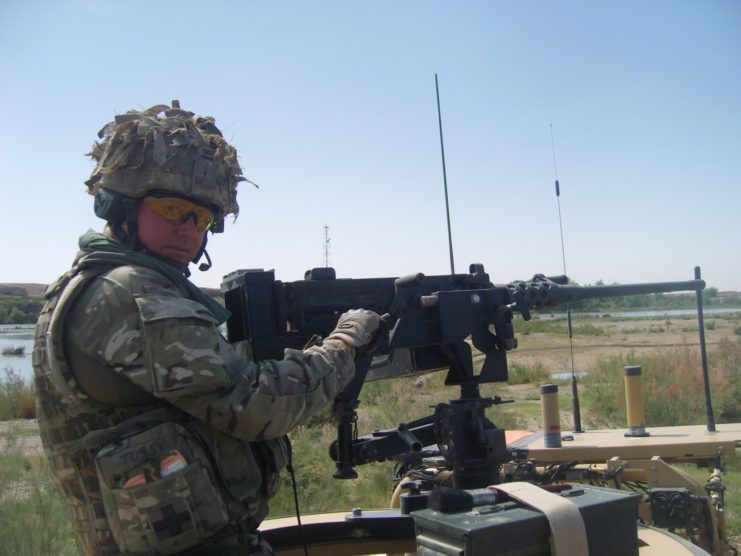 Influx of Pakistani suicide bombers to LKG.
And a new mud build ANP Checkpoint was handed to the ANP at Checkpoint Samander. All the expected hangers on came from LKG for the ceremony.
Wednesday 18th April 2012
Fairly busy day. Weather is a bit pants. Cool and cloudy.
Went on a vehicle patrol with the FSG to prove some routes. Rode in a Jackal.
Drove to some small villages where the evidence of earlier heavy fighting was everywhere. Destroyed compounds, mouseholes, murder holes and Taliban firing points, and some things that were clearly Taliban aiming markers.
The streets were very tight and fairly quiet. The guys had to Valon some areas for IEDs, during which time I had to mount the .50 Cal to provide rear cover.
We had a few metal hits, so we reversed our route. We did this for about 3 hours, then headed back to camp. It's starting to rain now.
Got back to the front gate, a lot of locals standing about. We are last vehicle and turn in.
"Oh, f***", Chico says over the intercom. I look right. S***.
A boy of about 4 or 5 is stood there with his dad. He is crying, a rough bandage covers his head. He is soaked in blood.
We pull through the gate. "F****** let me out" I say to Chico. I leap out, forgetting my headset is plugged in. Get that off and grab my Med Bergen.
The Doc is here, I look at him.
"They won't let him in till the parents are searched. Search Team on way".
"B*******, get the kid in, he's covered in blood>"
"Only after searching."
" F*** this."
I go to the gate and look through a gap. Poor bloody kid. The Terp and father are shouting at each other. They've been there ages. Protocol is causing problems again.
The Terp turns back.
"They are going", he says. We hear "F*** ISAF, Bad ISAF" and they are gone.
What a cluster. A guy then comes over in shorts and tshirt.
"I'm the searcher."
Really!!! Doc and me are fuming. OC comes over. Me and Doc explain they are gone. Not a good outcome. Someone has messed up and now our name will be soured.
Appears the child had fallen from a motorbike and was related to a high level ANP Commander. He looked like Aaron.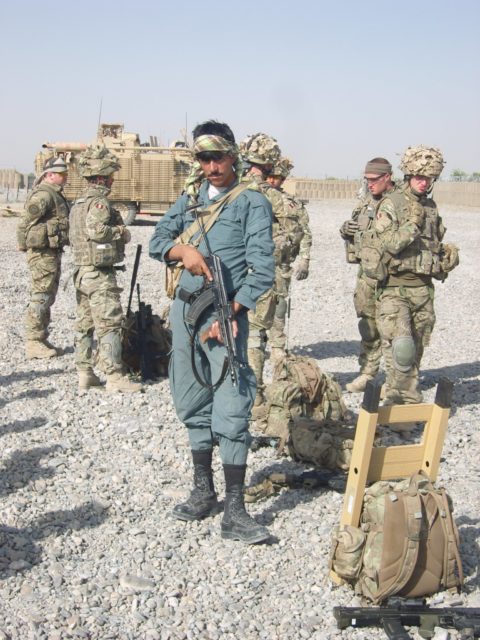 A patrol went out later and was abused by the locals. A clear repercussion for the child not getting treated.
On a brighter note, had some parcels from Bet, Linda and Jackie. Some good bits and some odd bits, but thanks to one and all.
No parcels from the kids though.
HUSLE is in tomorrow, so fingers crossed.
Thursday 19th April 2012
More repercussions from the incident with the child yesterday. This mornings patrol was met with thumbs down and bricks. Not cool.
The heli resupply came in about 0920. Went to help unload – wow -it was fullof mail and some of our med stores arrived as well.
Checked the mail, had 3 parcels from my lovely family. The biscuits the kids baked were fine. I'm so happy. Getting Kayleigh's picture she painted has made me put the kids pictures up at last.
A quiet afternoon. Patrol brief at 1630. Leave at 1730.
Night Patrol – No ISTAR or PGSS. Not good.
Still light when we set off. Worried if we arrive at ANP checkpoint after dark, when they have taken drugs they will open fire on us.
It's 2 km, but it take us 1hr 50 mins. Still daylight when we arrive thank god.
Wait around till dusk, then go on patrol with the ANP. Cover a bit of ground, when "BOOM".
What the hell was that?? Wasn't thunder, so a large explosion is reported back. We carry on into the village and rest by the Mosque. 30 mins there and then back to the CP. It's pitch black and lightening constantly flashes across the sky, giving us a split second of light.
It's far to dangerous to walk back across the fields, so the ANP are asked to drive a police pick up in front of us to clear the road back to the main road, route Mars.
It's takes us about another hour to get back. It's started to rain and the lightening is constant. We return to find Op Minimse in force. A US Blackhawk had gone down. Four crew killed. The storm is thought to be the reason.
RIP Guys.
Friday 20th April 2012
It's pissing down. Torrential rain. Tents are flooding, drainage ditches are full or overflowing. Everything is thick gloopy mud. It sticks to everything. Also it's cold.
Did Med Trg with the Royal Welch. Taught them to cannulate. They tried on each other. Was highly entertaining.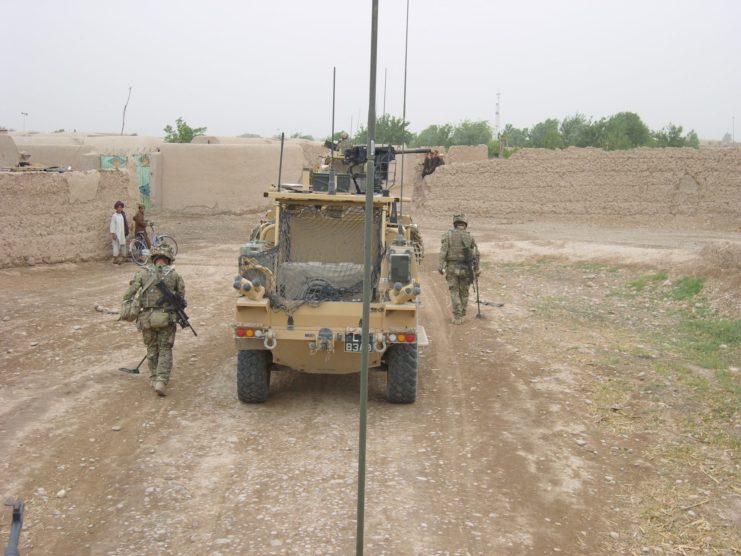 Otherwise a quiet, cold, wet and muddy day. Op minimise on all day. Lifted at about 20:30. Appears a Gdsmn has been shot today. Pte Cole, one of the 11 Sqn Medic treated him.
Saturday 21st April 2012
Happy Birthday your Majesty. It's the Queens birthday.
Still a fairly miserable day, cloudy and some showers. Still lots of surface water and thick gloopy mud. Hope it dries soon, the Med Centre is filthy.
Also do cannulation training for the FSG today. Was good fun. A few potential medics here. Quiet day otherwise. The sun has broken through and everything is starting to dry out.
Two Watch List 2 Taliban captured locally by the ANP but taken to Lash. Due to be released due to lack of evidence. We will watch and redetain when released. Being on the watchlist is enough for us. They will be TQ'd and taken to Torchlight in Bastion. Hope we get them.
More IED finds. The Taliban have taken advantage of the poor weather. Will need to be more careful on patrols in the coming days.
Spoke to Tracey and the kids. Glad they are all ok. Miss them loads.
Sunday 22nd April – Thursday 26th April 2012.
Have had a sloppy week writing this journal. Overall have had a good but quiet week. Have been on one foot and two mobile (Jackal) patrols with the call signs from the Royal Welch.
Went on foot patrol to Balisan down by the Helmand river. Went on patrol with 2 ANP to look for crossing points. The locals cross the river by floating over on rubber rings. During the patrol we come across people harvesting the poppy. We HIDED two of them as they were out of area workers. Governor Mangal is trying to discourage these workers as many are Taliban who travel down for the summer fighting season. Neither of the two we stopped showed on the hide camera, but I reckon one was definitely Taliban.
We found the crossing point and It was marked to be watched by the PGSS guys. Over the river was a stunning old ruin of a fort. Hundreds, possibly thousands of years old.
Returned to Balisan and then back to NDH.
Also went with QRF to recce some routes around ANP Hill. ANP Hill was notorious for some very heavy fighting in the past. The guys lived in trenches which are still there.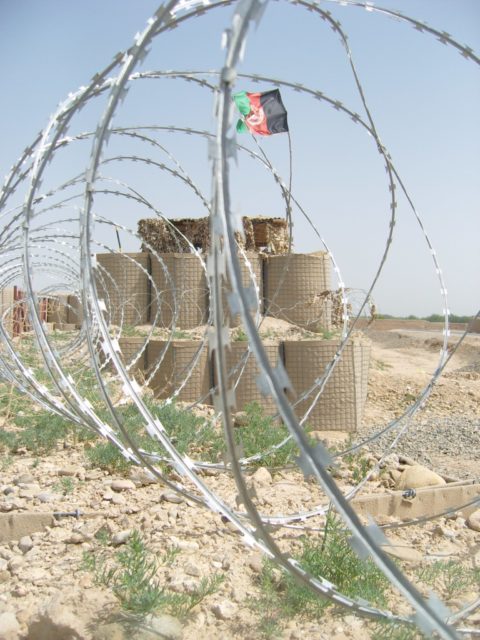 Moved on to CP Spina Kota, stayed here a while. Spoke to Lee, the medic, and took a few photos.
Have also done a lot of work around the Med Centre, clearing rubbish, tidying D&V Tent and making a garden area. Got a touch of Sunburn – Silly Boy.
Finally, Thursday was on QRF. Got crashed out late afternoon to provide escort and overwatch while a stuck Brimstone vehicle is recovered from the Lash area. Went to FOB Shazad first to collect another REME Wrecker and then drove south through the outskirts of Lash. Busy with shops and tradesmen. Lots of ANA and ANP checkpoints bristling with guns, both light and heavy. Took some video footage.
Got to location of tasking. Many very old ruins here. Tourist worthy if this was a better country. Waited by a village that was almost Medieval in appearance. Very Surreal.
Waited a fews hours, then returned back to NDH. Was a night drive, but I fell asleep – naughty. Had a few parcels when we got back – so happy. Shower and bed as on duty watchkeeper at 0400hrs.
Friday 27th April 2012
Quiet and hot day – pottered around camp and the Med Centre.
Spoke to Tracey and the Kids, gutted about Aaron not being invited to Harry's Birthday tea. Still Tracey and Aaron are stronger and better than that.
Sad news, a Gdsmn has been killed in action further north. So glad it's quiet around here.
Saturday 28th April
Went with the QRF Group in Jackals today to provide overwatch while the engineers repaired a bridge at CP yellow 14. The locals have been stealing the pins and other parts, so they were replaced and glued in.
This lasted a few hours, then back to camp.
A bit of excitement when an armed man was seen running into the woods. Callsigns were sent to intercept. I watched things unfold in the Ops room on the screens.
Excitement, then disappointment. He was an ANP out of uniform. He got a telling off and that was that. Otherwise a quiet day as usual.
Army – Navy today – couldn't watch though as the power keeps going off. Issues with the generators. Steve from the KBR is working hard to fix them.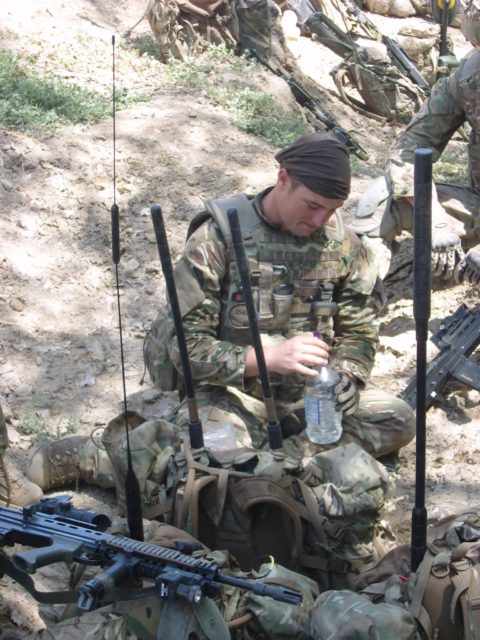 Sunday 29th – Monday 30th April 2012
Day started well. Did some teaching to the QRF guys.
A heli collecting HUSLE destroyed our garden, so I rebuilt that.
Shorty had some bad news from home so I'm going to take her place on tonight's CP stayover and night patrol. Bit short notice, but we all help out.
I left at 1730 by Mastiff to PB4, then patrolled down to CP Khasar. Going to stay here the night. ANP give us a room. Bit tight, but we fitted in. Did stag in the sanger with Stevie from 20:00 – 22:00. Was a nice moonlight to see out with. ANP bought us up some rice and foot bread. I only ate the bread, Stevie had the rice. Stevie is from Uganda, we spoke about home and Idi Amin.
Got head down after stag. Slept on floor, very uncomfortable. Constantly woken by bugs and cockroaches crawling on us. Also slept with a pistol in hand as I don't trust anyone.
Awoke about 0400, and left at 0430. Patrolled to CP Wallijan, then onto CP Sulemanshazi via CP Balisan.
Had a dog try to savage me, but Stevie shot it in the back. Bullet must have hit the spine as it became paralysed in the back legs and had to crawl away. I debated about shooting it in the head to kill it, but kids had appeared from compounds so we carried on.
Heard a shot a few minutes later so I assume the owner must have shot it again.
Had bread, chai and sweets with the ANP Commander at Sulemanshazi. He seemed ok and gave Capt Dott loads of info on the Taliban. Got an awesome picture of his son carrying an AK47. Went on patrol with the CP Commander and then headed back to camp. No water left to drink, very wet and exhausted. Had been on the ground for 17.5 hours. That has earnt me an extra £5. Thanks for nothing Dave.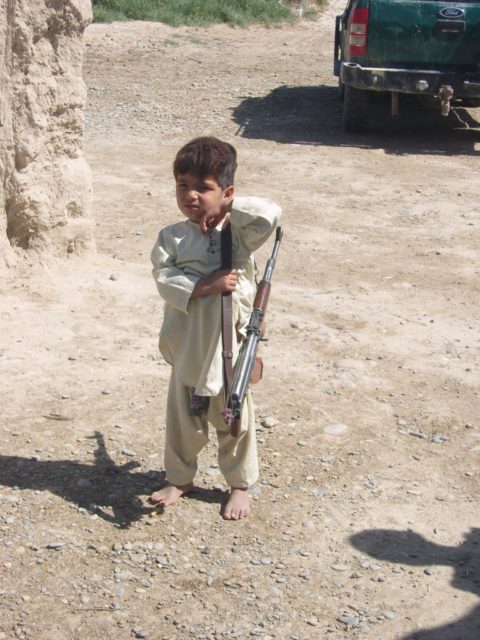 Got back about 1200pm and had a shower, food etc. Spoke to Tracey, cleaned kit. Tried to sleep – TOO HOT!!!
Has mass hysteria at the O Group over a picture of Shorty that was going to be press released. Total over reaction, but a lot of potential fallout. OC was informed but had a don't give a s*** attitude as there are more important things to worry about. – Couldn't have said it better myself.
Got to bed about 2330. A long day.
Tuesday 1st May
Hopefully this picture thing will blow over now.
Went on range and zeroed weapon. Spoke to Tracey and kids and got 4 parcels.
Happy days.
Some books from Bett and some nice stuff from Mum and Dad.
There's been a lot of fighting up north the last few days. Seems that the casualties are steadily mounting. Op Minimise has been on a lot lately.
Again a quiet but hot day.
A lot of mortar illum and shamooli's been fired tonight from bases around us. We are still quiet though, which is good.
Have to say the night sky out here is epic. Truly amazing.
Weds 2nd May 2012
Went on patrol with Capt Dott and BJ25 to Kunjak. Took a long and arduous route to the Cp. Was very very hot and hard going. Had a rest at the CP and the ANP gave us some bread. Loads of
Cannabis growing wild – weird. A lot of the poppy has died. We are led to believe the harvest has been awful for the Taliban this year. It seems to be diseased, but the locals believe we have sprayed it. – Who knows!!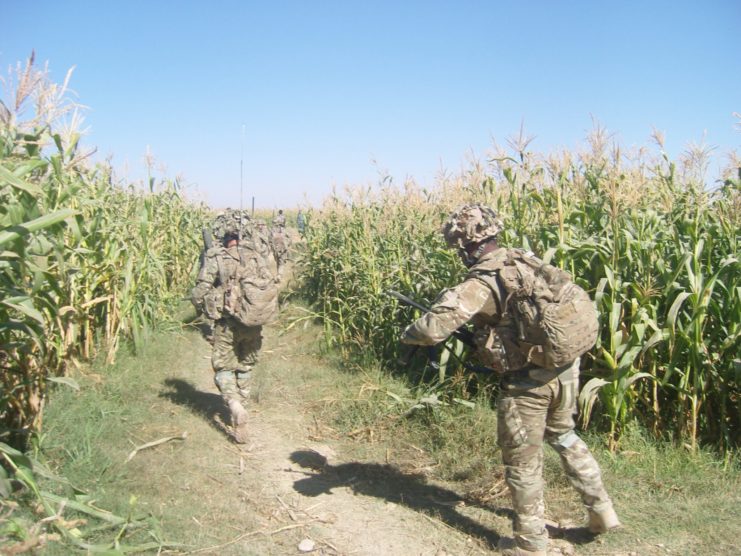 Conducted and uneventful patrol with the ANP, then headed back to camp. Seemed a bit cooler this afternoon. My back is aching from the weight of the kit, and my body armour is cutting sores in my side.
Did some first aid on a kid who had fallen from a bike. Cleaned and redressed his left knee. Nasty wound covered with a rag and filled with tablets!! Don't know why. Had a snooze and a quiet evening. Mr Paveley landed around 23.30 for his visit. Got to bed about 00.30.
Thursday 3rd May 2012
Sat here listening to the Military wives. Missing Tracey, Aaron, Kayleigh and Ryan terribly. Listening to this is a kind of connection to them, very teary eyed though.
Had a good mobile Jackal patrol this morning with BJ 26. Went down to the river Helmand. It's beautiful down there, and wildlife, especially bird life is in abundance. When you look across that river, it's hard to believe this country is torn by war. There has been a lot of heavy fighting the last few days. Casualties are mounting, 9 that we are aware of in the last 2 days alone. Thank God it is quiet here. For how much longer – who knows.
Managed to order the kids a present on Amazon. Took over an hour. The internet is so slow. Did a bit of PT this afternoon. Mr Paveley is still here. Flights keep getting cancelled.
Quiet evening Earlyish night. Military wives kept me company. Getting very hot in the nights.
Friday 4th May 2012
Up early as on patrol with Pete and Black Jack 22. Left at 0730 in Mastiffs and were dropped near PB 4. Patrolled of through a village. Plenty of signs of fighting in the past. Villagers have returned now though.
Patrolled down to CP Kahsar down by the river. Waited for the ANP to come back. Lots of heavy gunfire over to the East. Supposed to be patrolling there in a bit. Get kit on as the ANP are ready but one of the radio's goes down and we can't fix it. Black Jack 23 are in the area to support us and suffer the same fate. It's decided we meet up and make one large patrol.
We are due to get a lift back at lunchtime, but the Regt 2i/c decides we will patrol back to NDH via all the cp's. T***, we don't have enough water for that and no food. But being professional we plod on.
Op Minimise is called over the radio. We get to a CP called Zirray. WE take some shade and what little water we have left.
Patrol Minimise is called. We can't go anywhere now. Patrol Minimise is called because the Hospital is overwhelmed with casualties, had no more beds, and all medevac helicopters are committed. Not good.
After 2 hours we are allowed to move to CP Dosti and get picked up. Patrol Minimise is still in place, so special permission is granted to get us in.
Arrived back at camp. Brigade Commander had arrived early and is leaving early. Mr Paveley is stuck another night.
Doc briefs me up. Brimstone were conducting a lesson at a PB. Mr Bundy is there. An explosive round – mortar or UGL – landed smack in the middle of the lesson. 1 dead, 5 Cat A and up to 15 wounded. 1 more has died of wounds at the scene.
What a mess.
Evening brief. Another day of heavy fighting. It's Martyr day. Apaches have killed 12 Taliban. CP's have been attacked up and down the AO. Sad day. Rang Tracey when Op Minimise was lifted. On way back to the Med centre I hear massive gunfire to the North. People are moving to the vehicle park to watch and listen. Hundreds of rounds are being fired, also the explosions of RPG, Mortars and UGLs. Someone is having a very s*** evening. Hope they are all ok.
Saturday 5th May 2012
One more soldier has died over night from wounds. Op Minimise is called first thing. IED strike up north. Don't know about casualties yet.
Mr Paveley finally manages to get a flight this morning. The Physio and RI arrive for 2 days.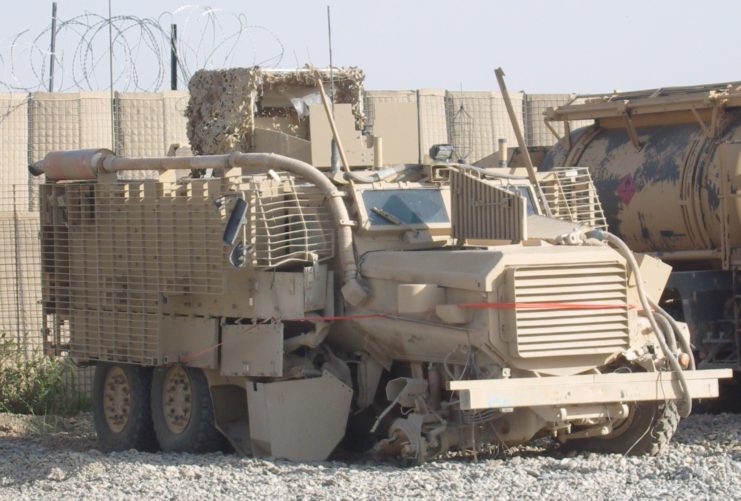 1230pm and Op Minimise is still on. The Taliban Spring offensive reallt has started now.
A freshly laid IED was found in our AO. The first this year. 4 multiples are out providing cordon and over watch. I am the only medic left in camp. The guys will stay out overnight and EOD will exploit the IED in the Morning.
Sunday 6th May 2012
Guys are still out with this IED. 3 more have been found. EOD blow up one but destroy their wheelbarrow robot in the process.
Multiples start to come back in mid-afternoon. 23 stay out another night at PB4. Everyone is very tired. The heat is horrendous now.
I was supposed to patrol with 24 today but it was cancelled as no – one else left in camp. So had a quiet day and went to the gyn. Can't get cool anywhere, and it's only gonna get hotter.
Monday 7th May 2012
Went on patrol with BJ22. We went by Mastiff AV to PB 4 and waited there while a Command Shura took place at CP Dosti. BJ 23 were there as well, it had been their second night on the ground.
They looked tired and dirty but full of good spirits.
The Shura at Dosti took a while so we waited for about 3 ½ hours. Initilly we had been tasked to go and find 3 IED's laid in the area, but when the Sqn Ldr returned to PB4 he held a meeting with another police commander and the patrol commander.
Thankfully the patrol is off, but intel suggests a Taliban strong hold across the river, so it is intended to open an Ops Box and then put operations to destroy the Taliban. But that is for another day.
We return to PB NDH for lunch, I do some phys in the afternoon, Weather is beaucoup hot.
Had a look around PB4 while we were waiting. A lot of it was built around some Afghan compound. A very basic camp. Shower in a bag. Poo in a bag etc. The most moving part was the memorial to the soldiers who had died from that base over the years. Will take a picture next time I am there.
The evenings are so hot, have had to move the air con from the D&V tent. The Med centre heats to the high 30's in the evening and it's too hot and sticky to sleep. God, I want to go where it's cold.
The air con helps a bit but not a lot. On patrol in the morning.
Tuesday 8th May 2012
67 years since the end of WW2.
Out again with BJ 22this morning. We got delayed leaving as the ANP arrived with 7 prisoners they wanted to HIDE. We went outside and the guys registered them all on the HIDE camera. No one showed up on the wanted list. That took just over an hour or so.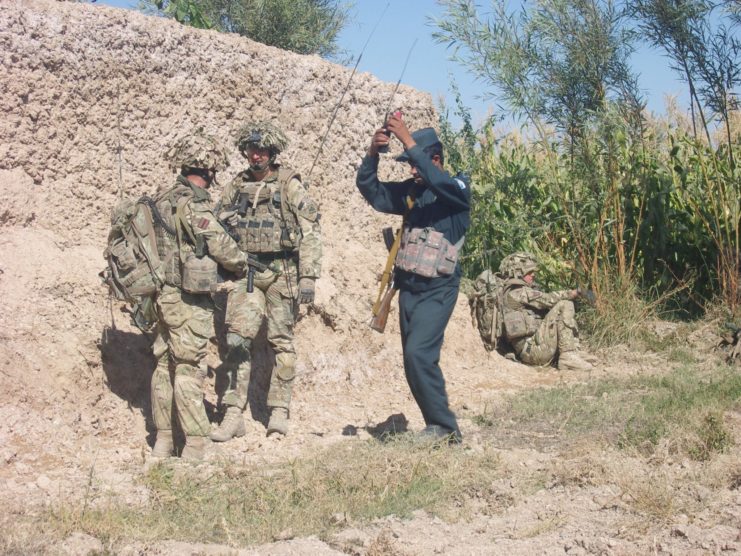 BJ 23 have found another IED. We deploy on mastiff to a Cp , then set out on foot to set up a cordon so Brimstone can deny the device. We patrol for an hour or so and then take refuge in someone's compound. It's filthy and it stinks. The police break into their house and sleep on their beds. We wait outside and bake in the heat. We have to start taking water from the hand pump in the garden and purify it with tablets. It tastes like a warm swimming pool and gives me the s**** in the evening.
After a few hours we asked to move closer to the device location and take up position along a filed in the tree line. Every part of me sweats. I'm sure my eyes are even sweating, it's well over 40 c in this body armour.
After an hour or so we get a countdown and "BOOM", a huge explosion. We see the smoke plume a hundred meters away. Brimstone confirm it was an IED. That's the second new one in two days.
We have a Taliban IED layer in our midst. The Sqn Ldr wants him found and killed.
We patrol back to CP Sacra and await our transport back to NDH. Shower, scoff, call to family, brief and bed. I am shattered. The heat and the weight of the kit is slowly crushing the guys. Time off is limited and filled with training. Sleep is little due to the heat.
We will slowly wear down and guys will start to fall ill.
At least tomorrow I am on QRF , and as yet nothing Is planned.
Wednesday 9th May 2012
On QRF today with BJ26. Uneventful day. Do some phys.
See Kev the QRF Commander, we are going out in 30 mins.
1900, leave camp in Jackals and go next door to ANP Station. Collect a Ford Pick up full of AUP and go on mobile patrol. It's very quiet out. No trouble. Drive through some villages and down to the river, very dark now, so I can only see whatever shows in the headlights.
Very humid down here. We stop at a few AUP CP's so Kev can chat to the commanders. I just sit in the back seat while we wait.
We move off to the next CP and come to a halt. Commotion up ahead. The road has collapsed. The road is only wide enough for one vehicle and has deep wadis on either side. We can't reverse or turn around, so the AUP vehicle is pulled out and the guys set to rebuilding the road, filling the hole with rocks, mud and sand. Takes a few hours and then with sand traps placed over we manage to get all the vehicles over. One more CP stop and then back to NDH. Night patrol tomorrow so straight to bed.
Thursday 10th May 2012
BJ 40 callsign(KRH B Sqn) attacked ay a Shura this morning.
1 x KRH LCpl and 1 x terp shot in the legs. Both evaced as Cat A.
Op Minimise is called.
1400, leave on Mastiffs to PB 5. Overnight stay at CP Taber.
Patrol from PB5 to Taber. No one has been here yet so no idea what to expect.
Taber is a hole. 3 AUP here. 2 are high on drugs, possibly heroin, as have what looks like tourniquets on their arms.
One fat stoned AUP tries it on with the younger guys. It's man love Thursday after all. The guys threaten to kill him. I am NOT comfortable here, nor is Baldwin the patrol 2i/c. We get the sangers manned and prepare for a long night. We are here as back up for PB5 as the Taliban have threatened to attack tonight.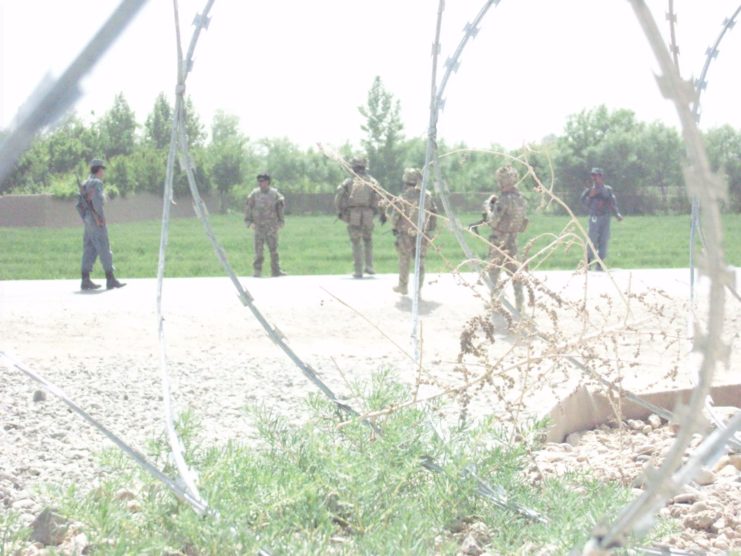 We huddle together in a corner of the compound. My pistol is in my hand all night. Periodically the guys fire rockets from the sanger to light the area as they look for movement in the trees.
We all dose that night and have a roving patrol as the compound isn't very secure and we don't trust the AUP.
About 0830 we set off and patrol the village. An eventful patrol, but I do spot a medical clinic, and this is flagged up.
We arrive back at PB5 about 1130. Our pickup isn't until 1400 so I went to the Med Centre to see Jacko. Stanley is out on an op, we chat until our transport arrives and then it's back to NDH.
Op Minimise is on again, so no call to Tracey. I'm out again at 0700 so I wait till 2200 to call, but it's still on so I go to bed.
Saturday 12th May 2012
At HLS for 0630. Doc has already left with BJ26. Helicopter arrive at 0710 (Merlin), and me and BJ22 get on.
Our LZ has been watched all night and a Lynx helicopter is sending back live footage of the area.
About 15 mins later we dive down to our LZ, adrenaline is pumping. The heli flares and I see the LZ up close. A corn field, so at least we have some cover.
The unexpectedly we pull up hard. Are we under fire? The message is passed – engine failure – prepare to go down, we are heading towards Bastion.
Some of the guys are terrified. I cross myself and start to pray. Pray we can make it back.
(The Pilot managed to get enough altitude so as to glide us, hopefully, back to Bastion)
Bastion appears in the desert, my god it's huge. 30,000 live down there. We land on the helipad thank God. Another Merlin is being sorted, on approaching the other helicopter Westy points to the rotor blades. Hydraulic fluid is pissing out. He notifies the crew who immediately cut the engine.
Two dodgy Helis in one morning. I'm not feeling the love for this Op anymore.
We wait in the RAF's rest area. They tell us the Op is cancelled and they are getting another Merlin ready to take us back to NDH.
BGHQ say the Op's to go ahead. We board another Merlin and head for our original LZ.
Two-minute warning. I loosen my seatbelt.
Touch down, ramp down, grab kit and out into the sun and waist high corn. I take cover in a ditch and wait for the Heli to go. No incoming fire which is nice. Kit on and we march off to find our RV. CP Zangle Rabeen.
The woodland is very thick here. We head toward the river into marsh land. The vegetation is so thick and over 10ft tall. The lead man uses a Kuhkri to cut through. Midges swarm and bite. It's just like the jungle here and just as noisy.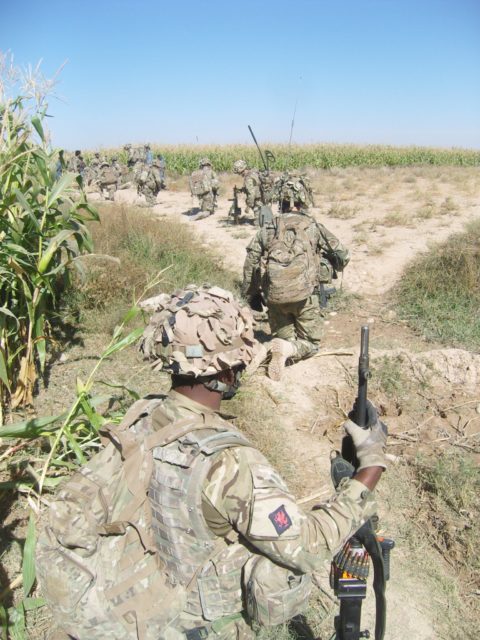 This is very hot and very hard work. Eventually we hit the river, No CP though We head down the river and have to cut back through the marsh land. Finally find the CP.
Collect 1 x AUP and do a 3km hike to RV2 to meet the 21 callsign.
Finally meet BJ26 and BJ21, rest in a ditch for bit, then we set off on patrol through the local villages and into the desert toward CP Spina Kota. Uneventful patrol. Very very hot though.
Finally reach Spina Kota about 1330. Op Minimise is on again. 2 PMAG guys – 1 WG and 1 RAF Police have been killed by 2 rogue AUP. 1 AUP has been chased and killed. The other is on the run.
Picked up by Mastiff at 1700. Back at PB NDH at 1820. Shower, dinner, briefing. Op Minimise still on.
Get a call from Lt Paveley at about 2100. Stevo has been wounded by an IED. My world collapses for a moment, I'm told he is ok in Bastion with leg wounds.
It appears he was helping with a double amputee from the Royal Welch when he trod on a secondary device.
I am devastated and have a few tears and then go and let the Doc know.
God, I hope he is ok. Need to Spk to Tracey.
(We were both close to Stevo, he had been to parties at my house on occasion).
Sunday 13th May 2012
Got up at 0500. Stevo is on my mind. Spk with the RSM about 0830. Ask him to pass on my regards. RSM had just been to see him. He is in good spirits. Was operated on last night to repair his leg and splint it.
Will be flown back to Selly Oak tonight. Take care mate.
A quiet day otherwise. Have done washing, weapons cleaned and a foot inspection for BJ22.
Op Minimise finally lifted about 1230. Managed to spk to Tracey and kids before they went to Shrek. Spoke about Stevo. Feel better now. Will have a quiet afternoon. Don't feel like PT.
Watched a few films. Slept, dinner, brief, packed kit for the morning.
Monday 14th May 2012
GDA patrol again with BJ22. Dropped by Mastiff outside PB5. Patrol to the check point. Collect 2 x AUP and do a foot patrol and a VCP. Area is very busy. Loads of kids around. Atmosphere is good.
Went to visit the doctors I saw on Friday. Initially believed it was a 20 bed facility with 3 Drs. Turns out is just a pharmacy. The Dr has gone. They sell all drugs imaginable but they aren't Pharmacists – very dodgy. We are told there is a nurse a few compounds back.
We go to visit and again it appears to be a pharmacy. After some questioning I establish there is one male doctor, who is away, and one female who I can't meet for obvious reasons. I make an offer of med supplies as their treatment room is dire. The two guys get very nervous and say they want nothing and not to come back. The Taliban will be informed that we have been, and they don't want to be seen taking stuff from ISAF. A few more questions and I establish Taliban sympathy in the area. I also notice all treatment and clinical notes are in English. They claim not to speak English.
We think they are Pakistanis and both clinics are treating the Taliban. Photos and details are reported when we get back to NDH. The OC is pleased. We are going to watch the clinics and see who comes and goes.
Rest of the day is quiet. Finally manage to hear the kids open their presents. They are so chuffed. Makes me so happy. I love my family to bits.
Out with the QRF in the morning , so off to pack and then bed.
Tuesday 15th May 2012
On QRF today with BlackJack 26. Left at 0730 on a GDA of the entire AO. Took about 2 ½ hours. Very dusty in the Jackals, need to look at one of those cycling masks.
Kids throwing stones. Soon stopped when I pointed a pistol at them.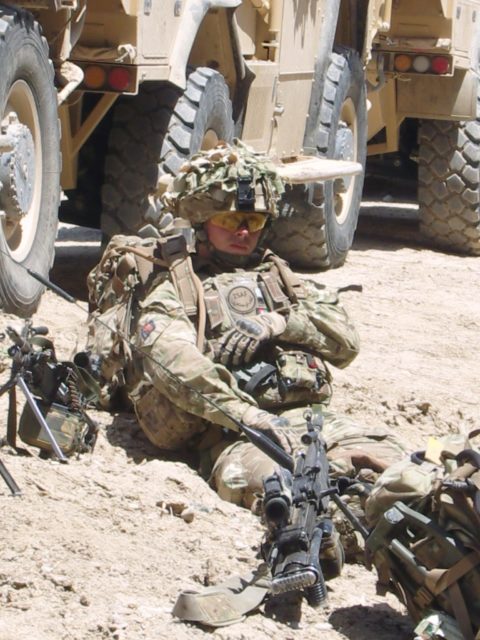 On 15 minutes to move now.
Quiet day otherwise.
Weds 16th May – Sat 19th May 2012
Really must do this diary daily. Finding it hard to remember what I do each day.
Over the last 3 days, as well as Facebook gate, I have done an overnight patrol with Pete and BJ22. Bit nervous as it was not the best protected CP, so we lay in a hollow square with weapons facing out. Heard a fair bit of gunfire and some explosions, but a good distance away. Did a VCP following the sleepover, then back to PB4 for pickup.
Friday was a camp day, very busy, doing what I can't think.
Saturday sat in Haji Rosturm all day while Brimstone searched Queens Parade for IEDs. Only found one which was blown up. Saw loads of kids with various injuries and diseases. Treated a few but its not enough. This country needs healthcare and soon.
Sunday 20th May 2012
Had a quiet morning. Spoke to Tracey and the Kids. She wasn't as hungover from her night out as I thought she'd be. Still I'm glad she enjoyed herself. Quiet day otherwise.
Monday 21st May 2012
Went out at 1500 with BJ22 in support of BJ23 who are going to soft knock a compound 66 near to where we did the IED clearance.
We were still a click from our cordon area as our AUP kept going the wrong way, when the AUP with BJ23 entered the compound.
It was rumoured armed men were in the compound, but it appeared all the fighting age males were local. A few were HIDED, then the AUP got bored, so just as we arrived, we continued on and got the transport back to camp.
A complete waste of an afternoon when I could have been preparing to deploy on the Op tomorrow.
Tuesday 22nd May 2012
I got the Doc a cannabis plant from under sanger 4 yesterday. It looked a bit ropey last night but seems to have recovered significantly this morning.
Pte Tablada arrived this morning to cover the Med Centre while we all deploy on this Op.
I'm leaving at 1230 and the others will fly in the morning.
Left at 1300 and drove to LKH. Lt Pavely and Pip came to say hello. Popped to Med Centre, saw a few people and then met Pip again for a coke.
Left LKH at 1730 with 2 other callsigns. 14 vehicles in all and we drove of into the desert. It got dark quite quick, but we got to our location and put the vehicles in a desert leger.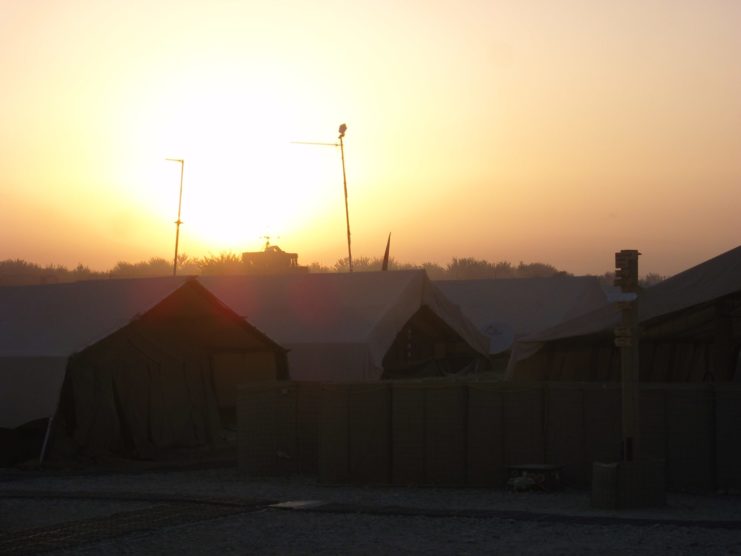 Tried to sleep as best I could, but it was bloody freezing and the Taliban are in the area. Awoke at 0430, shivering, managed to get a brew, it was the best ever.
Wednesday 23rd May 2012
The day started fairly interesting. Firstly, the sound of a helicopter got our attention. Out of the valley came Pedro, Dust Off flew straight overhead at about 150ft. Then came Mert, all heading to
Ops Box Ricky to our south. We are on it's Northern edge. Somebody has had a very bad morning for that many Med assets to be flying forward.
About 0630 we set off to mark the HLS for the guys to land. This takes about and hour and the guys are constantly on their belt buckles confirming for IEDs.
Once done all the vehicles form a protective screen, and we wait.
The radio comes to life with various messages. ICOM has picked up the Taliban, very close by. In fact, so close they are watching us.
Our senses are heightened , we prepare to be attacked. Terry keeps sending messages to get ready. A suicide bomber is being prepared. They say they are on the high ground and can see the vehicles – but nothing happens. All mouth. Our GMGs and .50cal would have smashed them.
The Helis land at 0910 hours. Two Chinooks together. There's a massive brown out (Dust Storm), and it blocks everything. When it clears I can see the troops deploying.
Op IBDA 15 is finally under way.
C Sqn moves to occupy compound 28. We have been watching it all morning. A large family lives there. They have been asked to let C Sqn in. Initially , the owner says no, buy after an hour of haggling and lots of $ they get in and the family moves out for a few days.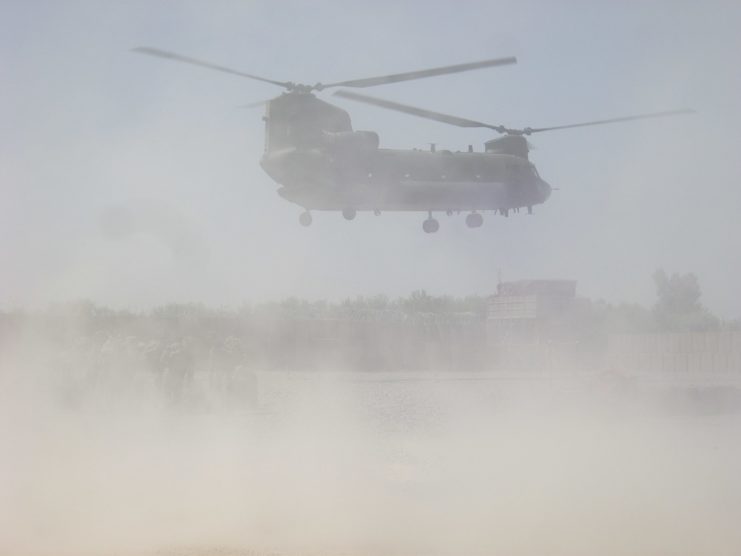 The FSG have moved on to secure compound 47 for the next Heli assault. On route the desert terrain damages our Jackal. Luckily, we are in the right place, so the assault goes in while we remove the rear right wheel and bodge the damage.
Compound 47 is thought to be a HME factory, but after the assault and clearance, it only yields 25kg of raw opium.
The Taliban are still keeping us on our toes. The ICON continues with the message "Get Ready, get ready, the infidels are here". Again, they don't attack.
BJ 23 move from compound 42 to another 150 m away or so. It's entered and searched. Nothing found, but the owner was tied up a few nights ago while the Taliban used it as a bed down location.
We have been sitting in the sun (40c +) for nearly 7 hours. My face is burnt, and I have sores all over my body from the Osprey rubbing.
All the water is hot and it's an effort to drink it.
About 1300 we make our way back to compound 28. Supplies are unloaded for the patrol multiples and OC's TAC. I pop in and see the Doc. He's in good spirits. It's his first time out properly.
About 1330 we move back to our desert leger and start to admin ourselves.
About 1600 we move to provide overwatch on Jan Hammed Kalay. The village this whole op is about.
BJ 23,25 and the OC's group move into the Kalay. Pattern of life seems normal. The OC conducts a Shura with the elders and the multiples do some rummage ops. We watch from the high ground.
One casualty is extracted with a twisted ankle. No Taliban action as was expected.
Another 5kg of raw opium was found. No arrests. A Taliban commander does live in the village but is away.
Everyone withdraws at dusk and we make our way back to our leger.
It's too hot to sleep so I sit in the Jackal and watch the storm approach. I think of Tracey and the kids and listen to my Ipod.
As the storm hits us, In my Dreams starts to play. The wind whips up a sandstorm, the rain falls and the lighting is spectacular. I am at peace. It is an exhilarating experience.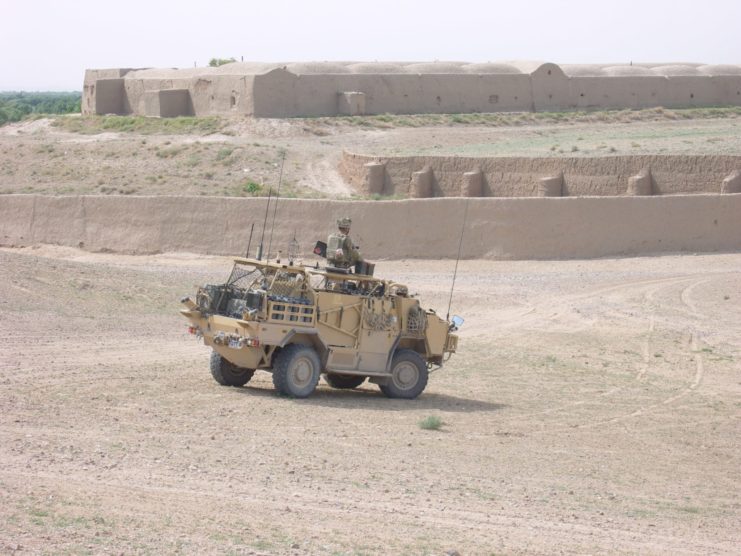 The storm passes and I put a poncho over the Jackal. It's now 0230. I can't sleep in the Jackal, so I lay on the desert floor and have a restless sleep for 2 ½ hours.
Thursday 24th May
Up at 0500am, Pack away poncho and roll mat. Eat a hearty boil in the bag all day breakfast. Manage to get some lukewarm water to make a brew. Haven't washed or seen my feet in 3 days. I feel like poo. About 0700 we go for a brief at compound 28, then back into overwatch at Jan Hammed Kalay.
I watch the patrols walk in. Kalay pattern of life is normal. We sit in overwatch for about 3 hours. The radio is chattering in the background. "IED at Post", "Caves clear", "searching compound 10", the messages keep coming, but nothing exciting.
Rtn to compound 28. Pop in and see the Doc. 1 x heat Casualty – Westy.
Kaka takes over his gun as Westy will now stay behind.
Resting now till 1500 when we move again.
Second village search is cancelled. Wait in desert until 1830. Provide a protective screen while 3 helis pick up the multiples and return to NDH.
We set off through the desert for LKG and then head back to NDH. Back in camp for 2100. I'm tired and filthy.
The Doc has D&V – ha ha.
Friday 25th May
Lay in till 0800 – lovely. Didn't even hear the Doc get up to go into the dungeon.
Had a quiet day, cleaning kit and weapons. The weather has been pants. Wind and sand.
Op Minimise has been on since early morning. Loads of casualties today. Brit and Afghan. Hope it's lifted soon as want to speak to my princess.
Quiet and lazy day otherwise. Very hot and muggy. Doc has D&V – so running med centre alone.
Saturday 26th May
Doc still man down. Quite a few incidents on JOC Watch. A lot of fire fights and the insurgents seem to be trying really hard to down a helicopter.
Had a relaxed day in the Med Centre and watched some films.
Keeping an eye on JOC Watch. Saw The Royal Welch gad taken 3 CAT A's. Got Chico and let him look. Wasn't to sure on the ZAP numbers.
One of the CAT A's has died. He was a double above knee amputee. Turns out he was Capt Dotts (BJ26) best friend. Gutted. He is devastated.
Got to carry on as normal though.
Got a call at 2200. A Jackal has rolled in a ditch. It's a BJ21 callsign. Go with QRF and the SRV to assist. Luckily the gunner was thrown clear, so no injuries. Takes a few hours to recover it back to NDH.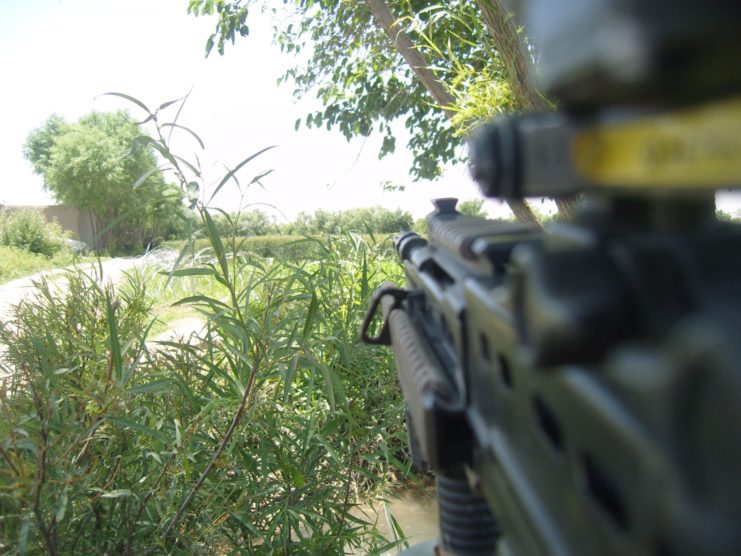 Get to bed a 0300.
0530 the door opens. The first D&V case of the day has arrived.
Sunday 27th May
Had a good day. Felt a little unwell, but manned up and got on with it.
The Royal Welch DOW has been named as Capt Healey. Capt D is pretty cut up.
Had a lovely chat with Tracey and Kids. Glad they are all ok. Can't wait to see them all, but it's still a long way away.
Has been a hot day so not done much. Had some lovely letters and pictures from Tracey. The Doc finally came out of the Dungeon this morning, so back to normal jogging.
Finally got to bed at 2300. Up at 0330am to go out with Brimstone and 26.
Monday 28th May
Beginning of a new week. Another one down – yay.
Left at 0430 for CP Dosti. Brimstone to destroy an IED left in the UXO Pit. By 0700 it was ready for destruction.
Was a bloody loud bang, bigger than expected, but the best thing was it blew out all the windows in the CP – ha ha ha , how funny.
Back in camp for 0730. Breakfast and then back to bed until 1000. Am shattered.
Done some admin, washing etc. Have been told Shorty will now leave us to Lash Durai at the weekend. We are gutted. Leaves me as the only medic from 4 Med here. Not cool at all. Out on Night Ops tomorrow.
Tuesday 29th May
Fairly busy morning in the MTF. Then packing for this evening night lurk by the river. We need to catch these buggers crossing the river at night.
Ready to go about1430, when I find out there has been an explosion a few kms away, and we expect the casualties to arrive here.
Everything is prepared and stretcher teams are stood too. As with most things from our ops room – false alarm. However we are now hearing two Taliban have scored an own goal. One is dead and the other is wounded and taken to CP Dosti. Esmari, the AUP area commander does not tolerate the Taliban, so if not dead already, he will be.
Now we hear the wounded Taliban has died of wounds!!
BJ 22 are to HIDE enroll the body, then continue on our op.
I get a bodybag.
We get to CP Dosti, there's a bit of a crowd around the checkpoint and around the back of a police pickup. On glancing at the pickup on the way to the gate I see and arm and two legs with wounds sticking from under a rag. Blood is dripping on the floor.
We put our kit down and spk to the PB4 callsign. They have Hided the body but only got a 50% hit. They ask if we can try again with our Hide camera.
Me, Polly, Westy, Lt Williamson and Noor go out.
Westy and Polly clean each finger with a wet wipe, Westy looks disturbed. After all 10 digits are finger printed we only get a 50% hit. Someone suggests doing the irises. The cover is pulled back – s*** – his head is blown to pieces. No eyes, no lower jaw. A real mess. Westy wretches. We can get no more info from the body.
I get a few more guys so we can lift the punter into the body bag. The body bag is placed on the tailgate of the pickup. I move his legs over to the bag. Lee's grabs his arm and pulls it. "Pop", it comes off. He is wretching. Westy says "F*** this". I'm laughing. I suggest we just roll him in. We grab a bit and roll. His head comes apart, pieces of skull fall out and his scalp flaps about.
"B******* to this", I say. We roll him back and I wrap the body bag round him, "That'll do".
Back in Dosti, 3 guys are enrolled, and the Royal Welch cuff them and prepare to take them to Torchlight in Lash Kar Gar.
We get our kit together and set off on our original task. A night lurk by the river Helmand. The night passes uneventfully as expected and we spend about 4 hours by the river before returning to our checkpoint for a few hours sleep.
Wednesday 30th May
Get back to camp at about 0930. Have a shower etc, speak to Tracey and the kids.
Do foot check and weight of most of the PB. Relaxed day otherwise. Had an earlyish night, am out gain tomorrow with the FSG.
Thursday 31st May
Up by 7am, nice bacon sandwich for breakfast, then start to prep kit fat later. Leaving at 1410 with FSG to spend night at LKG, before early onward move to a police CP a few km s short of Jan Hamed Kalay.
Saw physio at 10:00 about my achilles tendon issue. Got some good advice so will try and strengthen it.
Got to LKG about 1600 having stopped on way to help pull a crashed AUP vehicle out of a ditch with a REME crane.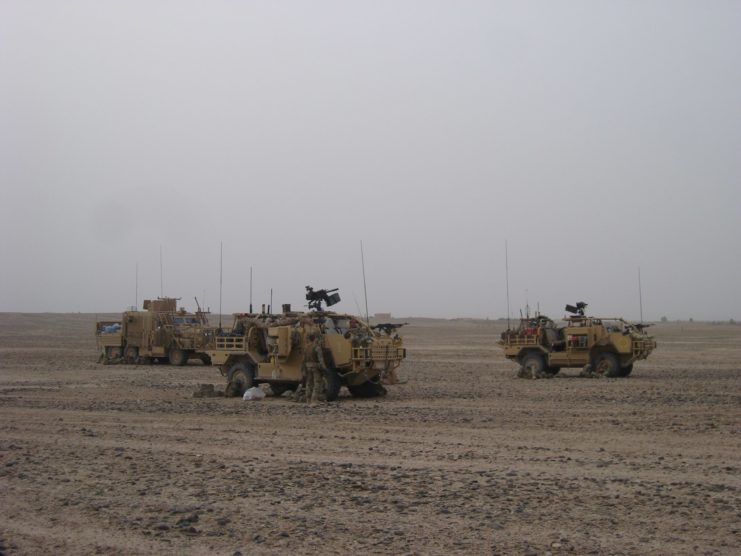 Had a pleasant evening at Lash. Had a chat with Mr Paveley and met Maj Rawsthorne who was my 2 i/c with C Coy the Kings Regt in Iraq in 2003.
Spent some time with the 4 Med Medics and had a catch up. Went to bed at 2345 and slept on the floor by the vehicles. Up at 0430 and out the gate by 0600.
Friday 1st June 2012- Queens Diamond Jubilee
Drove to our waiting point. Not much activity in the village on our way through. Then out into the desert.
The Helis came into land for 0800. I watched them fly low over the ground to the LZ's.
We race across the desert, the final 4 km, so we can be there to provide overwatch over the Kalay.
As usual nothing much is going on. Normal village life, but the powers that be are adamant that the Taliban are in this village. We watch the guys search and patrol from our position on the hill.
We have sat here for nearly 4 hours. The temp is in the 40's.
Op has finished, nothing found. We have to wait on the hill till 1430 for the heli pick up and then we can drive back. Everyone is looking for shade. This heat is horrendous.
Helis arrived for pickup on time, so we make our way back to lash to pick up the SRV and then back to NDH.
Had a feeling something would happen today so I checked WISEWATCH before I had a shower. Nothing out of the ordinary to see.
Came back from the shower and Chico came to see me and he asked if I could check wisewatch as Capt Dott had been informed one of their guys had been shot in the head.
I had a look , and sure enough the was the ATMIST report and Op Minimise was on. Chico looked worried and kept asking if his obs were a good sign. I lied and said yes. I promised to keep him informed if anything else came up. Cpl Thackway was Russ's best friend and a close friend of Chico and Tex. I hope he's ok.
I went to scoff and heard the tannoy call Capt Dott to the Ops Room.
I went to the guys accom, they were milling about outside asking questions. I said Bastion is the best hospital in the world and Cpl T will be well looked after. It seemed forever and no sign of Capt Dott. Russ had gone with him.
I decided to walk to the Ops Room. I pass them coming back. Russ is crying. I ask Capt Dott if it's bad news. "Yes", he replies.
F***. That's two guys they've lost in a week. I let the Doc know, go to dinner and then go back to the Royal Welch accom. Russ is outside in bits, I give him a hug and offer my support. He's angry so I leave him to grieve.
Later that evening I go to see Chico, His casevac is planned for tomorrow. I go to his bed space, Russ is across the way, head in hands, silent. Chico is bleary eyed. We chat, he starts to cry again, I give him a hug and say I'll help if I can.
The guys are devastated. 2 dead in one week, very close friends. In the previous 6 Op Herricks they have done, they only had one dead. On top of this, some of their guys, and again some very close friends. have been horribly wounded. One of whom Stevo was wounded helping.
I understand their frustration at being here and not with their own unit. I spoke to the Doc and ensured they do not deploy out tomorrow. C Sqn, KRH, can be insensitive at times, and I don't think Capt T is aware of the impact this has had on them.
I hope tomorrow is a better day.
Saturday 2nd June 2012
Had a good sleep. I don't think I woke up until the alarm went off.
Saw Chico this morning. A Dust Off Blackhawk picked him up. He asked me to keep an eye on Russ.
Had a lovely chat with Tracey and the kids. So glad they have lots to keep them occupied. I'm happy that they are happy. Deep down I hate this country. I have no feeling for the Afghan population.
I feel less sorry for the kids each day. They fire catapults and stone us. I would glady have p***** on the dead Taliban the other day, The AUP openly spat on him.
I mean, who still lives in a mud hut this day and age. There's only a tarmacked road here because we built it. The police are corrupt to the core. I mean our local commander has a house in Dubai on a police salary?? He also won't let us patrol around his local area, so definitely up to something.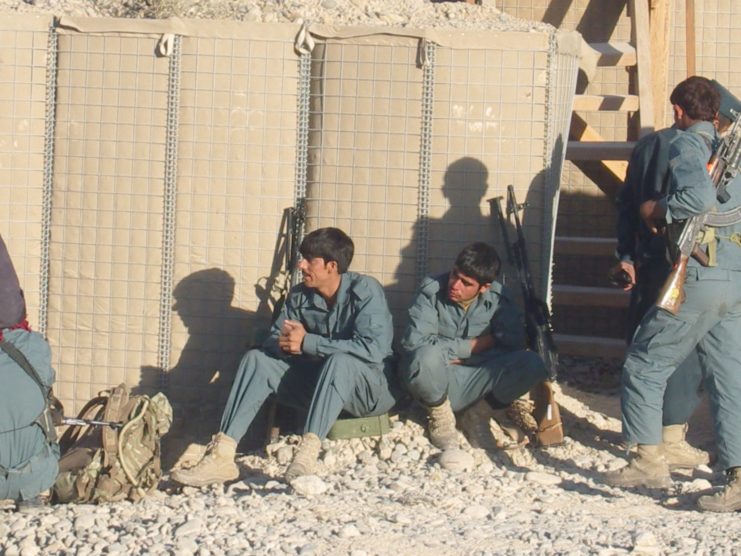 These people openly f*** animals and it's normal to take a boy, some as young as 12, for sex.
Women and girls are treated like animals and hidden away. Or forced to wear the burqa in public. If we pass they are made to look away. There is no healthcare, I regularly see kids with horrible festering injuries and defects caused by accidents and birth that you wouldn't see anywhere else.
I can't find a soldier who actually thinks we are doing any good or should be here. The officers are drones, doing what they are told, spouting the s*** that comes from TFHQ and the Government.
They are either very naïve or are putting honours and promotions before common sense. I hoped being in a quiet area nothing would change me, but I've had chance to see the bigger picture and I don't like it.
Things will never be the same, and those who have died will never be forgotten.
Sunday 3rd June 2012
Been out with BJ26 and Brimstone this morning to CP Dosti. Blew up 2 x IEDs then back for lunch. It's bloody hot. 42 degrees c.
Went out again with BJ 26 this afternoon to do a route recce. Picked up some AUP who joined us in their pickups.
All was going well until the ground gave way under my Jackal and we partially rolled into a ditch. Luckily a tree stopped us doing a full 180. Everyone was ok and the other Jackals soon pulled us out, so we continued on our way and back to NDH.
Another soldier has sadly died after being shot in the throat. He was from the Yorkshire Regt. RIP.
Monday 4th June 2012 – Queens Diamond Jubilee
Had a day off. Rearranged some of the Med Centre. A bit of tidying, Gym, BBQ and bed. Also spoke to the lovely Tracey Turley. She is so fit. Xxx
Tuesday 5th June 2012
Did Op IBDA 18. Flew from NDH in chinook at 0800 to Rahim Kalay. The AUP checked a few compounds. Nothing found. Had a bit of a patrol. Very very hot. Got wet and muddy and was back by 1400.
Last patrol with BJ22. Am gutted, it's going to all change here at NDH. 22 are going to Lash. Really really gutted. Some great guys there.
As usual a change of plan. Going on an IED hunt tomorrow. There was a suspect area today that the AUP led us too, but we turned around as they were leading us the wrong way.
Towards the IEDs maybe?? Who knows.
Quiet afternoon with some pt and a film. There was a bloke from Sky News out this morning as well. Had a chat with him when we got back to CP Sacra to wait for pick up. Got some good gossip in Eamonn Holmes.
Wednesday 6th June 2012
Happy Birthday Albert
67th Anniversary of the D Day landings.
A very early start this morning. Left camp at 0630 in Mastiff. Patrolled from CP Saqra to CP Sorab to clear route for Mastiffs to drop BJ 23 off with us.
We are chilling in the shade when 23 arrive about an hour after us.
We are providing support from here and 23 will do the clearing.
Time passes, we chat and listen to the radio. 23 find a device and it is confirmed. Then a secondary is found, Radio chatter-
23 " Possible secondary device."
0 " Roger."
23"Confirming."
BOOM
Oh my god, it's gone off. We freeze in shock
23 " Contact IED".
F*** f*** f***
We all rush to get our kit on. I don't believe this.
23 "9 Liner over."
Oh f***, casualties
The guys are in mass panic. They want to know who's hit.
23 were with us ½ hour ago.
23 "MISTAT – Casualty – hand blown off."
The guys are all in shock, the casualty names come through. Tpr Brown and Cpl Webb.
Dave is gutted, Webby is his best mate. We get the call to move forward. The pace is quicker and with the adrenaline pumping we no longer feel the weight of out daysacks.
We are halted 300m short of their position and take cover in an irrigation ditch as the Taliban SOP after IED strike is to contact with SAF.
Dave tells us "Pedro 5 Mins."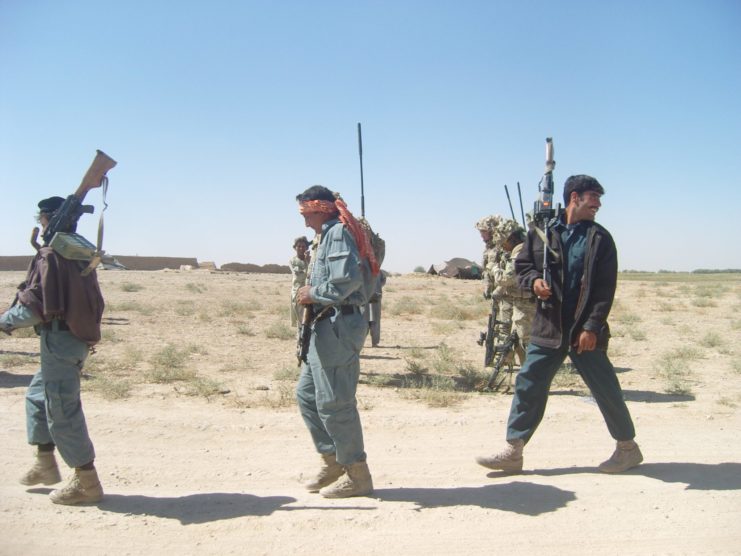 I hear the helis and watch one dive down behind the trees 300m to our front.
Bang, bang, bang – Gunshots??? F***. The Taliban are contacting the heli with weapons. The pedro seems to be on the ground for ages.
We hear on the radio the Pedro is down – Jesus Christ.
"Engine Failure"- we are desperate to get to the LZ and help secure the site, again we are told to hold firm.
The pilots manage to restart the engines and the pedro is off the ground. Thank God the guys are off the ground.
They will be in Bastion within 15 mins.
Eventually we can move forward and help secure the area. On our arrival we see a call sign of the Welsh Guards and an ANA EOD team. They were clearing in the area and rushed to give help. We put in a perimeter and wait for Brimstone and our Silicone Callsigns to arrive, so we can escort the remainder of 23 back to Sorab to get lifted off the ground.
About 2 hours later they arrive and we set off with 23. It's weird seeing two extra daysacks being carried, the owners gone. The AUP offer to carry the bags, it's much appreciated as the weight is bad enough as it is. I'm weighing just short of 180kg in full kit.
We make Sorab in about 30 mins , I'm met by a member of 21 who has partially amputated the top of his thumb. I dress it and send him with 23 back to NDH.
About an hour later we are picked up and go back to NDH.
It's been a tough day and our first IED with casualties. 22 are very angry as we were deliberately sent to this area with the intention of looking for these IEDs. Well we found them and now 2 guys are wounded.
Feed back from Bastion is they are both OK.
Webby will come back to us. Browny has broken numerous bones in his hand and had skin grafts. He will fly home on Friday
(Extra Note – Webby continued the tour and kept quiet about his extreme discomfort. He hid everything from me and the unit. A complication from the blast was missed at Bastion and he had to have his leg amputated on return to the UK).
Brimstone find another IED and it is destroyed that evening. We will no doubt be going back there soon. I'm not looking forward to it.
The Taliban are back again in Babiji.
Thursday 7th June
Day off today. Major Hicks – RMO KRH – has arrived for a visit. Spoke to Tracey and had some internet time. Saw a lovely video of Ryan walking and heard my dedication on the BFBS replay facility online.
Quiet day otherwise. Some teaching and general chilling.
Friday 8th June
Another quiet day. Spoke to Tracey and the kids this morning. Bit of Facebook time. Patrol was cancelled this afternoon as the area we were due to go to is getting more dangerous.
We are going there tomorrow in 2 multiple strength. Hope it's quiet.
Saturday 9th June
Went on patrol to CP Salaam this morning. Bad juju reported there yesterday by Silicone cs.
Seemed ok today, but only 2 AUP present and they didn't want to go out or train. One was just interested in making advances to Pete.
Stay about for a bit, then went to cover 23's withdrawal from a VCP as it was believed 3 Taliban were watching them.
Made it safely back to PB5 the Mastiff to PB NDH.
Back for lunch. Intel is the Taliban are in this area in strength. I don't like it there anymore. Always on edge. Just a matter of time before we are attacked I reckon.
Op Minimise is on. Gren Guards double amputee. Spoke to Tracey and kids this evening. Glad they are ok.
Sunday 10th June
Got up late at 0715. Doc went to front gate to treat a child with a burnt foot.
Op Minimise is on again. 2 x Gren Guards – 1 x shrapnel to head, 1 x gunshot to shoulder. They are having a bad time.
Down day for us. I need the rest, I'm b********.
Monday 11th June
Another day in camp, which is nice. Highlight of the day , other than speaking to my beautiful wife, was treating an AUP at the gate with a 4 week old fracture of tib and fib that hadn't healed due to the general s*** practice of the local health system.
The rest of the day was spent prepping for tomorrows arrest Op.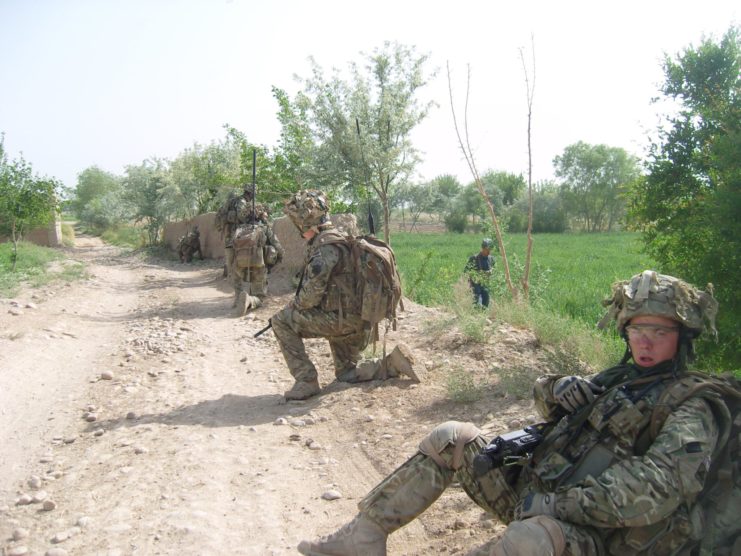 12 -13th June 2012.
Quiet morning in camp, had a few briefs on the arrest op for the two Taliban IED makers scheduled for the morning of the 13th. Spent the evening at PB4. Had a good chat with Capt Julian, the MO there. He has no CMT's located with him.
Had about 2 ½ hours broken sleep, awoken at 0130 and left at 0200.
We patrolled out and took a route that would have us south of our target compounds. Ready to assault by 0430. The route was hard going and involved crossing a lot of water.
One crossing point the water was too my chest, so deep on shorter people. I had an absolute fear of drowning here. Trying to get out the other side was horrendous. A sheer stone wall. I weigh 180kg in full patrol kit. Three guys pushed and pulled to get me out. On two occasions I fell back but was caught. If not I would have gone straight to the bottom and most likely drowned, as the kit doesn't come off that easily.
A few guys in other units have fallen into deep water in the last few weeks and managed to jettison their kit to save their lives.
As a result we have lost weapons, ammo and top secret search equipment to the enemy.
Onwards we went, making more difficult crossings. About 150m short of our objective we had to use an assault ladder to cross an irrigation ditch. I lost my balance, and in the process knocked my magazine release catch and lost a magazine and 25 rounds into the water. Stevie jump in to look for it, but gave up as he couldn't feel it.
We made our objective on time and launched at 0445.
Two compounds were entered and searched. All the males of fighting age were rounded up and the women escorted out of sight. The children looked on.
A number of males were held at the Mosque, so we went to help check them. Our HIDE cameras had been damaged by water and one had sustained a cracked screen. As a result the males couldn't be hided.
WE checked another compound – nothing found.
It transpires from the locals, that the Taliban had been there till a few hours earlier.
CP Asmat, one of our AUP Cp's had been attacked by the Taliban earlier that evening. As a result the two targets had fled fearing an ISAF surge into the area. The NDS guys were gutted. These were two high value Taliban who had had a very lucky escape.
We made our way back to camp and I reported my lost magazine. Luckily was told not to worry.
Has a few hours kip and prepared to leave again at 0300 the next day.
14th June 2012
Out gain at 0300. Got Mastiffs to Cp Taber in Rahim Kalay, out Taliban hotspot.
Put out a VCP at 0430. This happened all over Babaji and our AO. Numerous vehicles and motorbikes stopped and searched. 12 Hides done. One guy was a 97% hit, but was only a watch level 4 so we couldn't arrest him. Back to camp for 1000, and back out at 1630 for a night ambush down by the river.
Got dropped off way short of our objective, Cp Kashar. Patrolled there, as usual soaking wet within 30 mins. Another difficult crossing where I lost my Med Bergen. Jumped in to save it, but all my kit was soaked. Sweated so much I was feeling faint, but got to Kashar. I am in bits. Everything hurts. BJ 25 are our Royal Welch multiple, and as a result are very fit. Find it hard to keep the pace with them.
Had a rest in Kashar, and tried to dry what kit I could. Managed to get a few hours broken sleep.
15th June 2012 – Friday
Awoke at 0100 and left at 0130. Am still wet from yesterday. Have had wet socks on for nearly 12 hours. Am sure my feet are rotting.
Patroled down to river and set the ambush. Did ½ hour stags with Cpl Cook to watch the rear. Spent most of the time star gazing. Amazing night sky here. Saw a few shooting stars and watched the plough.
Come dawn we are surrounded by farmers, so not much of an ambush. Collapsed back to NDH about 0600. Again a very hard and wet trek back. My Achilles is burning, my back aches and I can't get off my knees without using my rifle as a crutch. My knees are killing me.
As usual 23 take the most difficult route back they can find. The only rest is when we stop to let me treat an elders injured finger.
Capt Marsden had arranged transport for 073- from a checkpoint. Capt Dott doesn't want it , so we are walking back.
I am threaders with this. I'm too old, and have to carry so much kit I'm starting to damage myself.
We finally get back to NDH just before 0900. I just want to sleep, but I ensure that all my kit is dried out, weapons cleaned and med kit repacked before anything else.
Then shower, lunch, collapse.
Attended the evening conference. More patrols at 0630, followed by 48hrs in Asmat. Clearly someone is looking to get a fight. The Taliban attacked Asmat 3 days ago, now they want us to pick a fight as well.
Final f***** straw, I go to the toilet to calm down. When I get back to Med centre, I tell the Doc I've had enough. I'm f****** exhausted, I am plagued with injury. I'm 21yrs in the army and a SSgt. I don't need this s****. The other two are knackered as well. KRH seem to forget that the multiples rotate through and get rest days. The medics are out everyday regardless.
It can't continue, or there will be no medics left.
I explain my feelings to the Doc. Bar a few I am one of the oldest people in camp, and have certainly served the longest. I didn't expect as a SSgt to have in excess of 359 patroling hours on the ground. The others are 303 and 261 respectively. That ain't right.
The average multiple are their 20's, how can I keep up with that.
Capt M is supportive and says it's his fault for not thinking. I'll take a few days off and go from there.
Sunday 16th June 2012
The Doc has written to Lt P with his concerns over the medics patrolling hours and lack of rest. Mr P understands, but it is the same throughout TFH. We are to reduce the medics patrolling or we'll have none left.
Let's see how this pans out. Spoke to Tracey and kids, so that cheered me up. Taught 26 how to set up IO fluids – went well.
Sunday 17th June 2012 -Father's Day
Have had a good day. Spoke to my dad and then opened my Father's day box on the phone with Tracey and the Kids. The cards were lovely, the photo's amazing and Kayleighs book melted my heart. It all made me very happy. I so can't wait to see them all in a months time.
Also heard from my Mum that Auntie Dorrie had passed away. I haven't seen her in 20 years, so feel poo for that, but she was 103. The world she was born into was a better place than it is now. She was the last link to my grandad and the side of the family that really lived the heart and soul of my true home in the Black Country. RIP Auntie, you are in my thoughts.
Monday 18th June 2012
Still no patrols thank god. I can't be arsed with it. This country is so backward I can't be f***** with them. They are 1500 years behind the rest of us in some places, but we still arm them with modern weapons with which to kill themselves.
I'm going to start making a note of all casualties that come through on JOCWATCH. At home they only ever hear if someone has died – hopefully this will open eyes in the future to the futileness of this war.
Oh, and to top it all off, they are preparing to mine minerals and pump oil in the north of the country – kinda sums up why we are here really.
Casualties 18.6.2012
US Marine Cat B D&V
Local National IED Leg blown off
Danish Soldier Cat A Double Amp Legs
Civ Security Shot dead
ANA Cat A GSW Abdomen
AUP DOW
ANA Cat A GSW Chest
AUP IED DOW
1 x Civ IDF Wounded
1 x Civ IDF Killed
1 ANA Cat A IED
1 ANA Cat B IED
1 ANA IED KIA
USMC Cat B Ankle Fracture
1 UK Cat C IED
I x Terp Cat B IED
1 x Taliban GSW Left Calf
It's now 20:28pm. Today has seen, so far, 12 wounded and 6 dead in our British controlled area of Helmand. We don't get the statistics for the rest of Afghanistan.
Tuesday 19th June
Another day in camp. Feeling more energetic today. Did some PT this morning, Spoke to Tracey and the kids. Did weapon handling tests.
Also got Sammi to get Mohammad, our local shop keeper to bring me over 2 crates of Mountain Dew. 48 cans – $30. Robbing git, but it's my little treat every now and then.
Out tomorrow on VCP at 0300. Boo hoo.
Just been thinking, looking around there are now quite a few empty eyes, missing souls. The deaths of very close friends and the IED strike have affected quite a few people here. Jack, Kev, Chico, Russ, Jay, Webby, Gilly, don't seem quite the same, that goes for others as well.
We haven't seen the fighting like other areas, but the incessant fear of treading on an IE is ever present every time we go east. The area is riddled with them. We have another Op in the area soon to clear them. I have had days now where I have been sick with fear of leaving camp. Some of us get jealous when we hear of someone getting a 'blighty', not a life threatening injury, but one good enough to get the f*** out of here.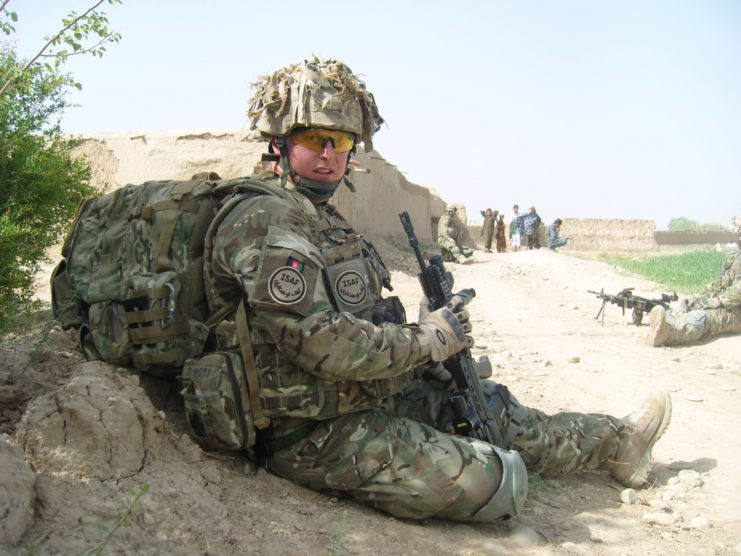 Casualties so far today -1753pm
18th 21:15 4 x Taliban KIA
2 x Taliba WIA
19th 08:21 1 x UK Search Dog WIA
08:26 1 x ANA KIA
2 x ANA WIA
08:26 1 x LN Child (7) DOW IED
08:51 1 x ANA WIA Double Amp
1 x ANA KIA
09:05 1 x ANA WIA – Shot in foot
09:36 3 x Taliban KIA
09:40 1 x ANA KIA – IED
10:25 2 x LN Wounded – Mortars
10:29 1 x LN Killed Female – Mortars
2 x LN Killed Children – Mortars
2 x LN WIA 1 x F 1 x child – Mortars
14:12 2 x Taliban KIA
1 x Taliban WIA
14:15 1 x Taliban KIA
1 x Taliban WIA
The list goes on.
20th June 2012
Out at 0450 to Yellow 14 with Silicone 45 to do VCP. AUP did the VCP – sort of.
The others eventually all sat down and nodded off. Except me. Was back in camp by 0915. Spoke to Tracey, had long chat about school issues. Told her what to do and I'll ring back later.
It's Ramamdam Wednesday. Made some bread on my fire pit it went down very well with everyone.
Spoke to Tracey again. Hopefully this school thing is all sorted, she seemed a lot happier.
Casualties 20th June
01:52 UK ISAF 1 x Cat B
05:41 Taliban 1 x Cat A
08:28 UK ISAF 1 x Cat C – Frag
13:35 ANA 2 x WIA
15:32 ANA 1 x Cat A – GSW Head
ANA 1 x Cat A – GSW Abdo
15:44 Dan ISAF 3 x Cat A – IED
16:55 UK ISAF 2 x Cat a – IED
1 x Cat C – IED
18:50 AUP 1 x Cat A – GSW foot
19.25 USA ISAF 1 x Cat B – IED
20:36 ANA 1 x Cat A
23:11 UK ISAF I x Cat B
Thursday 21st June 2012
Lt Paveley arrived this morning for visit.
Spoke to Tracey. She seems a lot happier.
Quiet day otherwise.
Casualties 21st June 2012
06:19 US ISAF 1 x Cat A IED – Leg Amp
09:24 Taliban 1 x KIA
10:41 Taliban 2 x KIA
2 x WIA
11:12 Taliban 1 x WIA – Cat A
11:22 Taliban 1 x KIA
1 x WIA
13:20 Taliban 1 x KIA
14:53 UK ISAF 1 x Cat A – IED Double Amp
1 x Cat A – IED Blast Injuries
15:59 UK ISAF 1 x Cat C
16:54 UK ISAF 1 x Cat B – Abdo Pain
17:47 Geo ISAF 1 x Cat A – GSW Neck
18:08 Taliban 1 x KIA
1 x WIA
18:21 ALP 1 x Cat A – Cardiac Pain
20:42 UK ISAF 1 x Cat C – blunt trauma foot
20:42 Taliban 1 x WIA
21:38 US ISAF 1 x Cat A – IED Double Amp
ANA 1 x Cat A – Facial Trauma
LN 1 x Cat A – IED Uncon
23:10 US ISAF 1 x Cat B – IED – TBI
00:00 US ISAF 1 x Cat A – IED – TBI
09:16 ANP 1 x Cat A GSW
09:38 LN 1 x Cat A – IED – Dble leg amp
09:49 US ISAF 1 x Cat A – GSW Neck
10:33 US ISAF 1 x Cat A – Blast Wounds
10:33 LN 1 x Cat A – GSW – R calf
11:06 US ISAF 1 x Cat A – Frag to neck
11:26 US ISAF 1 x Cat A – Blast wounds R leg
22nd June 2012
Some of the above casualties are from today.
Had a good gym session this morning and a chat with Tracey and the kids. Mr P flys at 12:20. Med trg this afternoon. This not going on patrol is good, but gives me very little to write about.
Casualties for today
12:09 Taliban 2 x KIA
4 x WIA
12:46 UK ISAF 1 x Cat B – Crush Injury
13:20 US ISAF 1 x Cat A – GSW R shoulder
13:21 LN Child 1 X Cat A – Fall
13:49 US ISAF 1 x Cat A – IED Blast
14:01 UK ISAF 1 x Cat A – Pnuemonia
14:25 US ISAF 1 x Cat B – IED
15:06 Taliban 2 x KIA
15:59 AUP 1 x Cat B – GSW Thigh
16:20 Taliban 3 x KIA
17:21 US ISAF 1 x Cat B – IED
Taliban 1 x Cat A – GSW chest
17:22 Taliban 1 x KIA
18:30 Civi 1 x Cat A – IED Left leg amp
19:03 Geo ISAF 1 x Cat A – Gsw
20:20 Taliban 1 x KIA
Saturday 23rd June 2012
Had a visit from the Co and RSM today. Was good to see them. Had a good chat and catch up, aired a few points and views, but all went well. Only here for 2 ½ hours, but good of them to come none the less.
Spent a lot of the day looking after Jack Lee(FSG), Very Unwell with D&V. Had a few drips through him. A quick chat with Tracey at the Aldershot Army Show, and Ant Cowley, who is now RAMC recruiting team.
Managed to get out of this night lurk by the river, as really can't be bothered.
Doc has managed to get out a bit and seemed to enjoy himself. Otherwise a very quiet day. Watched a few films, but in all honesty haven't felt to good.
23 June Casualties
00:17 AUP 2 x WIA – IED
07:30 Taliban 7 x KIA – result
07:52 UK Terp 1 x Cat A – GSW chest – Dow
09:02 US ISAF 1 x Cat A – IED
09:25 Taliban 2 x KIA
09:50 Taliban 2 x KIA
10:07 Taliban 1 x KIA
11:00 ANA 3 x WIA
14:00 Taliban 1 x KIA
16:00 Civi 2 x dead – IED
1 x Cat A – IED
16:28 US ISAF 1 x KIA
ANA 1 x DoW
18:30 Civi 1 x Cat A – IED
19:28 US ISAF 2 x Cat A – IED
19:40 US ISAF 1 x DoW – IED
23:15 US ISAF 1 x Cat C – Heli Crash
13 Taliban killed today. A good days hunting,
24 June 2012 Sunday
Very tired today. Night lurk went without incident as expected. So glad I didn't go as it would have been another pointless exercise.
A pretty special day in some ways. Caught the SSM – WO2 Lowe and the OC – Maj Michaels, stealing the aircon from the D&V tent. The Doc had no knowledge, and what makes it worse was there was a patient in there at the time.
The Doc confronted the OC and was basically told to get lost. The SSM then ridiculed me in the dining hall in front of everyone I was sat with – d***.
Blood is boiling now. This will be taken further.
Other than being angry had a nice afternoon.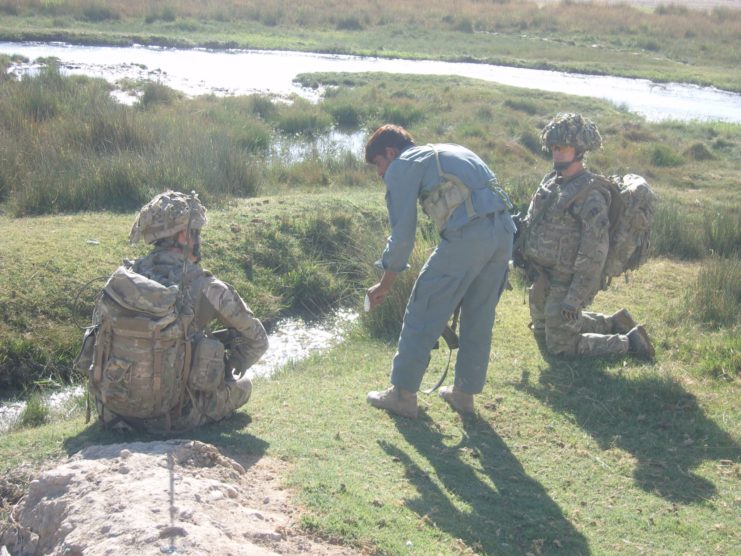 CO Asmat was attacked tonight and sustained two casualties, evacuated to PB 4. 3 call signs were crashed out to provide assistance, but none took a medic – oops!!
Doc is not impressed. Two f*** ups in one day. I'm still angry. Going to sleep on it before I pass it up to the RSM.
Monday 25th June 2012
Slept on it. Still angry
Op Minimise on. UK Brimstone double amputee.
Doc raised the no medic issue with regard to last nights crash out. Was basically told a decision was made not to take a medic. Now he's more annoyed. I have written to the RSM and all but asked to be moved.
I was surprised to hear that it has been taken very seriously by him and the OC. The OC called and spoke with Capt M. I will most likely be moved from here and KRH will be made to look after themselves. Happy days.
Still getting s*** excuses from the OC and SSM about why they stole the aircon. F*** 'em. Just glad I'm not in the KRH.
Had a vigil service for Cpl Mike Thackway this evening. It was at 18:15 to coincide with his funeral back in the UK. It went well. I videoed it for the guys. Just hope it comes out ok as they want to send a copy to his widow.
Haven't added the casualties for the last two days, but as usual there have been loads on both sides, including innocent civilians. Sad I know, but that is the nature of this war.
Weds 27th June 2012
Haven't been out on the ground for a while now. Not that I'm bothered. It's just getting monotonous, I guess. For an area that is so quiet, I think we over patrol, but then again, maybe that's why it is so quiet. I doubt it though. I think the corrupt AUP commanders have more of an involvement in this than we are led to believe.
The Doc and the MSST tried their first Doctor clinic next door today. Total Failure.
1. The local Dr didn't appear.
2. Only one patient turned up.
The Oc wants to try again next week.
Jut realised I totally forgot to put in an entry for Tuesday 26th. Not to worry, it was an uneventful day- again.
Still high numbers of casualties in the AO though.
Thursday 28th June 2012
Again a quiet day. Did some PT as a Med Centre – Insanity they call it. Some crazy yank work out. Was enjoyable though.
Spoke to my lovely wife. So so proud of my Ryan in the pool and especially my Kayleigh for being such a clever girl at school. And Aaron has gone up another level at reading. Well done all of you.
Back to Casualties then-
28th June 2012
07:57 ISAF Geo 2 x Cat B – IED-TBI
08:14 Civi 1 x Cat A -IED – Double Leg Amp
08:36 ISAF US 1 x Cat B – GSW Right hand
08:52 ISAF UK 2 x Cat A – IED
Civi 1 x Cat A – Frag
1010 AUP 2 x Cat A
Civi 1 x KIA
11:43 ANSF 1 x Cat A -GSW
1 x Cat B – GSW
1 x Cat C – GSW
15:37 ISAF UK 1 x Cat B- 4% burns
18:45 AUP 1 x WIA – GSW
19:14 ISAF US 1 x Cat A – Illness
19:25 ISAF UK 1 x Cat C – Hand crush injury
20:07 ISAF US 2 x Cat B – IED
1 x Cat C – IED
21:02 ISAF UK 1 x Cat B – Appendix
21:29 AUP 1 x Cat A – GSW Thigh
21:44 ISAF US 1 x Cat A – IED
21:47 ISAF US 2 x Cat B- IED
1 x Cat C – IED
A quiet day in comparison to some I guess.
Friday 29th June 2012
Woke up late this morning, 0740, but made it to the brief at 0800. Nothing to do today.
Had the two AUP that were shot at Asmat come through for dressing changes. This was a favour to the OC. Both the guys were lucky as they had clean through and through gunshot wounds.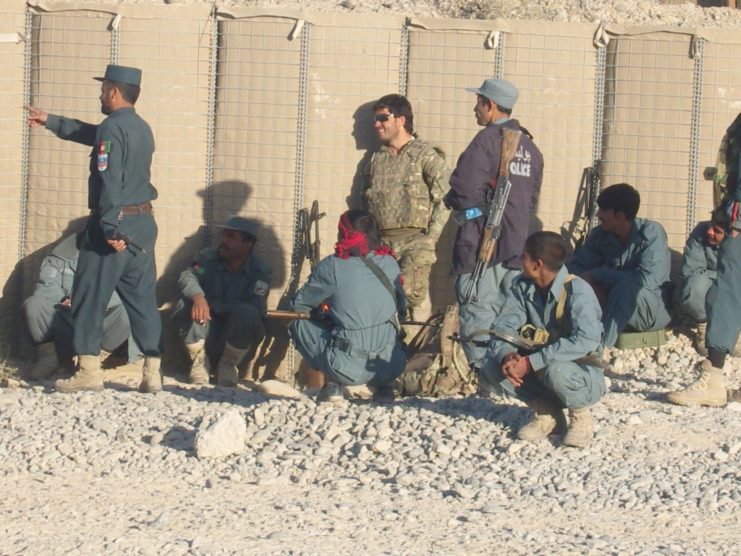 All patched up and on their way. Will see them again in 5 days.
2 AUP from our area wounded tonight from IED in a motorbike. It was detonated as they drove past. Best thing was it was in full view of the sanger at PB4. Both had fragmentation wounds.
We are on suicide bomber alert. The threat is real, so Mastiffs are parked in front of the gates overnight.
Spina Kota closes tomorrow, so that will increase manpower here as BJ21 returns. They will become QRF.
Saturday 30th June
All changed again. I am staying here now and not going to Durai Junction. Finally that is sorted.
Lee arrived back from Spina Kota, so that's our last CP closed.
Not sure where we go from here, but I believe a lot of Ops have been planned. Just see what happens.19 days till R&R.
Out tomorrow with 24. First time in a while, should be a fairly buckshee patrol.
Not much else doing today so fairly chilled. Had a lovely chat with my family this morning.
Sunday 1st July 2012
Went to Sacra and Taber with 24 this morning. Was a pleasant patrol. Loads of locals out which I hadn't seen before, so that's a good sign.
Back in NDH for 11:15.
The Doc is now leaving for Durai on the 16th July Our Mastiff amby is required for an Op in the south, so he will move with it. I'll be going on R&R about then as well, so a new chapter will start when I return.
My rules, my standards. Should be good.
Injury wise, I hurt all over. Both knees are killing, and my right Achilles feels like it has razors in it.
Phone call from the OC, pack bags and get to Bastion. I'm going on an Op with the BAG (Brigade Advisory Team).
It should finish in time for my R&R – Whatever!!
Spend the rest of the day packing to leave.
Monday 2nd July
Packed and ready to go to Bastion, but as yet no flight.
Should be on one tomorrow.
Not looking forward to this, but have been assured that I will be back for R&R.
Tuesday 3rd July
Early morning flight back to Bastion. Has about an hour to sort myself out. Met by Rob and Dutch and taken to camp Tombstone.
Had an hour or so here, then back to the flightline with a few BAG guys. As usual, flight cancelled, so back to Tombstone. Got some transit accom, and went to Bastion, a short walk, to see Emma etc.
Weds 4th July
Took a road move via Camp Gereshk to the Danish Camp called Hasrat. It is near the town of Saidan which is full of Taliban and IED's.
The plan is to saturate the town with ANA using ISAF support, then clear the enemy and IED's, whilst building two checkpoints, so the ANA can stay and monitor the town.
The day is spent unloading stores and prepping for deployment.
BAG assets arrive throughout the day, and ANA Kandaks arrive in the evening.
I may have lost a day here as I'm sure the Op started on Friday 6th July. We must have spent Thursday 5th July doing continued battleprep.
I left this journal in Bastion, so this is all from memory. It's now mid-August so a while since I last wrote.
I made some video entries whilst in Saidan, so will use them to try and get the correct dates.
It was Thursday 5th July we moved in – for me it was a Day of Days, a true day of firsts.
OP SAIDAN 5th – 11th July 2012
We moved out at dawn. The Danish platoon left first. I was with the rear chalk, with Danes and 2 guys from the USMC. We cleared the way for the APC's (Tanks), who followed behind us.
Danish Main Battle Tanks moved to the ridgeline to cover our move downhill into Saidan village.
The going was tough under foot with the fields flooded to water the crops. It was my Passchendaele, the mud was awful.
Taking a rest in a cornfield on the outskirts of Saidan, I was making a drink. BOOM, an IED exploded to the front of me. One of the marines screamed "Get down."
On doing so I heard a whizzing sound followed by a thud. I looked up and saw a huge piece of shrapnel sticking out the ground a few inches in front of me.
After a while, the compounds we were to occupy had been cleared, so we moved in. The area was saturated with ANA soldiers.
We made ourselves as comfortable as we could in the compound. The next 5 days were amongst the most miserable I have endured in Helmand. Explosion after explosion, some far too close for comfort. The nights echoed with gunfire and woosh of rocket flares fired to light up the area.
A Spectre Gunship unleashed hell on earth and a rain of death one morning. The enemy on the receiving end of that stood no chance.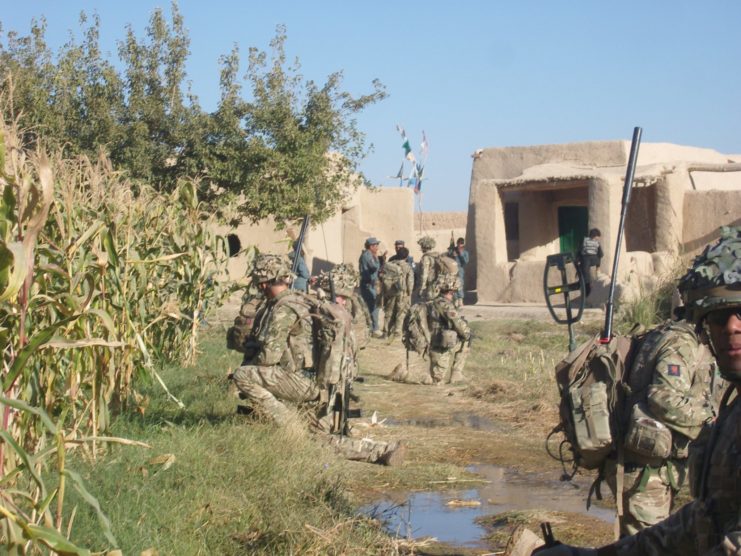 The days were hot as hell, there was no escape from it during daylight hours. We drank water hot enough to make coffee in and shared the compound with numerous farm animals. It stank, I stank, my contact lens had melted to my eye causing an abrasion. I had a skin infection on my right arm which was oozing pus from deep welts.
It was s***. This was due to go on for two weeks. By the grace of god, the ANA completed their tasks and built two new checkpoints in six days.
On the 11th at 1700 we withdrew from Saidan. Infantry and Tanks led the way. It was so hot we started to take heat casualties. I started to go off and was placed on top of an APC.
Eventually we all climbed aboard the APC's and rode back to base. An IEC or well-placed RPG would have been devastating at this point, but thankfully we got back safe.
I then cross loaded my kit to a Jackal with the BAG RECCE and we drove back to Bastion.
It was 20:00 on the 11th July. I have never been happier.
12th – 17th July – BASTION
I now had a week to kill in Bastion before R&R. I got permission to work in ED. It was a humbling experience. Saw a fair few battle wounds, including Pte Samuel of B Sqn. I followed him though to Surgery. Also, a lot of DNBI, including Jon-Jo Kerr of X Factor fame. Got him to sign an autograph for Tracey.
I'm not going to write too much on the ED dept, but it was a worthwhile experience and I saw some horrific war injuries on all nationalities, including the Taliban.
18th July
Spent the day prepping to fly home, handing in eqpt etc. Reported to the flight line at 14:00 and hen 18:00. Flew to Minad just after midnight. As expected, Emma Lizard was practically attached to me.
19th July
Left Minad at 0400ish on OMINAD Airways, a US charter flight. Had a stop over in Cyprus to drop off and pick up the decompression Pax.
Landed in the bosom of Mother England at about 14:30.
Saw my beautiful wife and children for the first time in four months. What a moment. I am the happiest man alive, and it was all filmed for a SKY TV documentary.
20th July – 31st July
Had the best R&R ever with my family. A massive thankyou to the Royal British Legion for giving us a holiday in Cornwall, one of the most beautiful parts on the most beautiful country on earth.
I had made it for Ryan's 1st Birthday on the 20th. We had an amazing party and BBQ the following Saturday with lots of family and friends. Kim was s***faced.
Had a few more days with Tracey and the kids and returned to RAF Brize Norton on the night of the 31st.
Was back in Camp Bastion by 21:00 on the 1st Aug. Due to cancelled flights and illness, finally made it back to PB Nahidullah on Tuesday 7th August. It's weird, but it felt good to be back. Home was amazing, but it had felt alien to me. I was back amongst my Band of Brothers and the war will go on.
Wednesday 8th August
First day back. An Op has gone out. Take over the Med Centre from Sarah.
Sanger 4 behind me is shot at twice tonight. The guys on the Op are engaged with SAF on four occasions. They return fire with SA and the AUP use ROGs. No casualties.
Saturday 11th August
Jay arrived back this morning. A CLP has also arrived to drop supplies. Quite a few medics from Bastion on it. We chat and catch up. The brainwave, I arrange for the CLP to take Sarah back to Bastion for her R&R. It's early but she's out of my hair at last.
Weather is hot, but I spend the rest of the day tidying.
12th – 13th August
Very quiet here. Spend the days doing phys and tidying the MTF. We are not doing any patrols until at least the 22nd due to Ramadam and Eid. The AUP are in a funny mood at the moment with a a lot of infighting. The OC wants no Blue on Green here.
Two soldiers have been killed in the last few days. One from the Rifles and one from the Engrs. We hold a vigil service for the Engr who was known to a few of the guys here.
The Nahidullah Olympics started yesterday. It will go on for a few days with various sports. Well, we have nothing else to do.
Have spoken to Tracey and the kids each day bar one. Tracey had had a miscarriage, but it was very early. She has coped amazingly, and the kids have been angels. I am so proud of them all. My heart really goes to Tracey. I love her so much. She is my hero mum.
Tuesday 14th Aug
NDH Olympics – Day 2 – football. No Phys today. Taking a rest day. Spoke to Tracey this morning. She is coping well.
Op Minimise is on – GG shot 3 times.
Queens Coy CP, where Pte Martin is, has been attacked. The Taliban infiltrated as far as the Ops Room. They were repelled by the guys inside throwing grenades out. The Taliban all escaped in the confusion and managed to steal a GPMG and 50 rounds. A terp was wounded – bad times.
Wednesday 15th – Thursday 23rd August
A mixed week, with ups and downs. Mostly it has been quiet here, but a rise in SAF and IED laying is causing me concern.
Most days have been fairly groundhog, but I have kept myself busy. Jay and Jennie went out for a few days(19th – 21st) with the guys to provide protection over the Eid holiday. The Taliban had promised increased attacks on ANSF and ISAF over this period, but it was quiet.
The 16th saw a gun battle just to our west at CP Naeem. This resulted in 1 X AUP Cat A, who came through us, and 1 x AUP KIA. The hero was the commander of CP Naeem and he was known to a lot of the guys here.
Read the attached AAR for more detail.
Our AUP guy is recovering well and was moved to the ANA Hopsital at Camp Hero on the 23rd.
Last night (22nd), saw us earning our pay again with Gdsm Arnold. He was injured when his vehicle left the road near CP Naeem. He had suffered a serious back injury and arrived on a spinal board. We assessed him and made him comfortable with 2 doses of Morphine. Pedro Medevac him at 2130 as a Cat B. He is now on the ward at Bastion,
All the guys gave been great helping with the casualties.
Unfortunately, the GG have lost another young soldier in a Taliban attack of their temporary check point. They got in close enough to steal his GPMG and rifle. That's 2 GPMG's taken in close quarter attacks in a week.
An entire suite of ECM was lost off a Jackal vehicle. ECM stops the Taliban detonating radio-controlled bombs. The suite is in Taliban hands and possibly on its way to Pakistan for exploitation – not good.
Have spoke to Tracey and kids quite a bit. I'm so glad they have lots of friends and lots to do. I miss them all so much. Still not long to do now. Less than 2 months – woop woop.
Weather forecasts a horrendous Sandstorm over the coming days. Gorgeous George wants to put the guys out to discourage the enemy from taking advantage of this.
Also we have word of a major IED laying campaign in our area. Closer than before, so the guys are out tonight to discourage this. 50 rounds of mortar illum were fired last night to discourage as well. Let's see what happens.
3rd October 2012
Well, ashamedly, it has been almost 6 weeks since I last wrote. I'm not sure why I stopped writing, laziness, lack on interest , or maybe a continuing disbelief in the cause we are supposed to be fighting for.
An enormous amount has happened in the last 6 weeks, and as I sit here and reflect on those weeks, I have mixed emotions. I feel pride, sadness, bitterness and contempt.
Pride in the fact I helped in some small way when Camp Bastion, the impenetrable fortress in the desert was attacked. Sadness that I am still suffering the psychological effects of past conflicts. Bitterness that this war has continued unabated for over 10 years, the lies and deceit told to our troops. And I now have nothing but contempt for a religion and the people who worship it.
Casualties have been steady over the past 6 weeks. Admittedly I spent just over 2 weeks in Bastion as a guest of the FMHT. I went there in late August after some bizarre nights of sleeplessness. I was feeling vulnerable and scared for my life, believing people were trying to kill me. I woke one night after a terrible nightmare to find I was clutching a loaded pistol. I was jumping at every bang, and tearful and seeing anything that reminded of the Bosnian War.
Two weeks of rest was on the cards in Camp Bastion. I had regular meetings with Mel, my assigned CPN. I still never felt safe in Bastion, but went day to day.
On the night of 14th September Bastion came under attack from a highly trained group of Taliban in American Uniforms. The evening was total chaos, and everyone was on lockdown in their workplace.
I watched and listened to the battle unfold across the airfield. Explosions, tracer and fire lit the sky. Casualties started to arrive. Our ambulances also came under attack.
The Taliban had got onto the airfield and were causing total destruction and chaos.
I watched gunships doing strafing runs of the airfield, and the clatter of gunfire was incessant.
As most people were in nightclothes, and I was in uniform, I volunteered to man the armoured ambulance with a few others. It had taken some time to get it from the REME some 500 m away as rounds had been coming through the compound.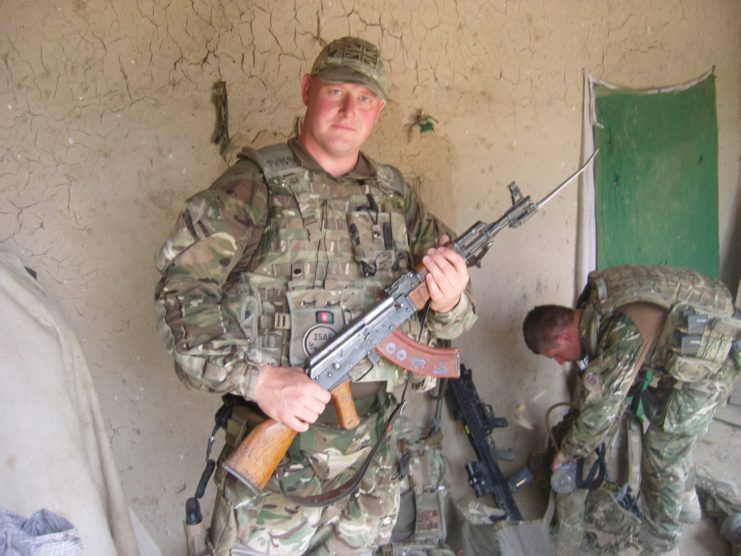 Once loaded we headed to central gate of the airfield and waited. We had reports of 5 casualties. The gate was held by 2 US Marines, 2 RAF Police and some civilian security contractor form 3 Canopies.
Now on the edge of the airfield I watched the battle only a few hundred metres away. Fuel dumps were ablaze, and gunfire crackled away. RPG's thumped into target. Repots came in that the runway was littered with the dead. I stayed there all night, helping where I could. The RAF Regt fought gallantly, suffering numerous casualties. We resupplied them with ammo and water throughout the night.
Reports came in of 18 enemy dead and 2 ISAF.
As dawn broke, the first of the dead arrived from the field. I helped carry LT Col Chris Raible from the back of a truck. He was wrapped in a poncho. Chris was draped in the Stars and Stripes and we loaded him into a BFA for the trip to the hospital. 6 Ambulances arrived to collect he dead.
Periodically, another UK casualty would come in. All shrapnel wounds. The guys had fought all night whilst wounded.
Later on another body arrived. Sgt Bradley Atwell USMC. We loaded him onto an amby and along with his best friend I accompanied him to the mortuary. That was the most unpleasant drive I have ever had.
We were relieved later that morning. The Taliban dead had to wait as they were, in most cases, badly burned and covered in ammo and grenades etc, and had to be cleared before removal. This took nearly 36 hours.
The whole of Bastion was numb to what had happened, everyone was on lockdown. Gun positions had been set up everywhere.
It was the 15th September, Tracey's birthday. I didn't even remember. Minimise came of for about 20 mins later that day. Then back on. 2 guys had been shot dead in a green on blue. An RAMC medic was also wounded.
That night in the cookhouse, Bastion came under mortar fire. The first time ever. I lay on the floor in the dining area and laughed. Looking around, people looked terrified. KBR guys were crying with fear.
It wasn't until the morning of the 16th and looking at Facebook that I even knew the previous day was Tracey's birthday. I felt awful.
Damage is estimated at £200 million.
3 fuel dumps, 6 harrier jets, buildings and vehicles all destroyed. 15 enemy dead, 1 captured, 2 ISAF dead and 9 wounded. A Taliban victory if ever there was one.
I flew back to NDH on Monday 17th September. Due to infighting, bickering and nonsense, my ned team had fallen apart.
I asked for people to be moved, but this fell on deaf ears. Not to be outdone by ignorant last c**** I stamped my authority and they didn't like it. The atmosphere was awful but I refused to back down.
Eventually they broke. I had reduced them to tears and normality resumed.
The whys and reasons are many and I shan't dwell on them.
Over the last 6 weeks, I have casevaced the following people for wounds received:
Ginge Gnr RA – Face smashed by brick
Gdsmn Arnold – Spinal injuries – RTA
Fus Hutchinson – infected elbow joint
Pte Tamang – Double finger amputation
I hope they all recover as well as can be.
Well it is now the 3rd October and my time is nearly done.
Replacements are arriving every day. Mine arrives on the 10th October and I leave for Bastion on the 12th. Cyprus on the 15th and home on the 17th.
Home – home to my family, my wife, my children. Ryan was a baby when I left, now he is a toddler. Talking, climbing and nearly walking.
We have not been on patrol in nearly 3 weeks. The Taliban have free reign to return. The areas that had been fought so hard for over the years, British blood spilt and lives lost, have been retaken by the enemy. The Taliban sit 600 m from our west wall about 30 strong. But its technically over the battlegroup boundary, so we do nothing.
A high level commander lives 300m from our North wall, but it's over our boundary.
Patrol Base Nahidullah will close 8 weeks after we leave. The AUP, in whos hands we leave this area, are corrupt to the core and not fit for task. This area will flood with Taliban within weeks. We know they are here already, waiting. And when we are gone, they will appear. The war is lost, and we have achieved a few roads, some schools and maybe a health centre. The population feels safe because we are here. When we go it's all over. Back to square one. But the Generals and politicians will tell us it was worth it, and a great success. They will praise the sacrifice of the dead and the wounded.
Tell that to a generation of young men and women, who have fought in Iraq and Afghanistan. Seen friends die, had limbs blown off, lives crushed. We know the truth but will never be heard or allowed to speak.
Time will tell. Mark my words.