History was recently revealed in the form of a military map from the Falklands War hidden inside a Welsh sailor's kit bag for two decades.
Former marine engineer mechanic Andrew Read from Merthyr Tydfil served aboard HMS Invincible during the 1982 conflict when he was 19.  He claimed the 4-foot by a 3-foot map on his last day aboard ship.
The map records the location of prisoners of war, Argentinian troops, sunken ships and downed fighter planes.
Read, now 53 said he wanted a memento from the Invincible.  Some thought was given to taking the ship's bell, but it was too large to fit inside his kit bag, he said.
As part of his duties, he was responsible for sealing rooms to keep out unauthorized personnel. At the operations room near 3 a.m., Read saw the map and took it and stuffed the artifact into his kit bag. He had it framed ten years ago.
The Falklands War was a two-and-a-half month war between Argentina and the United Kingdom over two British overseas territories, the Falkland Islands and the South Georgia and the South Sandwich Islands, situated in the South Atlantic.
Stretching between April 2, 1982, and June 14, 1982, the conflict killed 255 British, 649 Argentine and 16 civilian sailors and wounded thousands on both sides.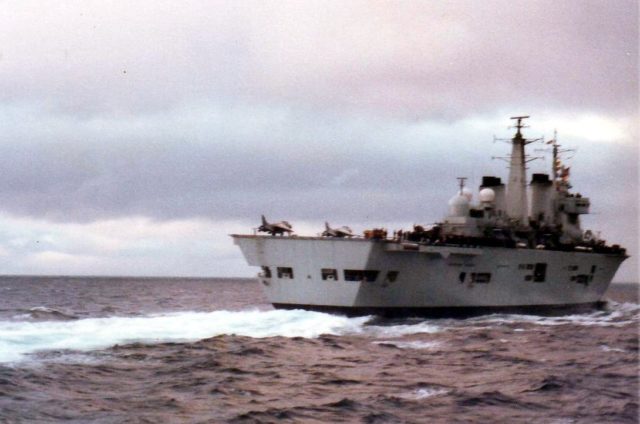 As a 'stoker,' Read's primary duty lay with maintaining the ship's engines. He joined another ship, HMS Argonaut, after returning to England.  Another of his duties was firefighting, which became helpful after his discharge, securing him a job as a civilian firefighter for a decade.
He didn't enlist to fight but to drink, he disclosed, and travel the world as much as possible, adding he doesn't think someone at 19-years-old should have seen combat.
He should have been playing with his friends back home, he said. Many people on the way to the Falklands assumed the matter wouldn't last long. But when the first ship was destroyed, and people died, attitudes changed.
He spent four years based in Portsmouth after returning home, the amount of time required for discharge since notice had to be given.  He decided a serviceman's life wasn't for him.
The map details where the SAS were placed on May 26 and the course is taken by a parachute regiment on June 11, through the island's rough terrain and numerous mountains.
Aboard the ship was an SAS team, he said, but no one knew who they were.  An SAS captain told him since he was responsible for locking up certain rooms, he was to refuse entry to their weapons room.
He was around six feet six inches tall with a large, scruffy black beard so they could pass as Argentinian soldiers.
One night, Read had to keep watch on three Argentinian bodies, another of his duties.  During his watch, a trawler dotted with aerials came close. It turned out to be a spy boat, Wales Online reported.
After the British victory in the war, relations between the two countries weren't resumed until 1989.