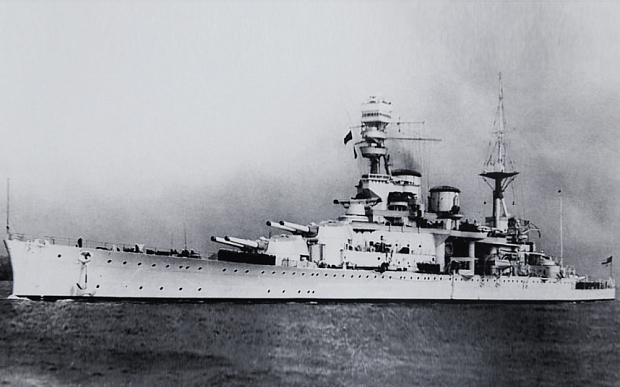 In December 1941 the Royal Navy lost the battlecruiser HMS Repulse and the battleship HMS Prince of Wales off Malaya when they were attacked by land based Japanese aircraft using bombs and torpedoes.
The two ships were at each end of the British naval spectrum with the Repulse having been commissioned in 1916 and Prince of Wales entering service in January 1941, less than a year before being sunk.
Repulse had seen long service and had been extensively modified in the interim.
Prince of Wales had been in the battle against the German battleship Bismarck and present when HMS Hood had gone down. Damage caused to Bismarck by Prince of Wales forced her to make a run for home. She was eventually caught by HMS Rodney and HMS King George V, a sister ship to Prince of Wales.
Both ships were sent to Singapore in 1941 along with several destroyers due to concerns about Japanese military intentions. An aircraft carrier, HMS Indomitable was to be included in the force but had suffered damage from a grounding in the Caribbean. The lack of air cover was to have disastrous consequences.
On 10th December 1941 the force was sent to intercept a landing off Malaya. They were spotted and tracked by Japanese forces. Attacks began just after 11 am with Repulse evading many torpedoes before being caught in two attacks from different directions. Repulse was abandoned and sank at around 12.30pm with Prince of Wales following less than an hour later, The Telegraph reports.
840 men were lost in the sinkings and the area of the wrecks has been designated a protected grave site.
Divers have noted in the past few years that the propellers from both ships had been removed with other metal parts being taken as well. At times explosives have been used to blow parts from the ships. Metals including aluminium, brass and copper have been taken with steel being blown from the hull and taken as well. The grade of steel armour is high in these vessels with the metals being sold for scrap.
The Malaysian naval vessel KD Perkasa has intercepted and impounded a diving boat, arresting 17 Vietnamese at the same time. The vessel was caught at 6.45 am around 60 nautical miles from Tanjung Gelang with some crew members in the act of diving at the time.
The detainees will be handed over to the Eastern region Malaysian Maritime Enforcement Agency for criminal action to be taken.
Stuart Shaw, from the TechThailand dive company said he has chased off scrap divers from the area but feared there would be little left within the next decade.