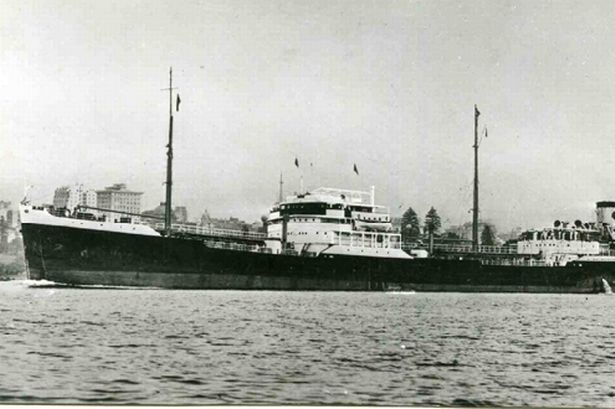 [Via]
A Liverpool local teenager is the only known person to have had a 16th birthday aboard a supply ship that was bombed by a Nazi U-Boat during World War Two.
Kenneth Connor who was from Liverpool had his 16th birthday in May 1942, but instead of being able to celebrate he clung to his life on a dingy in the middle of the Atlantic.
The ship was called the Darina, which had left Liverpool around a fortnight before the tragedy. It was headed across the Atlantic to Texas in the US.
The journey across the Atlantic, no matter which way, was by 1942 known to be treacherous, since German U-Boats were positioned throughout the Atlantic shipping routes so that they could destroy as many Allied ships as possible – both merchant and naval ships.
When the Darina was almost at the end of her journey to Texas, around 50 miles off the coast of Bermuda, a German U-Boat fired a torpedo at the ship. The Darina lurched to its port side where the torpedo had hit and began to flood the ship. Smoke filled the air and the ship laid listless sinking into the water.
The captain of the Darina, Captain John Murray ordered his crew to abandon the ship just before 9pm, as the Germans continued to fire at the ship in order to destroy it.
Kenneth,who was from the Toxteth area of Liverpool, went with the rest of the crew and jumped ship to escape and managed to get into one of the ship's lifeboats.
One of the lifeboats was destroyed by the German U-Boat as it continued to attack the Darina and its escaping crew. The rest of the crew made their way to the two remaining lifeboats, which were by then overcrowded, and begun to make their way to Bermuda.
Kenneth was in one of the lifeboatswith around 17 other crew. They were picked up the next day by another British ship called the Ardour, which was heading to South Carolina. Kenneth and the surviving crew made it to South Carolina a week after their ship had been destroyed, the Liverpool Echo reports.
The two remaining lifeboats had more arduous journeys. One drifted for almost a week before it was found by a US ship, which rescued the crew and took them to Virginia. While the other boat drifted for weeks before being found by a Norwegian merchant ship, which took them to South Africa.
It was German U-Boat U-158, which destroyed the Darina. However just a month after it sunk the Darina, the U-158 was itself destroyed when it was attacked and bombed by the US air force off the coast of Bermuda. None of its crew survived.