British metal detector hobbyist Mark Williams, 51, discovered a live WWII German incendiary bomb with his metal detector in Southampton, England, and later put the bomb up for sale on eBay. Thankfully, a Dorset-based military collector recognized the device and the imminent danger the seller was in, resulting in evacuated neighbors, a 50-meter cordon, and the expertise of the Army bomb squad.
Williams found the 1-kilogram incendiary bomb 6 inches under a grass bank near his home with a metal detector. After digging the metallic object up, he realized it was a German WWII incendiary bomb and took it back to his home. Huge numbers of these small bombs were dropped on Britain during the Blitz, as they could wreak havoc with large spread fires. As they were scattered over the country in such large numbers, many remain hidden and live to this day.
Williams eventually listed the bomb on the auction site eBay, with the price starting at £15.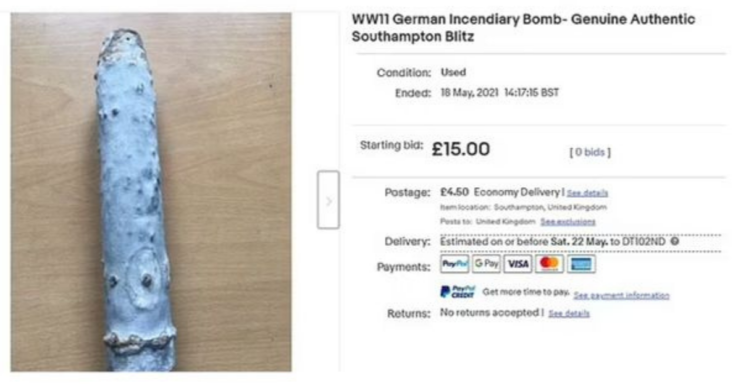 Militaria collector Ralf Sherwin, 46, saw the item, which was in used condition, for sale on eBay. Soon after, using his knowledge in this field to spot the signs of a live vintage bomb, he made the horrifying realization that the bomb was indeed still live.
Without hesitation, Sherwin contacted Williams on eBay with the message, "Mate, do you realise that's not de-activated — it's live!"
Sherwin told MailOnline that "he messaged me back and asked me how I knew," adding, "He said he was a metal detectorist and had dug it up in a kids' playground in Southampton."
"I went into great detail about that fact that you could see the iron oxide seeping out of the air holes and the join.
"In the nose there's a detonator, and once that dries out, it will go off, and I told him he wouldn't be able to put it out.
"After that, I expected him to take it down and call the police, but the idiot completely ignored me and carried on selling it. What was he going to do if someone bought it — cover it in bubble wrap and post it off in a Jiffy bag?"
After waiting 30 minutes and receiving no reply, Sherwin thankfully alerted the police.
"I went online and reported him to Hampshire Police. I later found out that they contacted eBay, found his address, and pounced. I'd never have forgiven myself if I'd done nothing and then read about a family being wiped out in a house fire."
The police arrested Williams and raided his house. To the surprise of his neighbors, they were evacuated from the area and a 50-meter cordon around Williams' house was established.
"It was bedlam here with police and fire brigade. We were all told to leave our homes while a cordon was put up. We had to be outside for over two hours," said one of Williams' neighbors
Another added, "I think the big problem was Mark brought the bomb back to his flat. He showed me it and it was about a foot long. We had to wait in the rain for a bomb disposal unit to turn up and they took it away. We did not hear any explosion so they must have removed it."
The fire brigade and an Army Explosive Ordnance Disposal were also on site to handle the bomb.
Sherwin, the hero of the day, quickly recognised the type of bomb, its condition, and the fact it was live, all from the eBay listing. Sherwin knew the risks an old and highly unstable explosive device can pose.
"I've spent most of my life working in security and once when I was a community ranger on Studland Beach I found an unexploded bomb and the Navy blew it up, so I know how dangerous these things are," Sherwin said.

A spokesman from the Hampshire Police released a statement that said
"We were made aware of the bomb after it was reported as being advertised for sale on eBay.
"A 50-meter cordon was put in place and homes within that area were evacuated for the safety of residents.
"The Explosive Ordnance Disposal team attended and transported the ordnance to the police training center in Netley, where a controlled explosion was carried out at 4:15 p.m."
Although Williams was arrested, he was released later without any charges, with the spokesman adding, "A 51-year-old man from Southampton was arrested on suspicion of possessing an explosive substance for an unlawful purpose. He has been released and no further action will be taken against him."