Hôpital Sainte-Musse in Toulon, France had to be partially evacuated on December 17, 2022 after an 88-year-old senior arrived at the emergency room with a WWI-era shell stuck up his rectum.
An 88-year-old Frenchman presented at Toulon A&E yesterday with a First World War shell shoved up his arse. Bomb disposal were called to make it safe. The hospital was evacuated. I wish this was a joke. pic.twitter.com/IS2u9kUqBO

— A common lawyer (@acommonlawyer) December 20, 2022
According to a report by French news outlet Var-matin, hospital management immediately organized a partial evacuation of the facility, with the help of on-site security guards and firefighters. While most departments were included, the gynecological and maternity wards continued to function as normal.
Along with the partial evacuation, new patients were temporarily diverted to other hospitals in the area.
"An apple, a mango or even a can of shaving foam… We are used to finding unusual objects inserted where they shouldn't be," a staff member told Var-matin. "But a shell? Never!"
The senior reassured hospital staff that the WWI-era shell up his rectum was demilitarized and a collector's item, which he'd inserted into his rectum for pleasure. After confirming it was safe, doctors performed abdominal surgery to remove the French shell from the 88 year old's body, which reportedly measured 5-6 cm x 20 cm. However, there is speculation as to whether those measurements are correct.
The patient is reportedly in good health. On the morning of December 19, hospital management thanked staff via email for their efforts during the unexpected incident.
In a statement, a spokesperson for Hôpital Sainte-Musse said, "An emergency occurred from 9 PM to 11:30 PM on Saturday that required intervention of bomb disposal personnel, the evacuation of adult and pediatric emergencies as well as the diversion of incoming emergencies. We have to manage the risk in a reactive framework. When in doubt, we took all the precautions."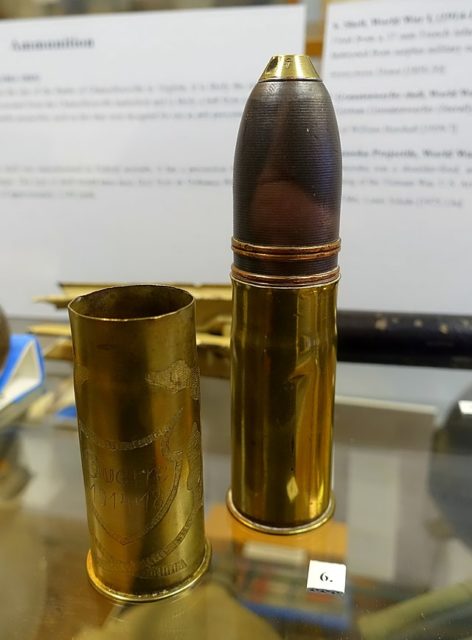 While the exact type of shell the senior had up his rectum has not been released, the image circulating around social media looks to be of a WWI-era 37 mm munition. An online search shows that obtaining one isn't all that difficult, with a number of websites offering the shells for relatively low prices.
More from us: WWII-Era Grenade Found in New Zealand French Fry Factory
Patients going to the emergency room after getting a 20th-century munition stuck up their rectum isn't as uncommon as some may think. A similar incident occurred in 2021, when a man arrived at Gloucestershire Royal Hospital in the United Kingdom, claiming he'd "slipped and fell" on a 6 cm x 17 cm anti-tank round from the Second World War.
The 11 Explosive Ordnance Regiment was called the facility, after which it was determined the munition wasn't live and, therefore, not a risk to hospital staff. The patient was released following its removal and was expected to make a full recovery.