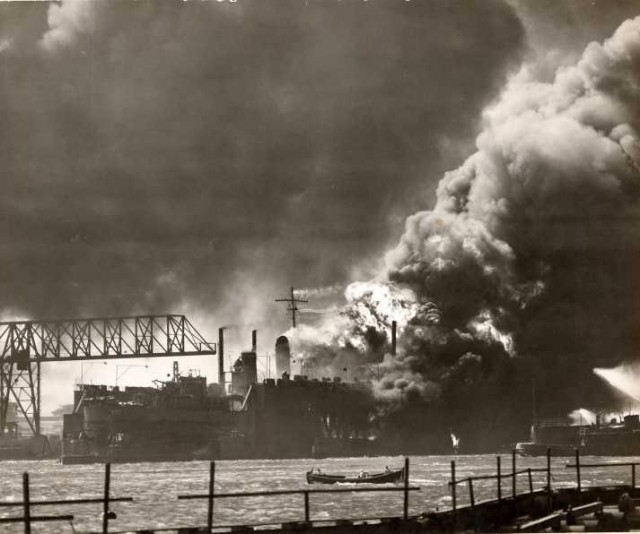 Many of the iconic sights and sounds of World War II never occurred, according to research by film historian Mark Harris. His just released book 'Five Came Back' details the work of Frank Capra, John Ford, John Huston, George Stevens, and William Wyler to bring the exploits of Allied forces to movie-going audiences around the world. Their efforts covered some of the wars most epic battles, and many might be surprised to learn which classic moments were staged.
John Ford's previous work on 'The Grapes of Wrath' made him a natural candidate to bring a more realistic image of war to the big screen, and his work on 'December 7th' cemented many people's image of the attack on Pearl Harbor. Less than four minutes of the Japanese surprise attack, it turns out, existed on film. A little bit of ingenuity on Ford's part was required, involving model battleships and airplanes, along with American sailors taking to anti-aircraft guns for the sake of camera crews.
Even more stagecraft was required in order to completely fabricate a British victory in Algiers. Frank Capra and his film crew arrived in North Africa faced with bombed cities and a war documentary to shoot. Faced with the dilemma, the filmmakers decided to bomb the city some more and film the results. They even went so far as to film tanks splashing about in the sea in order to recreate the high drama of an actual British route of the German Army that occurred when German tanks were coaxed into going for a swim, the Express reports.
It should be noted that these directors enlisted in the armed forces, and were often provided with support in their endeavors with the full support of the military. Actual military personnel along with vehicles and other equipment made up much of the cast in the fake combat footage. Their personal bravery in filming actual war footage cannot be understated – John Ford received the Purple Heart for very real wounds he sustained while filming the Battle of Midway.
Historians believe that the purpose wasn't to defraud the military or the movie going public, but to boost morale, while also depicting the slow-going and brutal nature of war quite contrary to what had appeared in Hollywood films to that time.