Harry Ledger's career flying Spitfires wasn't extraordinarily long, but it was eventful.  At 94 years old he is thought to be the last living Spitfire pilot who saw action in Burma during the Second World War.
Prior to enlisting in the RAF when he was 22, Ledger had been studying law at Manchester University with the intent of joining his father's law firm but decided with a war going on, he had to do his bit.
Since he always dreamed of flying, perhaps sparked by the stories his father read him about the ancient Greek god Hermes who wore winged sandals, when asked during the enlistment process if he wanted aircrew, Ledger certainly wasn't going to say no. So he said yes. He failed his first-night vision exam but was nevertheless posted to Cambridge at the Initial Training Wing.
He describes his first flight as thrilling, not scary, given the pilot put the aircraft into a heart-stopping spin and Ledger pulled the airplane out of the dive after it stopped spinning at 4,000 feet.
His father had told him prior to enlisting to say "no" to aircrew so when he was posted to Salisbury, Zimbabwe, only then he did break the news to his family.  He completed 43 hours training on a Harvard.  Ledger learned first-hand the danger of flying when his roommate died in a flying accident, and another was killed when he didn't recover the plane from a spin.
On November 30, 1944 (he remembers the date); he flew solo in a Spitfire.  He describes the Spitfire as easy to operate once a person got the technique down. The hardest operation was reducing airspeed and landing a powerful airplane.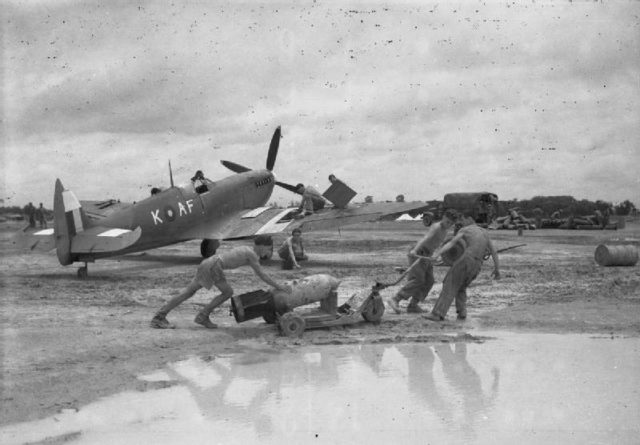 Landing his Spitfire during difficult circumstances after the engine died at 10,000 feet and gliding, then landing downwind, earned him a commendation.
With the Germans surrendered in Europe, Ledger was sent to Mahabaleshwar, India. Since he was going to battle the Japanese in Burma, learning basic survival skills at 'jungle school' was a requirement.
In a short time, he flew his first combat mission dropping bombs at 500 feet over jungle areas on the Japanese.  His orders were to clear the bombing zone after dropping a 500-pound bomb since the weapon had a seven-second delay.
In September the Japanese surrendered after Nagasaki and Hiroshima were destroyed with atomic bombs.  It was also Ledger's birthday, so he and friends went dancing.
He continued to fly, not Spitfires but a Dakota to return the boys home.  He received the Burma Star for his participation in combat.
Ledger completed his law degree after leaving the RAF in 1946 and worked at his father's law firm.  Forever the speed lover, even in retirement, he was thrown from his motorbike at age 86 in an accident, Mirror reported.
He will never forget his days as a pilot since they were wonderful, he said.