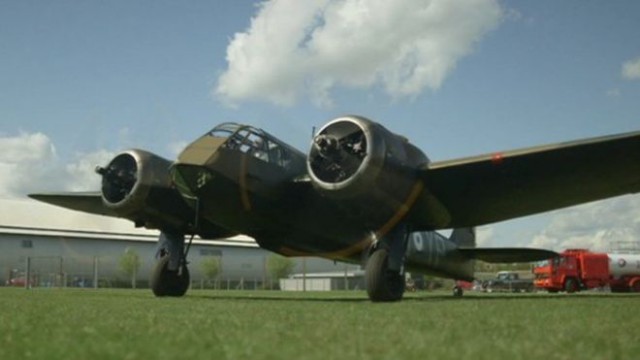 [Via]
A Blenheim bomber used during World War Two has been restored to its former glory in tribute to the pilots and crew of Royal Air Force Bomber Command.
The RAF's fleet of Blenheim bombers was retired at the end of World War Two. Now 70 years after the end of World War Two the final remaining Blenheim has been restored after more than three years of restoration it is back flying.
John Romain has led the restoration effort and is the managing director of the Aircraft Restoration Company at Duxford. The bomber has been insured for £2 million but is thought to be worth a lot more, particular to those who flew her during the war.
The Blenheim was built with little armour to protect it, but this made it lighter so that it could travel at a longer range. They were used all over Europe and Asia for bombing raids and fighting. However they incurred huge losses, as the Blenheim was also an easy target for the enemy.
The restored bomber will feature in some of England's most popular air shows this summer.
The Blenheim was developed before the war began, when the First Viscount Rothermere ordered one of Britain's best aircraft makers to develop an aircraft that was faster than anything else available at the time. Germany held the crown for the fastest aircraft and Britain was eager to produce something that could outdo the Nazi's best work.
During the 1930s, Hitler implemented a massive rearmament programme for Germany, and so the Viscount also saw this as an opportunity to ensure Britain could match or exceed Hitler's air power.
The aircraft was the Bristol 142 passenger plane. It could fly at just over 300mph and at just over 11,000 feet. The Bristol could fly for around just under 1500 miles. Once the Bristol's performance was demonstrated the RAF took note and began to draft plans to make the Bristol into a bomber and fighting aircraft, the Mail Online reports.
Two years later the RAF had a fleet of around 150 Blenheim Bombers, which the RAF had renamed the Bristol to. They could carry more than 1000 pounds of bombs and were installed with radar.
By 1939, the RAF had built over 1000 Blenheims. It was the first Allied aircraft to cross over into Germany territory, as well as sinking the first German U-Boat.