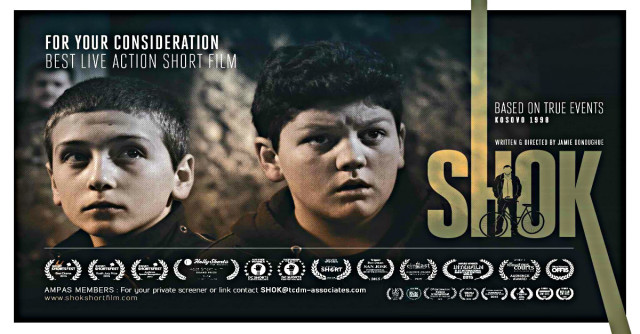 Shok made cinematographic history in Kosovo after becoming the first Kosovo-made movie – albeit in the short film category – to be nominated for Oscars.
Shok, which was inspired from real events, is about two 12-year-old boys and how their lives were affected by the Kosovo War which broke out in 1998. The film was helmed by British filmmaker Jamie Donoughue and was shot in Mitrovica, a city in Kosovo which became a center of conflicts during and after the war and was even badly affected by it.
The short film focuses on how the conflict affected these two young lads, filling their lives with violence and fear and forcing them to make choices that not only threatened their very own lives but those of their families as well.
According to the director of Shok, the movie is not a war film but about the victims of the said war in both sides. It also pays homage to friendships. Donoughue went on to say that most of the cast and crew of Shok had firsthand experiences of the Kosovo War and these greatly added to the short film's depth and impact.
"I think that was a key part of it, and, more or less, everybody in the cast and crew had been directly affected by the war and had these things happen to them," he stated.
For the Oscars, Shok is pitted against Ave Maria, Day One, Everything Will Be Okay and Stutterer.
The ceremony will take place in Hollywood on February 28, this year.
https://www.youtube.com/v/c5vLMJRr8MA