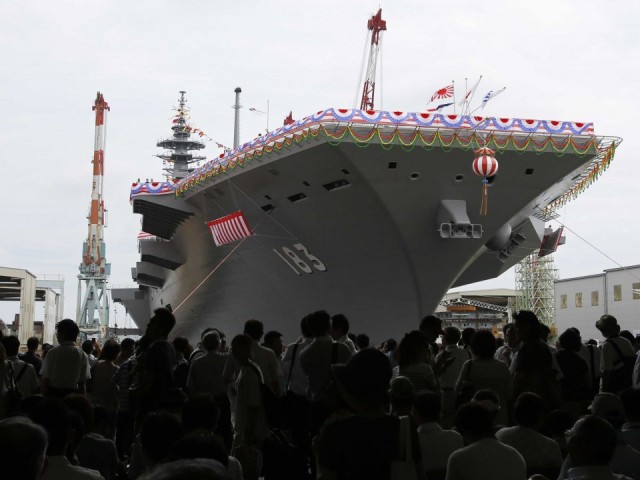 Limited self-defense military activities, tensions constantly raising in the region and old territorial conflicts seem to have increased the chances Japan will revise its constitution during this decade.
Information was first published in Sankei Shimbun daily and it read that the constitution is going to be revised after the Olympic Games in 2020. The Japanese are considering replacing Article 9 of the constitution, which doesn't allow the use of war to solve international conflicts and it says that peace should be found just by the use of justice and order. Article 9 of the Japanese constitution was added after the Second World War.
"Aspiring sincerely to an international peace based on justice and order, the Japanese people forever renounce war as a sovereign right of the nation and the threat or use of force as means of settling international disputes," reads the article. Japanese Prime Minister Abe said the article should be changed to deal with modern times and conflicts and not with a world which existed 60 years back.
Abe also seems concerned about the growing tensions with China, which began creating conflicts between the neighboring countries in November, after building an air defense zone that trespass the neighboring countries. Japanese lawmakers accused China and its government of being 'risky' and for attempting to disturb the peace in the region. On the other hand, China has urged Japan to quit on its provocative actions and try to fix the diplomatic connections between the Asian countries, the RT News reports.
Now both China and Japan have been building up on this conflict related to a series of islets in the East China Sea for over a year. While Japan is responsible for the administration of the Senkaku Islands, China says it has a historical connection with the Diaoyu Islands.
Things got even worse when Abe recently visited a shrine internationally viewed as a symbol of Japan's aggression during the war. Hua Chunying, a spokeswomen of the Chinese Foreign Ministry insisted that Chinese people and other Asian people should be against Japan repeating the same mistakes as in the past. Chunying urged Japan to think again about history and change the things that can be changed to not repeat it.
The Yasukuni shrine, which Abe visited recently, pays tribute to Japanese leaders who were charged as war criminals for their service during the Second World War. When Abe was elected Prime Minister in December 2012, he promised to solve conflicts with China, however, one year later there is no sign of involvement whatsoever and diplomatic tensions continue to exist between China and Japan.