One wrong turn can be all it takes to turn a regular soldier into a hero.  On March 23rd, 2003, the US Army's 507 Maintenance Company took that wrong turn and ended up in the city of  Nasiriyah, Iraq.  When the dust settled, eighteen Marines were lost, and events had transpired that would land Sergeant Major Justin LeHew the Navy Cross.
Six soldiers were captured, and eleven more killed when Iraqi forces bore down on the 507th during an ambush.  LeHew, then serving as a platoon sergeant, got the call to rescue the Army unit.
"Under constant enemy fire, he led the rescue team to the soldiers. With total disregard for his own welfare, he assisted the evacuation effort of four soldiers, two of whom were critically wounded," LeHew's Navy Cross citation reads.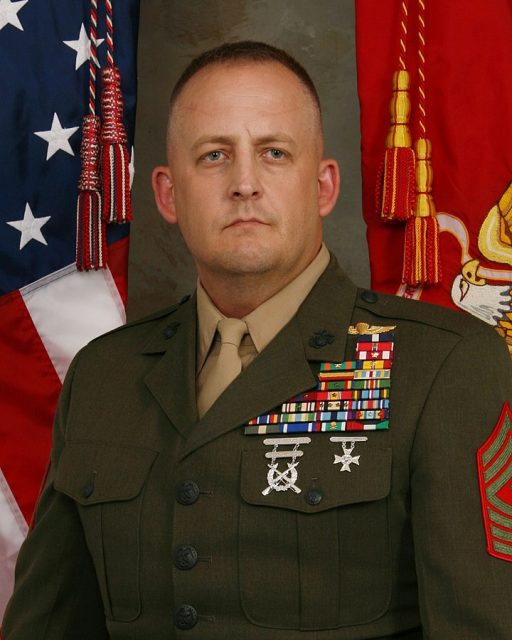 The sergeant major, now nicknamed the "Hero of Nasiriyah," is now set to retire from the Marine Corps after thirty years of dignified service.  With the rescue effort complete, LeHew led his company of Assault Amphibious Vehicles (AAV's) deeper into Nasiriyah to both capture and pacify it, as well as secure a bridge across the Euphrates, all while under enemy fire.
During the intense, three-hour firefight to claim the bridge, LewHew exposed himself to enemy fire multiple times.  One of his AAV's was hit by a rocket-propelled grenade, and LeHew had to move to recover the nine dead or wounded Marines, all while enduring a steady barrage of enemy fire.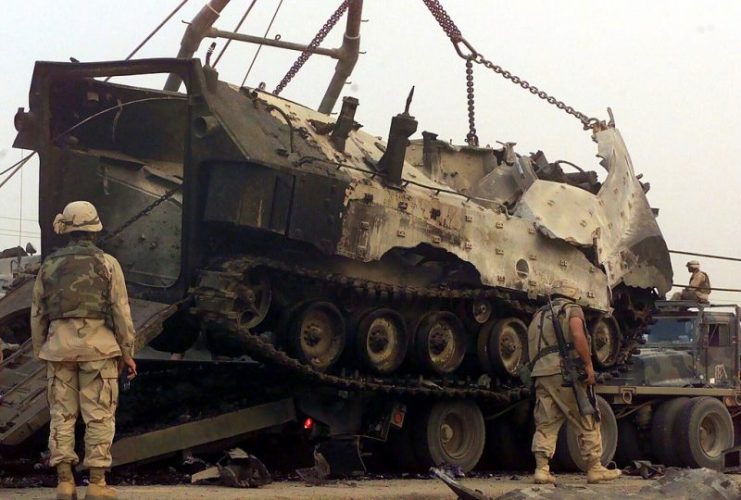 Both Bravo and Charlie companies went deeper into the city while Alpha stayed behind to secure the bridge.  Charlie, however, was quickly pinned down in an urban gun battle as it navigated through a dangerous part of the city called "Ambush Alley" by Army planners.
LeHew continued into the city streets, fighting through four hours of house to house, street to street close quarter combat, as he maintained and reinforced a defensive perimeter, repelling numerous waves of Saddam Fedayeen attackers, including directing tank and infantry fire.
Securing Nasiriyah would cost the Corps nearly eighteen Marines and seven AAVs.  Many casualties were the result of friendly fire from an Air Force A-10 that misread the Marines tracked amphibious vehicles for Iraqi armor.
LeHew's awards include the Navy Cross, awarded in 2004, and the Bronze Star with Combat "V" for valor, earned while serving as first sergeant during the bloody battle in Najaf, Iraq.  On August 5th of 2004, LeHew and his Marines endured an attack from snipers, mortars, and machine gun fire by the Madhi militia.
The battle lasted for twenty-two days and involved plenty of danger for LeHew, who would on multiple occasions be forced to move about the battlefield under intense fire to motivate his Marines.  At Najaf, he offered his assistance in the treatment and evacuation of nine wounded Marines, while three were killed in action.
LeHew is presently assigned to the Wounded Warrior Battalion – East, at Walter Reed Bethesda, National Medical Military Centre in Maryland.  The Corps has him listed as a recovering service member.  According to Major Eric P. Gentrup, the executive officer for the Wounded Warrior Regiment, LeHew's retirement will be held at the Assault Amphibian School at Camp Pendleton, California, and he will officially retire as of July 31st, 2018.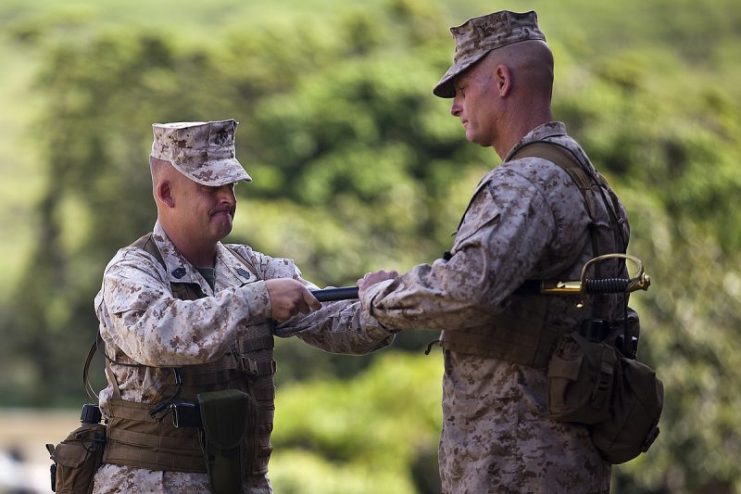 During his career, Sergeant Major LeHew participated in combat operations in Operation Desert Storm, Operations Provide Promise and Deny Flight in Bosnia-Herzegovina, and Operation Iraqi Freedom.  He was also deployed in Okinawa, Japan, to provide support for the Unit Deployment Program there.  His final assignment was serving as the Sergeant Major at the Training and Education Command at Quantico, Virginia, which he assumed on the 29th of August, 2013.