Lettice Curtis, believed by many to be the most exceptional woman pilot during the Second World War, passed away last July 21, Monday. She was 99.
Lettice Curtis was, perhaps, the most exceptional female pilot during the Second World War. She flew many various planes used for military combat while working with the Air Transport Auxiliary (ATA). She, also, was the very first woman pilot who qualified to fly four-engine bombers. Throughout her flight career, she handed about 1,500 aircraft, including 222 Halifaxes, 109 Stirlings, a number of Liberators as well as Lancasters.
Lettice Curtis Discovered Flight
Born Eleanor Lettice Curtis on February 1, 1915 in Denbury, Devon, she was into sports as a youngster. She was into country tennis, squash, lawn tennis, fencing and lacrosse. She received her education from the Benenden School in Kent as well as St. Hilda's College in Oxford, where she was trained to read Mathematics.
It was in the summer of 1937 when Lettice Curtis discovered the joys of flying. She first learned how to maneuver a plane at the Yapton Flying Club, which was located near Chichester, during that time. After being schooled with the basics of flight, Lettice Curtis flew an additional 100 hours alone just so she could obtain her commercial B license.
Lettice Curtis was not expecting that she'd be able to pursue a career as a pilot. However, the CL Aerial Surveys employed her. She joined in the said company May of 1938. For her job, Lettice Curtis flew a monoplane Puss Moth which was fitted with a survey camera to take pictures of several areas of England. She, then, transferred to the company's research department when WWII broke out.
Working for the ATA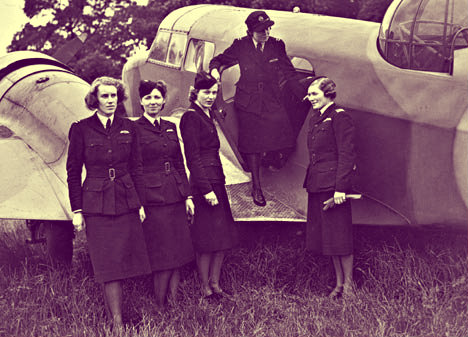 It was during this time that Lettice Curtis received a letter from Paulina Grower, the organizer of ATA's women's section, inviting her to join the organization. Nine months after her move, Lettice once again transferred and started working with ATA.
The putting up of the Air Transport Auxiliary (ATA) was originally for mail and medical supplies transport. But then, it warped into transporting military craft that is either new, damaged or repaired to UK plants, scrap yards, assemble plants, delivery points across the Atlantic, airfields, active service squadrons, to MUs or maintenance units but not to aircraft carriers.
The emergence of the ATA was strongly met with skepticism. The organization's initials were even jokingly referred to as Ancient and Tattered Airmen as they employ pilots who were deemed unfit – in age or fitness – to serve in the Army in the war.
When the news leaked out that the organization was employing women to pilot war planes, it was met with a more forceful resistance. Women were seen as dilettantes — rookies that would always be afraid of flying. One WWII-era newspaper even hinted that the name ATA stood out for Always Terrified Airwomen.
Nevertheless, the emergence of Lettice Curtis, among ATA's many women flyers, proved that that thinking was very wrong. In the summer of 1941, women flying war planes for deliveries became acceptable. And in 1943, women flyers were allowed to receive the same salary as their male colleagues. This change made ATA one of the very first companies to be an Equal Opportunity Employer.
In 1942, Lettice Curtis became the first woman to fly a four-engined bomber. She shares this achievement with only 11 other ATA women pilots.
The Life of Lettice Curtis after WWII
The passion for flying Lettice Curtis had did not diminish even after WWII ended and the ATA dissolved. All of her post-war jobs still involved flight.
Lettice Curtis flew a Spitfire XI August of 1948 and set an international women's record in the Lympne handicap's 100-kilometer closed circuit. She also got involved with the Foiland and the Fairey Aviation from 1953 to early 1960s before accepting a post in the Civil Aviation Authority. She stayed within the organization until 1976.
Lettice Curtis also received her qualification to fly helicopters 44 years after she flew that Spitfire XI. She gave up flying in 1995 when she was already 80 years old.
Aside from being an exceptional pilot, Lettice Curtis was an author. She wrote her own autobiography as well as three other books — a history of ATA, the Forgotten Pilots (1971) and the Winged Odyssey (1993). She was also the founder and a life member of the British Women Pilots' Association.
We salute you formidable woman flyer Lettice Curtis!