US Navy veteran Bill Day thought home ownership was a far off dream… till he got a special video call from actor Gary Sinise. Sinise, whose performance as "Lt Dan" in 'Forrest Gump' captured the imaginations of soldiers, had a simple message… Day's mortgage bill was being paid in full, thanks to Veterans United Home Loans.
As might be expected, Day's reaction was an emotional one. Talking to local station WNYT NewsChannel 13, he revealed: "You know, this is like winning the lottery to me". But there's more here than just a high profile story of heart-warming generosity.
It's one of a series of surprises sprung on ex-service personnel, via the Veterans United #MakeItMeanMore scheme. The new initiative draws attention to the true meaning of Veterans' Day (Nov 11th). When Twitter users post "Thank you for your service", the organization throws $25 into the virtual pot.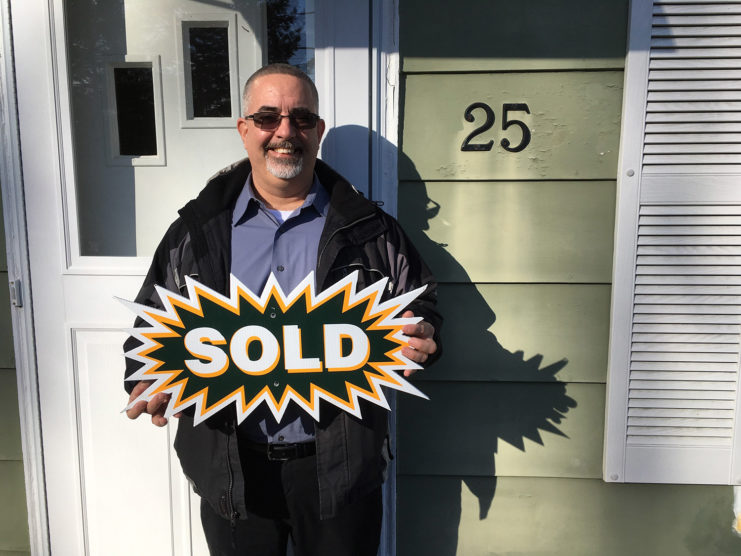 The scheme is there to "remind us as Americans that we have a debt to pay to those who have and continue to sacrifice for this nation." (Veterans United VP Pam Swann, quoted by People)
For Day, the unexpected gift marks the culmination of a lot of work. This single father moved to the property in the town of Colonie NY at the end of 2018. Since settling in, Day has labored to make the place a treasured family home. After serving his country, raising a family was another welcome challenge. A Veterans Association loan – also paid off – helped him and his four children make a life.
Swann lavishes praise on Day through WNYT. She says he "continues to try to make the world a better place" as a civilian. While he's humble about the honor, it's only right he receives recognition. Day served in the Navy from the age of 18, taking part in Operation Desert Storm among other engagements. WNYT reports his basement features a painting of a ship, courtesy of an artistic pal.
Sinise wasn't the only celebrity on good news detail. Fellow actor Joe Mantegna, Robert Irvine the celebrity chef and performer/veteran J.R. Martinez were also on hand to dispense mortgage breaks for astonished former service people.
The man who played Lt Dan has a long association with the army. 'Forrest Gump' (1994) saw him nominated for a Best Supporting Actor Oscar, but it also endeared him to servicemen and women. Journal Advocate writes he was "greeted as 'Lt. Dan' by soldiers." The special connection touched him deeply: "Gary knew he could use the character to help break down any barriers between him and the soldiers." His music group The Lt Dan band entertains troops wherever they may be.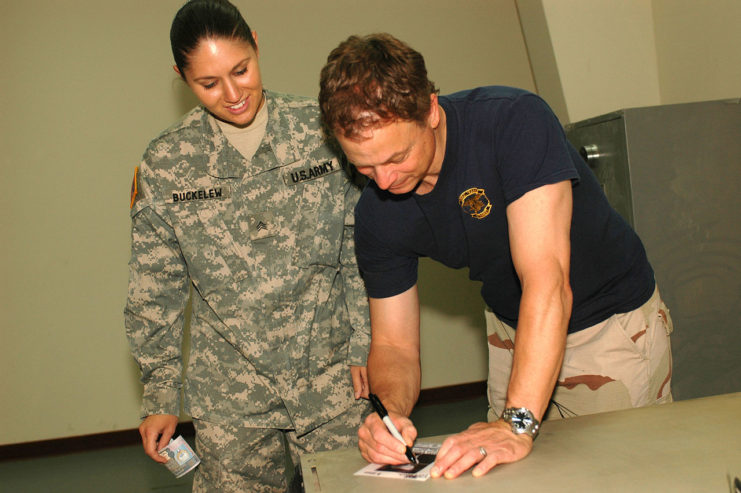 Lt Dan famously fought alongside Tom Hanks' title character during the Vietnam War. Sinise has relatives who served in the conflict. He went on to establish the Gary Sinise Foundation. Deadline reports it has a "mission to serve and honor America's defenders, veterans, first responders, Gold Star families and those in need". Sinise is also the author of 2019 autobiography 'Grateful American', where he talks about his desire to assist the services.
Speaking on Twitter for Veterans' Day, Sinise announced the signing of 1,000 copies, adding "I hope they are gifted to our nation's heroes". He received a Humanitarian Award from the Location Managers Guild International earlier this year.
Another Article From Us: New Book Alleges Poisonous Pacific Legacy of the American Military
His talent for playing authority figures is clear, from Commander Kevin Dunne in Brian De Palma's 'Snake Eyes' (1998) to his long-running role as Detective Mac Taylor in 'CSI: NY' (2004 – 13). Yet it's clear he uses that gravitas to great effect in real life. Veterans' Day is a time when everyone comes together to acknowledge sacrifices made…