Japan-based journalist Jon Mitchell has made it his life's work to investigate and record the many ways in which he sees the Pacific Ocean has been systematically damaged by poisonous chemical, biological and nuclear agents over the decades.
Intentional degradation via nuclear testing formed one strand of his thesis, while contamination and accidental damage made up the greater part of his overall series of investigations that have culminated in his most recent book 'Poisoning the Pacific.'
The US Navy has long had a presence in the mid-Pacific region in the State of Hawaii and since World War Two, across the Western Pacific, Japan, the Marshall Islands and Guam, to name but a few. His book pulls no punches as Mitchell does not shy away from discussing how these overseas territories were administered in 'colonial' terms, with the US seizing local resources and vast tracts of land to construct military bases.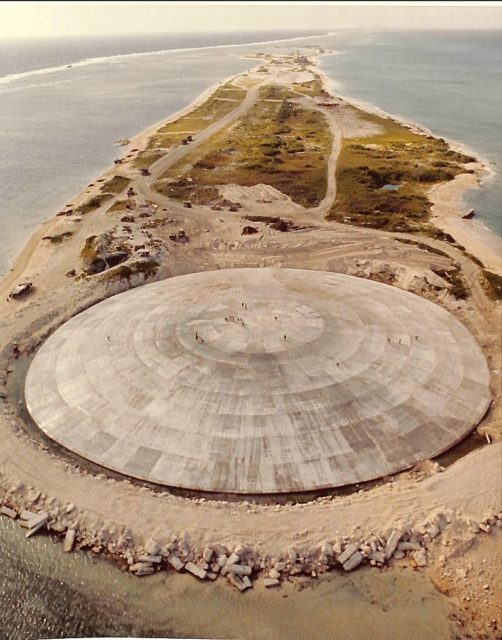 He alleges that the US Military essentially 'stole' the land on which it carried out some sixty-seven nuclear tests, spreading fallout over a massive area and exposing tens of thousands of indigenous islanders. At Okinawa, Mitchell writes, records from the 1950's suggest the US base was brimming with more than 1000 nuclear warheads and hundreds of thousands of chemical and biological weapons.
The notorious 'Project 112', a human trial and testing regime promoted by the Pentagon was also carried out in the region.
While these revelations and allegations are shocking enough when looked at in isolation, perhaps the most damning acts of contamination have arisen from simple degradation of conventional military weapons and equipment over seventy years. There have been fuel and chemical spills recorded, polyfluoroalkyl (PFAS) substances leaked, lead and asbestos dumped.
This is not to say that these issues are located solely in the Pacific. The US military has similar issues at home on American soil and regularly has to make good on its obligations to clean up and remediate. However, Mitchell's argument runs that similar oversight is not present in these overseas bases and that the Japanese and other local authorities have no power of oversight.
But, Mitchell says, the problems of contamination are not confined to US military bases on the islands. In mainland Asian nations such as Laos, Vietnam and Cambodia have suffered from a deluge of tens of millions of litres of poisonous dioxins such as Agent Orange, leaving millions of people with long term health problems. While the US government has started the work of cleaning up some of the worst affected areas it has not taken on the bill for healthcare.
Awareness of the issue of military contamination has been gaining traction in the region. Jon Mitchell has published three best-selling Japanese language books highlighting the problems faced by residents in Guam, Okinawa and other islands in the Pacific that have played host to the US war machine.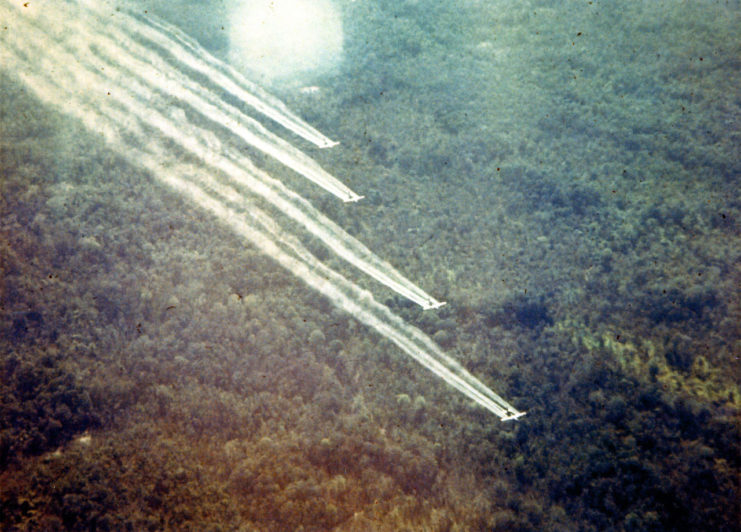 The author claims Okinawan children have been worst affected, made ill by contaminated drinking water, burned by defoliants leaching onto local beaches and, most horrifying, exposed to leaking CS gas while in their classrooms. In 1969 there was a nerve agent leak near Kadena Air Base, which sparked massive demonstrations.
Meanwhile, the ongoing problems with the water quality at Okinawa continues to tax the island's Governor, Denny Tamaki, while in Guam, a groundswell of awareness of the environmental legacy of military actors promises belated reform.
There is further reason for hope in that in January 2021 the UN Treaty on the Prohibition of Nuclear Weapons comes into force, forbidding development, testing, production and possession of nuclear arms, thereby putting an end to the spectre of future testing in the region.
Another Article From Us: Hundred-Year-Old Carrier Pigeon Message Discovered in French Field
Jon Mitchell's book, 'Poisoning the Pacific' is available now.