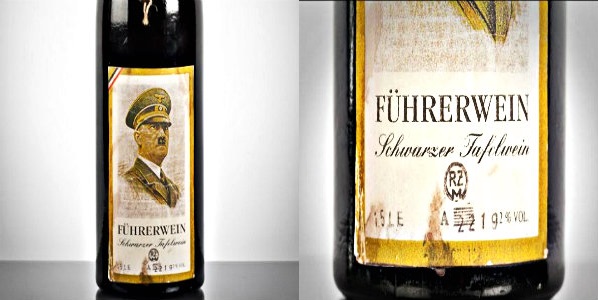 Führerwein, a bottle of wine believed to be personally commissioned by the notorious German dictator Adolf Hitler, went under the hammer for £1,500.
The decanter Führerwein or Adolf Hitler wine featured the image of the German dictator in full uniform. The 1.5 liter bottle was auctioned by Scotland-based auctioneer McTear and was able to fetch £1,540, Decanter.com reports. It seems people were not at all bothered about its association to one of the most infamous man in all human history and doer of some of humankind's most barbarous acts. Nevertheless, Führerwein came short of its estimated value which was placed up to £2,000.
It is believed that the Nazi dictator ordered a batch of Führerwein for his 54th birthday on April 20, 1943 as the Second World War hotly raged around Europe and the world that time. According to McTear's whisky and wine specialist, Dominic Hughes, the authenticity of Führerwein had been substantiated by an independent historian who is also a member of the Wine & Spirit Education Trust.
But WSET discredited McTear's claim. The organization asked McTear for the name of the said independent historian and expert. WSET's spokesman then stated that no such person were found in their records to have worked or studied in the organization.
The story behind how the Führerwein came outside Hitler's inner circle is also not clear.
According to Hughes, McTear got hold of the bottle from a man in Hungary. The man had gotten the Führerwein from his father who was a prisoner of war during WWII. It was given to him by a German soldier at the end of the war. The Führerwein had since been in the family's possession passed on from children to children.
Furthermore, the auctioneer did not give any information about the buyer of the Führerwein. Hughes just said that the said person was based in Australia.
Other earlier attempts of selling liquors connected with the Nazis had been met with criticisms. Just last year, Simon Wiesenthal Center, an organization that calls for Jewish human rights as well as pursue the remainder of the Nazi war criminals, called for a brush-off against an Italian company. The reason behind the call for boycott was the company allegedly produced a wine range which featured Nazi and other fascist labels.