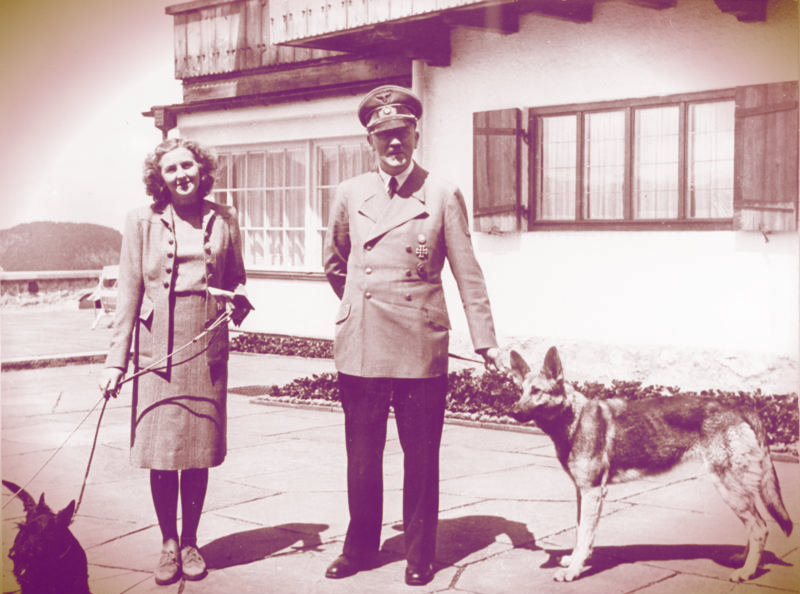 A small antique shop in Ohio carries a surprisingly strange item for sale — the silk underwear of long-time mistress and short-time Mrs. Hitler, Eva Braun. But how did Eva's lacy, high-waisted, salmon-hued French silk underwear end up prominently displayed in the window of the long and narrow specialty store in Elmore, Ohio? Here's the story.
Mantiques
Ernie Scarango owns the shop, named Mantiques, that has the historical piece of underwear on display. Mantiques is just one of the many man-themed antique stores found across the country. However, he believes that his stands above the others.
His store's unique factor? Eva Braun's unmentionables.
"Not everyone has Mrs. Hitler's underwear," he says.
And while finding the undies of a person so closely related to the infamous German Fuehrer is quite unusual in a small town that's just far away from Germany, the story related by Mr. Scarango on how he was able to acquire it is even stranger.
Found in an antique store in Elmore, Ohio: Eva Braun's underwear, apparently pic.twitter.com/XrOpIAX7rL

— Marin Cogan (@marincogan) May 24, 2015
His account goes ten years back [and then way back but let's start with a decade ago] after he quit his job as the caretaker for the Archbishop of Detroit and planned on opening the antique shop.
It was then that he heard that an auction involving items which came from the Eagle's Nest, the Nazi party's headquarters located in an area in the Bavarian Alps, as well as Hitler's favorite residence, Berghof, was about to take place. The items to go under the hammer that time included hundreds of silverware, paintings done by the Fuehrer himself as well as other personal effects.
But what caught Scarango's interest was one item unlike anything else in the lot — a singular pair of the Nazi mistress' silk underwear.
So, he sent in an agent to bid on the item an got it though he wouldn't say for how much.
"I was opening a store and thought the underwear would be something that would pique the interest of the public and make it a destination of sorts," he states.
That plan did work! According to him, Elmore has become a stopping point on the Cleveland-Toledo route with a number of visitors just making turn to get a look at the item displayed in his shop's window.
As Mr. Scarango also operates a whiskey distillery, he jokingly admits that on good weather, he was either making whiskey or selling Nazi panties.
The Strange Back Story of the "Nazi" Underwear
When Scarango got what supposedly is Eva Braun's French silk undies, it came with a letter of provenance proving its authenticity. This letter was written by the person who sold it [Scarango refused to provide a copy of the said letter, though]. A book entitled Treasure Troves of the Third Reich – which described the history of the loot where the item came from – also came with its package. The said book was written and signed by the same man who sold Mrs. Hitler's unmentionables, Charles Snyder.
Charles Snyder is an 84-year-old war vet, a retired Air Force major who served in both the Korean and Vietnam Wars. He has built quite a controversial reputation as an online war memorabilia seller and according to him, he has been in this business since the '60s.
Snyder related that before age slowed him down, he used to host countless military collectors events throughout the country and it was in one of these affairs that he met the American soldier who sold him the historical underwear among many other personal items of the Fuehrer and his short-time wife. The man, he said, was a certain First Lieutenant D.C. Watts.
The story Watts told Snyder was simply irresistible. The lieutenant traveled with the 506th Regiment E Company [the famous Band of Brothers] across Africa and Europe and reached the Eagle's Nest during its liberation. It was here that he and a friend found a series of tunnels that led to a nearby hotel called Platterhof. The two were able to find boxes containing Hitler's and Braun's belongings. They were apparently placed there for safekeeping.
Watts said that he and his friend loaded seven steamer trunks filled with these personal belongings of the German dictator and his wife and shipped them back to America.
Snyder disclosed that he paid Watts $3 million in installment for the contents of these trunks which included about a hundred of Braun's lingerie with about twenty to thirty pairs of the Nazi mistress' underwear. But then, in spite of being engaged in an extensive business deal with Watts, Snyder claimed that he did not know Watts' full name.
"My interest did not lie in him but in his collection so I did not ask him that," he said.
When asked about the authenticity of the items, Snyder goes all defensive. He said that he analyzed each of the pieces himself and because he was an expert in this field, he said that he did not need outside confirmation for their legitimacy.
Shady
Nevertheless, the story gets stranger since a search in the record of the 506th Regiment reveals no soldier bearing the name D.C. Watts. The 506th Airborne Infantry Regiment Association did concede that the list is incomplete.
On the other hand, the National Archive Records yield several American soldiers that could fit in the D.C. Watts profile — they have the same last name and their first names fit in with the letter initials. The most possible candidate is a certain Dennis Carlton Watts who hailed and passed away in North Carolina and was enlisted during the liberation but attempts to contact the son of the said WWII vet were unsuccessful.
Snyder remains unfazed, though, when faced with the shady character of the soldier who sold him Eva Braun's belongings including her underwear.
"He could have been a spy," he said adding that him being one explains a great deal about how the soldier knew the personal belongings of the Fuehrer and his mistress-slash-wife were great that was why he decided to bring them back with him to America.
Being legit aside, however, the present owner of Eva Braun's French drawers have no illusions that a person would shell out great a cash for it.
"Are you kidding me? Who's going to spend $7,500 for a pair of Nazi panties?" was his reaction when asked if he has hopes of really selling the unmentionables.
"They'll stick 'em in my casket when I die," he finally adds.