The Extinguished Flame, written by Nigel McCrery and published by Pen and Sword is due for release on the 14th October 2016. This meticulously researched tome tells the story of Olympic athletes, from all over the globe that gave their lives while fighting for their countries during WWI and WWII. McCrery, who served in the British Police also created the BBC crime dramas Silent Witness and New Tricks.
Alfred Flaxman was a powerful athlete that had competed in the javelin, discus and high jump at the 1908 London Games. He was not only a superb athlete but also a talented artist and musician. His love of athletics was developed when he moved to London to attend the Royal Academy of Music, and he was trained by Eugene Sandow, the father of modern bodybuilding.
He enlisted in June 1915 and was assigned to the South Staffordshire Regiment. He was a popular man and was described by Lt FAM Webster as "a simple gentleman, the best of sportsmen and a very gallant soldier who could bend a horseshoe and rip a half pack of playing cards in half."
His powerful right arm and throwing ability came to the attention of his commanding officer when he threw a bomb 75 yards during training in northern France at Etaples. Second Lieutenant Flaxman was chosen to lead a company of bomb throwers and during the first day of the Battle of the Somme, he was killed by a German machine gunner while trying to untangle himself from barbed wire. His name appears on the Thiepval Memorial.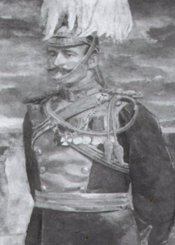 Brigadier Paul Aloysius Kenna, was an honoured military man at the time that he represented Britain at the 1912 Stockholm Games in the equestrian events. Kenna had been awarded his country's highest medal for bravery, the Victoria Cross, when in 1898 at the Battle of Khartoum he went to the aid of a fallen comrade while the army was facing 3,000 enemy troops. In addition to the VC, he was mentioned in dispatches when he led the cavalry in Somaliland during the period 1902-04. He then took a break for the Olympics and two years later he was fighting in Egypt and then Gallipoli, where he was killed by a Turkish sniper.
Frederick Kelly won a gold medal for rowing at the 1908 Games and served alongside his great friend Rupert Brooke in the Royal Naval Volunteer Reserve. Brooke, a renowned poet, died in April 1915 from sepsis induced by an infected mosquito bite. Kelly wrote the orchestral composition 'Elegy for String Orchestra' in his memory.
Kelly was wounded twice during the Gallipoli Campaign and was awarded the DSC for 'conspicuous bravery.' He moved on to fight in France and was killed on the 13th November at Beaucourt-sur-l'Ancre, near the Somme. The orchestral piece that he had written for his great friend Rupert Brooke was played at his memorial service that was held at Wigmore Hall in London.
During the wars, Britain lost 50 Olympians, France 29, Germany 22 and Hungary lost 10 Olympic athletes. Nigel McCrery sums up his admiration for these men saying, "These men were the pinnacle of their generation at the peak of their athletic prowess. Imagine the shock caused across the country by their death. Now imagine the shock it would cause today if at a stroke we lost all the Team GB athletes who did so well at Rio."