Elwood "Woody" Hughes, war veteran and witness to events on Iwo Jima, passed away February 2nd aged 95. As a Marine he was present on the Japanese island when American soldiers raised the flag on Mount Suribachi.
Photographer Joe Rosenthal captured an iconic image, winning the Pulitzer Prize. A world famous memorial was placed in Arlington County, Virginia.
According to Military.com, Private First Class Hughes had landed on Iwo Jima a day before the stars and stripes found a home on Suribachi. The raising happened just 4 days into the conflict, which lasted 36 days in total.
Hughes' death is almost the end of an era. Reportedly 2 other ex-servicemen survive. He was one of the last people from the Chicago area to set foot on Iwo Jima. He'd only opened up about the battle relatively recently, in 2019.
In an interview for the American Veterans Center last year, he talked about his background and military career. Hughes was born May 14th on a farm in 1925. His self sufficient situation meant he avoided certain hardships from the Great Depression.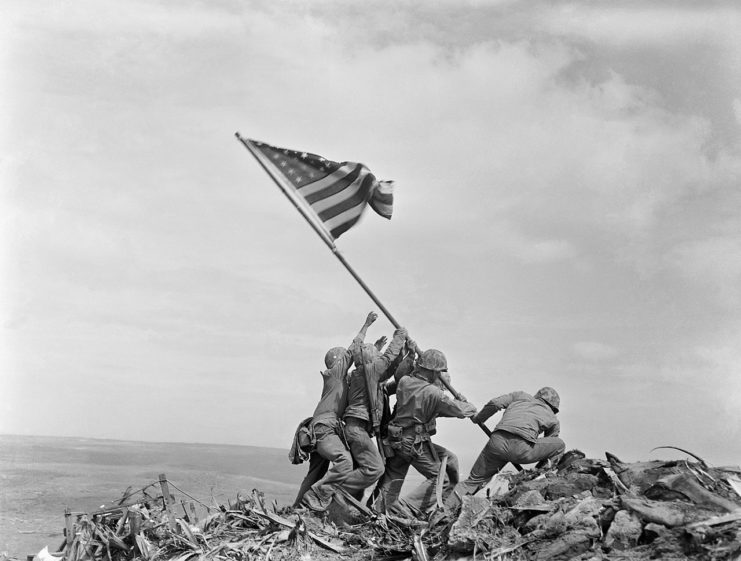 His parents were Elwood E. and Eva Mae (nee Roberts) Hughes, as mentioned in his obituary for Glueckert Funeral Home. He also had an older sister, mentioned in his chat to the Veterans Center. Hughes entered the service in 1943, fresh out of Roanoke High School.
Hughes' first experience of conflict was at the Battle of Saipan, part of the Pacific campaign. His commander was Gen H.M. "Howlin' Mad" Smith, "the father of U.S. amphibious warfare" writes Military.com.
Iwo Jima was eyed as a potential staging post for US forces. Lying 750 miles off the Japanese coast, it contained 3 airfields according to History.com. From here, the US figured they could move in on the island before launching an invasion on the mainland.
Unfortunately, an assumption that Japan's Imperial Army were worn down proved dangerously wrong. The enemy set up camp in the mountains, where they could conceal themselves.
"Howlin' Mad" Smith led the first attack, up against General Tadamichi Kuribayashi, whose tactics were shockingly effective. The land worked against US Marines – Iwo Jima's beaches made things challenging to say the least, composed as they were of steep volcanic ash.
Ultimately the Americans took the territory, though at a terrible cost. 7,000 Marines lost their lives, together with over 20,000 Japanese.
Speaking to American Veterans Center, Hughes rejected being called a hero. "I shouldn't be," he said "because the heroes never walked off of Iwo Jima".
He was humble about his role on the island, referring to himself as a "gofer" working at the Command Center. The veteran saw talking about his memories as honoring the dead, rather than putting himself on a pedestal with them.
Interestingly, Hughes worked with Navajo Code Talkers as part of the job. These were Native Americans whose language formed the basis of a secret communication system.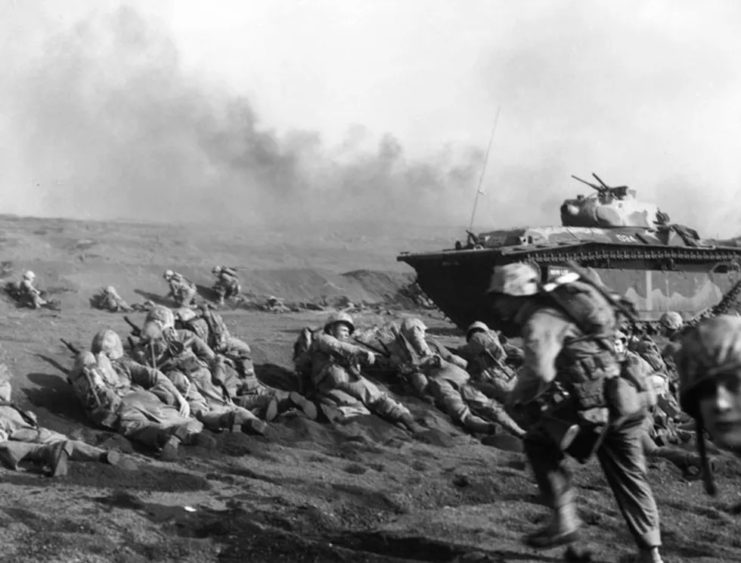 Military.com reports on Hughes' name being added to a flag, alongside fellow survivors of the Battle. The flag then toured the States.
Hughes' passing comes just days before the 76th anniversary of the Battle (the 23rd). ABC Eyewitness News spoke to his son Bill, who stated his father planned to raise the flag at a local school.
Following his military service, Hughes worked as a basketball coach and a physical education teacher. Glueckert writes that he relocated to Kentucky last year, where Bill is based. He passed away in Lexington.
Woody's late wife Susan Jane Hughes was by his side for 62 years. He leaves behind children Ellen (Frank) Regalado, Emily Hughes, and William Victor (Teresa) Hughes, as well as 9 grandchildren and no less than 17 great-grandkids.
"He was often remembered for his smile, a story, and a gleam in his eye" his obituary reads.
"He was part of what Tom Brokaw would call ''the greatest generation'" said Bill, quoted by ABC.
Another Article From Us: British Royal Armouries Museum Reviewing 'Offensive' Displays
Elwood "Woody" Hughes: 1925 – 2021. RIP.