The Royal Armouries are reviewing displays of police riot gear out of concern that they could be offensive.
Riot shields and pepper spray are among the items under review to determine whether they might cause "friction" among  communities.
The Armouries consist of three museums that contain what they call "one of the most important national collections of arms and armour in the world."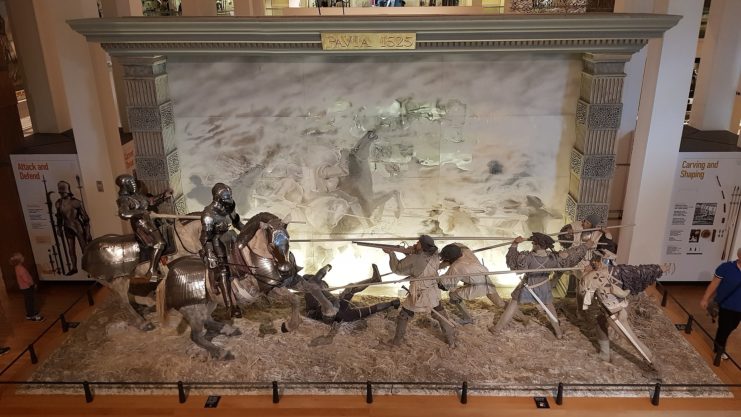 Curators at the museums said that the law enforcement equipment could be offensive especially after the recent protests. The reviews actually began last year as part of a larger review into items in the collection which might show minorities as subservient or submissive. Riot gear, pepper spray, tasers and firearms were specifically mentioned as items that might be triggering for minorities.
The curators stated that there was nothing inherently wrong with showing the items but wanted to be sensitive to the community's concerns about arrest techniques and equipment.
In addition, the Armouries are taking a look at weapons from the UK's colonial wars and examining the legacy of Lord Kitchener. His reputation during his campaigns in Africa has caused some to question his status as a "hero" in British history.
A display on women's archery was criticized for the use of the word "ladies."
But some historians are beginning to express concerns about the scope of the investigation.
Andrew Roberts, author, specifically mentioned the investigation into displaying pepper spray as lacking common sense and an example of political correctness run amok. He noted that pepper spray has been used on rioters without regard to their race, creed, orientation, etc.
Dr. Zareer Masani, author, found that the very idea that weapons could be offensive to a particular race of people is a racist concept itself. "A museum display of arms can't be objectionable in itself," he said.
The investigation at the Armouries began in July and is continuing after an interruption caused by the pandemic. Later, they intend to look into the provenance of the items in their collection. There has been no announcement about what they intend to do with items that have a problematic provenance.
For its part, the Royal Armouries say that reviewing their collections is a regular occurrence and that all museums do this periodically.
They are walking a line between accurately telling the histories of the objects in their collections "even if some of those narratives are painful or sensitive" while representing all of the communities that they serve. A spokesman for the Armouries stated that there are many factors that are being considered, including the views of visitors who want to see their perspectives represented.
Another Article From Us: German Woman, Secretary to Camp commandant, is Charged
The Royal Armouries began as a military armoury in the Tower of London before transitioning to a non-departmental government body who showcases its collections in museums.