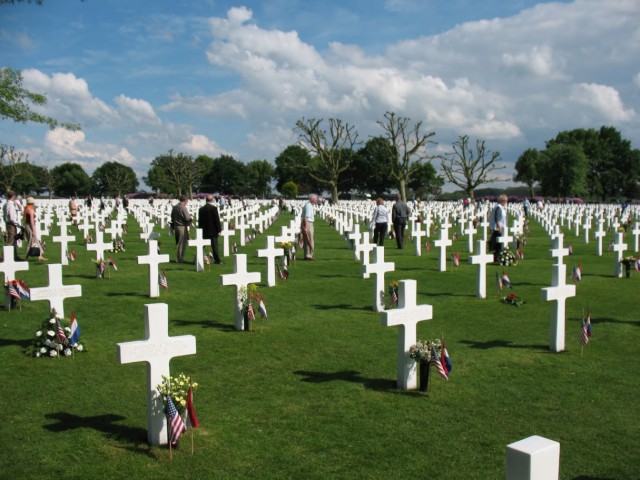 Thousands of World War Two American graves have been given an adopted keeper by the Foundation for Adopting Graves at American Cemetery in Margraten, the Netherlands.
The tradition began towards the end of the war in February 1945, when the Dutch felt that they wanted to say thank you to those soldiers who had given their lives for the freedom of Europe and the Western world.
One example is the grave of Private First Class, Wayne Clark, whose adopted keeper is Jo Winkens. Jo is a customs official from the nearby town Vaals and has been looking after Wayne's grave for over ten years.
The adoption programme still enables local Dutch people to care for the graves. As an adopter they are required to visit the grave regularly and (try to) stay in touch with the family of the fallen soldier back in the US.
The programme was started by local people who had lived through the war whilst the Netherlands was occupied by the Nazis. When the Allies liberated the Netherlands from the Nazis they were so relieved and happy that they wanted to ensure each of the soldiers was never forgotten.
The programme is based on the premise that it is not just about looking after the graves but it is also to remember the sacrifice and suffering that the soldiers went through. The local Dutch people believe that they have a moral duty to uphold this tradition.
Wayne's son and daughter back in the US, Sydney and Leah, didn't actually realise someone had been caring for their father's grave all these years, until they were given Jo's email and they say they are comforted just through knowing that someone is looking after their father's grave, the wausaudailyherald.com reports.
Another example is the grave of Harold Lambrecht who was a Corporal in the US Army during the war. His grave is also at Margraten and it has been adopted by local Dutch resident Rina Hodiamont. All of Rina's family have been grave adopters at Margraten over the years. Harold's sister says that she is touched by the acts of kindness from the Dutch people to remember her brother.