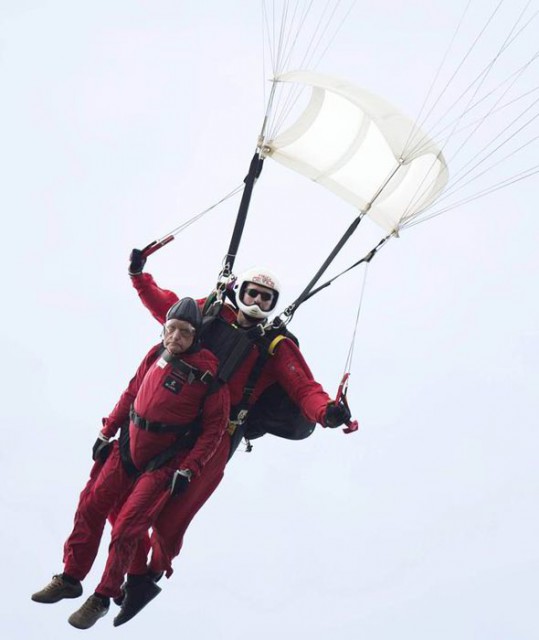 The first time that Scottish veteran, Jock Hutton, parachuted into Normandy was on D-Day at the age of 19, when he was with the 13th Battalion of the Parachute Regiment during WWII seventy years ago.
On June 4, 1944, Hutton and the other members of the regiment were in an uncomfortably crowded plane filled with equipment when they jumped out one by one over the designated drop zone.  Hutton admits to feeling relief after jumping because of how cramped the plane had been.
When Hutton and his group reached the ground, the weather was slightly rainy and misty with the moon showing in the sky.  The regiment's commander blew a hunting trumpet to gather the group together before they moved on.  The sky was dark and the sounds of machine guns could be heard in the distance.
When Hutton and his team arrived in a French village, the residents at first were hesitant to accept that the group was there to free them from the Nazis.  Once the locals accepted them, they offered the soldiers calvados, which they reluctantly refused.
When Hutton was hurt two weeks later, he was sent to a British hospital to recover.  One day, a man entered the hospital ward and asked for Hutton.  After Hutton identified himself, the man told him that he is his father.
Hutton had been orphaned as a child and had grown up in an orphanage in Bridge of Weir.  In 1939, as soon as he was old enough, he joined the Black Watch before later being relocated to the 13th Battalion.  Hutton had never met his biological parents, so when he discovered that the father he had never known had been named as his next of kin, he was very surprised.
After the war, Hutton continued to serve his country, and participated in many parachuting drops.  When he was asked by a padre with the Parachute Regiment's Red Devils earlier this year if he would be interested in jumping with them during a D-Day anniversary celebration in June, he agreed without an ounce of nervousness, the STV News reports.
At 89 years old, Hutton is one of only a few members of his regiment remaining, and was honored to be asked and to participate in this commemorated parachute jump into Normandy, the second one of his life.