The village of Upper Slaughter in the Cotswolds is one of the 13 "doubly thankful" villages who saw their men going to both world wars and returning from it all safe.
Cotswold Village wasn't even spared from the attacks of the enemy, especially during the Second World War. Old villagers recalled how a Luftwaffe bomber hovered over the village and then dropped the deadly bomb it was carrying on the 4th of February, 1944. However, no one from the said village was killed or injured. Added to that, all its men who went up to fight in WWII came back home safe, in happy reunion with their families.
The village saw 25 of its dwellers signs up for the First World War. All these villagers returned home from the front lines of WWI safely. When WWII broke out, some 36 individuals from the village also went up to fight in the said conflict. And in like manner, all of them returned home unscathed.
It is no wonder the village of Cotswolds is among the 13 "doubly thankful" villages in whole Britain. These are the handful of places who saw their dwellers participate in these two major wars, but didn't lose a single one in these combats.
Records show men from about 16,000 villages in England and Wales participated in the Great War. From these villages, 51 villages didn't have any casualties. When WWII came and went, 13 villages from these 51 didn't suffer any casualties.
According to Margaret Foster, 71 years old and is still living in the same house she first lived in the village, she didn't appreciate the significance brought about by having no casualties in the two world wars when she was growing up. According to her, the village was so small with everyone knowing each other so the rarity of having everyone return from both wars unharmed tended to be overlooked.
Tony Collett, another village old-timer whose father served during the First World War, added that only, when they knew the great extent of losses both wars afflicted on other villages, were they able to feel 'doubly thankful' about their village having no casualties in both wars.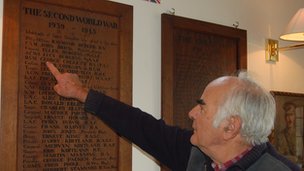 The village of Cotswolds had put up a memorial remembering the village men and women who served in both wars.