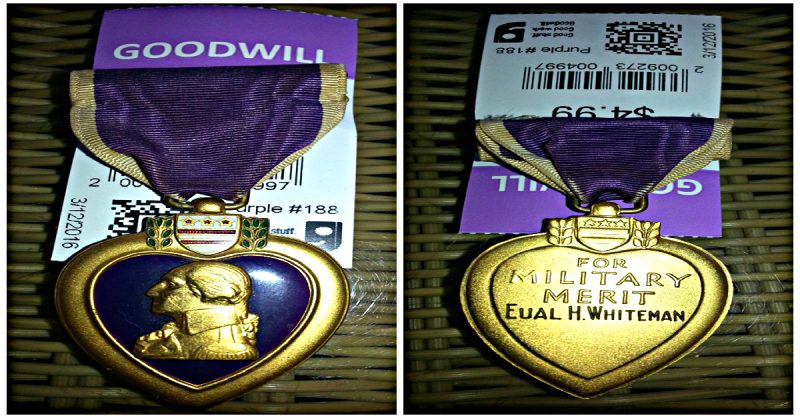 A Purple Heart, sold for $4.99, will soon be reunited with the family of the man it was awarded to.
Shopping isn't a big errand for Laura Hardy and her husband. However, what they found while out doing it one March weekend was amazing.
March 12, 2016 – As they were going through one Arizona Goodwill Store, Laura's husband noticed a very unexpected find — a Purple Heart on display at the jewelry section of the store. What's more shocking was it was only sold for $4.99!
According to her, the Purple Heart was just classified as a purple jewelry item when they saw it. When they actually took it and paid for it at the register, "they just rang it up … no comment from the people at the register or anywhere."
Upon returning home, Laura promptly took a photo of the Purple Heart and posted it on her Facebook account. She also posted the name inscribed at the back of the medal, which was Eual H. Whiteman, along with the picture.
March 15, Tuesday, a certain Tina Cook got in touch with Laura through the phone. Turns out, Cook has, for the past sixteen years, run the Facebook page Veteran Buddy Finder, which aids vets to find each other.
In an interview, Cook stated that she used a newspaper archive website, as well as a genealogy website to trace the recipient's name engraved at the back of the Purple Heart, the Hardy's bought. Ultimately, her search ended up with Phyllis Lawson, the sister-in-law of the man who was awarded with the Purple Heart. The 68-year-old lady was shocked when she received calls from booth Cook and Hardy regarding their find.
Accordingly, Lawson was married to Eual Whiteman's younger brother, Robert Alan. However, she revealed she didn't knew much about her brother-in-law as he was way older than her ex-husband [they got divorced in the 1980's by 16 years. She went on to say that when Eual left for the military, "he just kind of stayed gone". She added that the Purple Heart recipient was the "come and gone" type of person — he would come once every few weeks, would stay for a week then, would go off once again.
Both men are already deceased. Eual died way back in 1991. His remains lie in Willamette National Cemetery in Oregon, military records reveal. His younger brother passed away way back in 1993.
"He never had any children," Lawson said.
Eual, a Missouri native, enlisted in the US Army in 1940. Aside from the Purple Heart, he was awarded three battle stars, a Combat Badge as well as a Presidential Unit Badge with the 82nd Airborne Division throughout his military career. He also appeared once on the cover of LIFE magazine as a bull rider.
Laura, whose grandfather was also a Purple Heart recipient, has expressed her desire to mail the medal to Whiteman's sister-in-law. She believes that "[It] belongs somewhere where people can honor it or at least be with the family".
Meanwhile, Goodwill has said that Hardy finding a military decoration for sale inside one of their stores is a very "unfortunate" event. They went on to offer Hardy a reimbursement for the money she dished out for the said medal.
Update:
From Elaine Anderson:
Tina Cook of Veteran Buddy Finder was able to trace the person the deceased WWII vet gave his medal to — his nephew. Unfortunately, this said person got incarcerated and gave his belongings to a friend for safekeeping. This friend, in turn, donated all of it to Goodwill.
Cook was able to speak to this person's mother who told her she was willing to accept Whiteman's Purple Heart back and keep it for her son until his release.