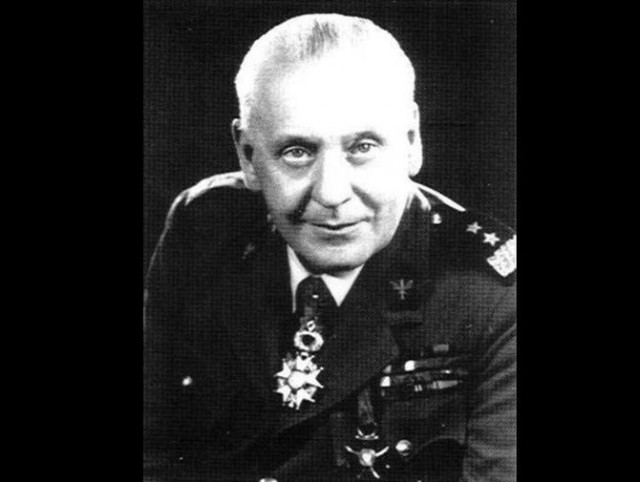 Scottish Members of Parliament are calling for a memorial to be built in the Scottish capital of Edinburgh in honour of Polish World War Two hero and General, Stanisław Maczek.
General Stanisław Maczek settled in Edinburgh after the war. He had been commander of the 1st Polish Armoured Division and took part in the D-Day landings and Battle of the Falaise Pocket.
Unfortunately, when the war ended and Poland was being governed by Soviet-backed Communists, Stanisław's Polish citizenship was withdrawn, so he had to remain in Great Britain.
Stanisław was not eligible for an army pension or other ex-serviceman rights in Britain, since the government could not classify him as an Allied soldier; so he worked as a barman throughout the rest of his working life to make a living.
Now, Scottish MPs are requesting a permanent memorial to be built in honour of General Maczek as a World War Two hero. Maczek died in 1994 at the age of 102.
To date, a small plaque has been placed outside his family home in the Edinburgh suburb of Marchmont. However, he has formal memorials in both Holland and Poland and was admired by Field Marshal Montgomery and Winston Churchill.
When World War Two broke out, Stanisław was commanding the Polish 10thMotorised Cavalry Brigade, fighting a five-day battle which managed to slow the invading German forces.
A few months later he ordered a night-time assault on Nazi troops in the French town of Montbard, taking the Germans by surprise and securing a number of prisoners, the Edinburgh News reports.
In 1944, Stanisław , by then, commander of the Polish 1st Armoured Division, led his men in both the D-Day landings and Battle of the Falaise Pocket, which destroyed 14 German Army divisions. In the fall of 1944 he and his men liberated the Dutch town of Breda.
In 1989, Stanisław was honoured by the Polish Prime Minister, Mieczysław Rakowski, who presented him with a public apology for not being able to return to Poland after the war. Five years later he was awarded the Order of the White Eagle, Poland's highest military honour.
The calls for Stanisław to be honoured in Scotland come at a time when a soldier from his division has been awarded Poland's highest civilian honour, the Gold Cross of Merit. Bolesław Kozub, who will turn 100 this year, was awarded the honour at the Polish embassy in Edinburgh for his service during World War Two.