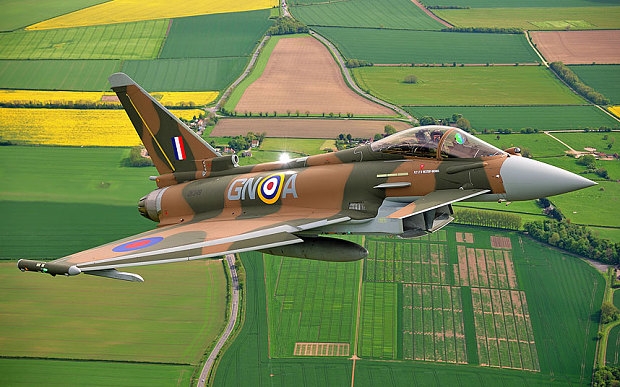 [Via]
"Bravery is its own reward" echoing through the air at supersonic speeds, as the Royal Air Force colors its Typhoon Fighter Jet with the colors of WWII Battle of Britain's hero, Fleet Lt. James Brindley Nicholson.
The hero above was the winner of the highest honor in Britain, for engaging and shooting down a German fighter pilot, even as his cabin was burning in a nose-dive.
This commemoration is for the 75th anniversary of the battle.
Usually, grey and dull, the Typhoon, Eurofighter Jet is now painted with the 249 Squadron Identification number of the Victoria Cross winner. And for this year, jet enthusiasts and veterans gaze above as the Typhoon flies alongside its WWII counterpart around the UK.
The nephew of Nicholson, Jim: "It looks amazing… To see it in those colours, it is just fantastic."
Flt. Lt. Nicholson was no stranger to dogfights, heroically in a sky-battle near Southampton on August 16, 1940, catching fire in his cockpit. Evidence by VC:
"When about to abandon his aircraft, owing to flames in the cockpit, he sighted an enemy fighter. This he attacked and shot down, although as a result of staying in his burning aircraft he sustained serious burns to his hands, face, neck and legs."
In 1945 Nicholson tragically died in an air crash in the Bay of Bengal, The Telegraph reports.
Flt. Lt. Ben Westoby-Brooks from Coningsby's 29(R) flies the decorated Typhoon, in memorial, stating: "Their task of securing the skies was critical in the summer of 1940… the stakes were so high".
Be sure to look to the skies of the UK in remembrance of Flt. Lt. Nicholson.