Our friends at Uniform Press have two interesting World War One related books out this spring, both of which are new editions of contemporary titles from the period.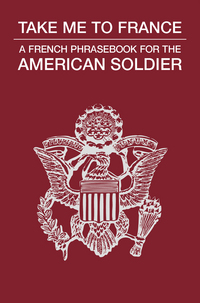 Take Me To France. A French Phrase Book for the American Soldier is exactly what it says on the cover. In this case a facsimile of the original book devised by the language teacher Claude Michelon. He aimed to provide Doughboys with all they would need to get by during their time in France.  We know that the US government were not slow to appreciate the usefulness of books such as this because they went on to produce many like it in an attempt to prepare service personnel for life far from home in strange lands and several of the books issued in World War Two have been reprinted meeting widespread approval.
The publicity for the book tells us:
For US servicemen leaving their homeland in 1917 to go off to war in Europe, it is unlikely their greatest fear was being unable to speak a word of French. Nevertheless, a teacher, Claude Michelon, decided he would arm them with a pocket-sized phrasebook to help them in their new endeavour.
Having witnessed French soldiers at the start of the war struggling to speak English, he wrote a booklet to help their American allies speak French. It was to contain everyday vocabulary to see them through life in the trenches and beyond the battlefields. Almost 100 years on, Take Me to France has been reproduced in facsimile format to educate and entertain a new generation.
These books are always good fun and you never know when you will need a French phrase book!
Rudyard Kipling should need no introduction and while the vast majority of people might only connect with him through the Disney version of Jungle Book these days, he was at one time one of the most successful writers in the English speaking world.  Kiplingis recognised as a powerful voice of the Great War and a timely reproduction of The New Army in Training offers a window into the kind of work he was doing during the early years of the war at the time when he was pushing to get his son John into the fight.  The tragic story of John Kipling is well known thanks in part to the TV drama starring Daniel Radcliffe and modern works by Toni and Valmai Holt but Kipling himself produced a range of poems reflecting his grief and went on to create enduring memorials with the Imperial War Graves Commission that will hopefully stand for all time.
Uniform Press tell us:
In The New Army in Training, Kipling's vivid writing evokes a picture of patriotic Britain at a time when confidence in Lord Kitchener's volunteer army was high. The six articles included are: The Men at Work; Iron into Steel; Guns and Supply; Canadians in Camp; Indian Troops; Territorial Battalions.  Before being sent off to the battlefields, many never to return, Britain's new recruits are described in glowing terms as youthful and enthusiastic, strong and courageous.
The book is issued in respect of this year being the 150th anniversary of the author's birth.
Quite obviously both these 'new' titles are of their time but they offer us a fascinating window into our world a century ago and this all adds depth to our understanding of the conflict. We look forward to seeing them.
By Mark Barnes for War History Online
TAKE ME TO FRANCE
A French Phrase Book for the American Soldier
By Claude Michelon
ISBN: 978-1-910500-03-3
THE NEW ARMY IN TRAINING
150th Anniversary Edition
By Rudyard Kipling
ISBN: 978-1-910500-04-0