Men from the USAF 52nd Logistics Readiness Squadron based at Spangdahlem Air Base have been helping to restore portions of a WWII bunker at Fort Aubin (Fort of Aubin-Neufchâteau) near Neufchâteau in Belgium. Working in conjunction with the Fort Aubin Museum Association, the 25 Sabres are helping to clean out bunkers and repaint the M4 Sherman Tank parked at the entrance.
This historical site which is owned by the Belgian military is maintained by the Museum Association which also provides tours to the public. For the past three years, Airmen from Spangdahlem have been assisting the Museum Association with clearing out the site thus making more of the historic bunker available for public viewing. Senior Airman Justin Mickle summed up the feeling of the airmen helping in the restoration, "We're here to assist the Belgians in any way with the restoration and preservation of this bunker."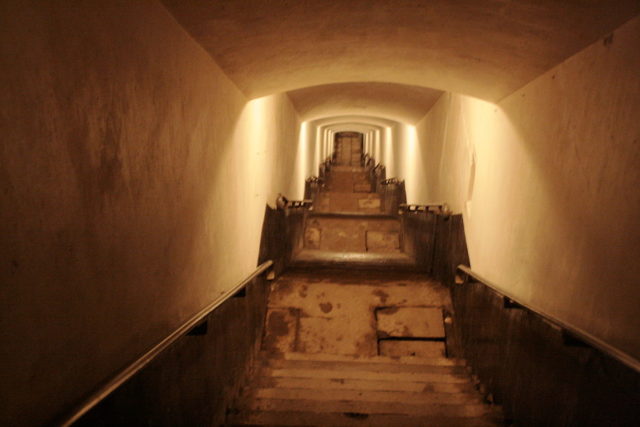 As early as the 1880's a series of twelve forts was built to fortify Liege, and the fort at Neufchâteau was one of four additional forts built to strengthen this line towards the Belgian border with Germany. The construction of the fort at Neufchâteau was started in 1935 and was complete by the time of the German invasion in May 1940. Under the command of Captain-Commandant d'Ardenne, the fort fired upon the invading army but by the 15th May the Germans had penetrated the perimeter, and by the 21st May, the fort had run out of ammunition, and it was surrendered to the Germans. There were heavy casualties on both sides, and the Belgian Garrison was transported to Konigsberg in East Prussia. While the fort was in German hands, it was used for testing 'bunker busting' armaments such as the Rochling shell, resulting in significant damage to the building.
Tim Peters, 52nd Logistics Readiness Squadron Fuels Service Center NCO in charge said, "The amount of history at this particular fort is amazing. Just seeing the living conditions where roughly 520 occupants, who were only in their early 20s, were living hundreds of feet underground, fighting for 11 days straight, is just a humbling experience."
The Fort is only open to the public on every third Sunday of each month between March and November. The guided tours start at 2 p.m and go for about 90 minutes.
The fort's website can be visited for more information on the tours available.